Travel journal: Italy & Greece
---
Seen through the eyes of … Leslie King
Who went: My husband Errol and I
We went because: We took this trip for our anniversary. Our three-week journey began in the magical city of Florence. From there, we made day trips to Cinque Terre and San Gimignano (my favorite city in Tuscany). We then flew to Sicily, where we visited Palermo and Taormina. Lastly, we flew to the breathtaking island of Oia Santorini, Greece.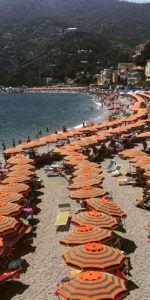 Hotel recommendations: Our favorite hotel was the Portrait Firenze in Florence. The accommodations offer first-class luxury. The property was calming and serene with a modern vibe. The service was truly beyond compare. Our other favorite was the Belmond Villa Sant'Andrea in Taormina. This hotel has lush manicured grounds and is perched atop a cliff overlooking the Ionian Sea. We spent our time being pampered and sipping prosecco on the beach overlooking the sea.
Where to eat: Before our trip, I researched restaurants and made reservations for most of our meals. The perfect place for pre-dinner cocktails at sunset is SESTO On Arno, a rooftop bar with 360-degree views of Florence and the hills of Tuscany. For dinner, Buca Mario—the oldest restaurant in Florence, dating back to 1880—and Buca Lapi—dating back to 1886—are two local favorites. Upon entering, we were guided through a series of cave-like cellars with arched ceilings. From impeccable service to sumptuous food and fine Italian wines, both of these historic restaurants offered memorable dining experiences. After enjoying pasta for two weeks, we were ready for a change, and the fresh Mediterranean dishes of Santorini offered just that. The island is a foodie's dream! For lunch, we would lounge by the resort pool and enjoy fresh squid and tomato fritters with local beers (complete with chocolate sprinkles on the rim). Our favorite meal was at Ambrosia. Its popularity makes securing a reservation quite challenging, so advance planning is essential. The extra effort is worth it to take in the incomparable view of the Caldera. Santorini is renowned for the most beautiful sunsets in the world. To say it's romantic is an understatement.
Favorite historic landmark: The Capuchin Catacombs of Palermo in Sicily. They were originally intended as a place of honor and burial site for dead friars; over time, local citizens also were buried there and some bodies remain preserved today. While it was very somber, and a bit macabre, it was also a once-in-a-lifetime experience.
Local attraction worth a drive by: We hired a private driver for a trip through Tuscany. Each village has something different to offer, and the locals are so friendly. Our favorite spots are Siena and San Gimignano. These medieval towns offer spectacular views and some of the best wines in Italy.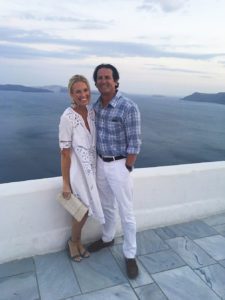 A great experience off the beaten path: Cinque Terre consists of five picturesque mountain villages. Although the drive can be treacherous at times, it was definitely worth it for the beautiful views, scenic trails, crystal clear waters and charming villages.
Worth the splurge: We rented a yacht for the day in Santorini and cruised the Aegean Sea. We snorkeled, visited a volcano, had a chef prepare a fabulous meal and watched the sunset with live music. It was off-the-charts romantic and worth the splurge.
Not worth the splurge: Expensive wines. The wines in Italy and Greece are amazing, so you don't have to spend much to enjoy a nice bottle. Some of the best wines in Tuscany are considered table wines.
Something surprising we learned on the trip: We had never been to an Italian opera, so we took a gamble and went to one in Taormina, which turned out to be very enjoyable even despite the language barrier.
Insiders' tips: While group tours are more affordable, private tours allow much more flexibility. Also, when planning to travel abroad, you can book everything yourself online. I booked our flights and hotels directly on a travel site and all of our excursions through tour guide services.
We would suggest this trip to others because: Whether you're looking for adventure, to soak up history, to dive into a different culture or just to enjoy some rest and relaxation, Italy and Greece are special
destinations.