Travel Journal: Ireland and England
Who went: Chris and Jennifer Suire, along with Mitch and Rhonda Rushing.
We went because: Chris and I went to celebrate our upcoming 10-year anniversary. Mitch and Rhonda went to celebrate Rhonda's 40th birthday.
Hotel recommendation: The Kingsley Hotel in County Cork was amazing. The staff was friendly and helpful, and the entire hotel was completely renovated.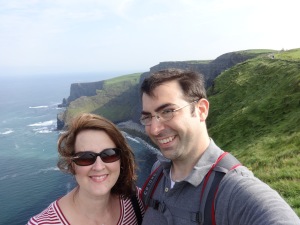 Where to eat: The Bank on College Green in Dublin.
Favorite dish on the menu: The Carlingford oysters were some of the best raw oysters we have ever eaten. Chris had the seafood chowder, and I had the homemade ravioli; both were delicious. Also, the fish and chips were the best we had on the entire trip.
Item of clothing you shouldn't leave home without: Bring athletic shoes because you will do a lot of walking!
Favorite historic landmark: We saw so many historic landmarks on this trip that there is no way to just name one! Some of our favorites were the Giant's Causeway in Northern Ireland and Blarney Castle—there is so much more to see there than the famous stone that visitors kiss to become more eloquent. In London, our favorite historic site was the Churchill War Rooms museum.
Local attraction worth a drive-by: Bunratty Castle and Folk Park in Shannon, County Clare, is a great dual destination to visit during the day. At night they host a medieval banquet where singers dressed in period costumes provide entertainment during a four-course meal.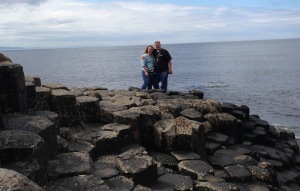 A great experience off the beaten path: One of the most beautiful sites was in Northern Ireland at the Carrick-a-Rede Rope Bridge. Fishermen made the bridge to Carrick-a-Rede Island to check their salmon nets. Once you reach the island, the views are breathtaking, and on a clear day you can see Rathlin Island and even Scotland.
Something surprising we learned on the trip: If your rental car burns to the ground, the rental company will give you a new car and upgrade you from a manual to an automatic at no extra charge!
Insiders' tips: Give yourself a lot of time in Ireland. There is a lot to see all over this beautiful country, and to get from one town to another may take a few hours.
We would suggest this trip to others because: It was one of the most beautiful places I have ever been. We had amazing weather and a fantastic time with family.