Travel journal: Banff National Park, Canada
---
Seen through the eyes of: Jennifer Guidroz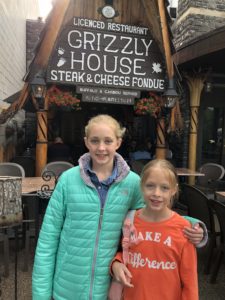 Who went: Andrew, Jennifer, Anna & Sarah Guidroz
We went because: Family vacation! We were looking for a departure from the usual beach trip and a bit of adventure and cooler temperatures.
Hotel recommendations: We found that staying in the quaint city of Canmore was preferable to Banff, for us. Canmore offered a small-town feeling, with easily accessible restaurants and shops that had fewer crowds than in Banff. Plus, Canmore is only a 20-minute drive from Banff. Solara is a nice choice.
Where to eat: In Canmore, we loved Tavern 1883. Two must-try items on the menu are the poutine (French fries and cheese curds topped with a brown gravy) and an AAA Alberta beef burger. In Banff, The Grizzly House is a fondue restaurant in operation since 1967. It is exotic and eclectic with wood-paneled walls, totem poles and tableside phones from its former days as a disco nightclub. Our advice is to cook your meat on the hot rocks as an alternate to oil fondues. And save room for Toblerone fondue dessert!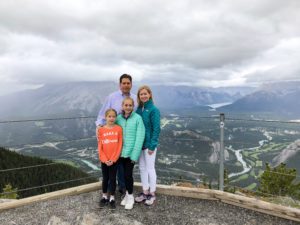 Item of clothing you shouldn't leave home without: Layers are key! Days started in the 40s, so a light North Face was nice. And walking shoes and hiking boots, for sure!
Favorite landmark: While many love Lake Louise, there was so much beauty in Moraine Lake. You can canoe the lake, but our kids just loved climbing the rock pile that gives you amazing views.
Great experience off the beaten path: We loved our hike to the tea houses at Lake Louise. Lake Agnes Tea House is the most popular and easily accessible, but if your family is up for a real adventure—as in 5K uphill with amazing views—pack water and snacks and venture up to Plain of Six Glacier Tea House. Best cup of coffee you will ever earn.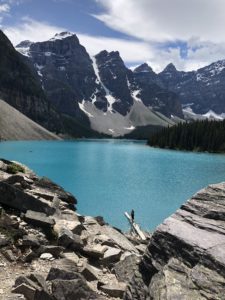 Local attraction worth a drive-by: Banff Gondola—not an all-day thing, but nice views of the town of Banff.
High adventure: Canmore Cave Tours. If your family is up for adventure, a caving experience in a real cave was pretty cool! We got to see rock formations and experience true darkness in the cave. There are small spaces and you have to pull your own body weight with a rope to get out.
Worth the splurge: If you really want to splurge, book a room at the Fairmont Chateau Lake Louise, located right inside Banff National Park. It has a really great central location, and dining on site is only available to hotel guests for advanced dining reservations.
Not worth the splurge: We found our drive to see Athabasca Glacier Skywalk to be not worth the time. If you want a glacier tour, book in advance! Tickets were sold out by 9 a.m.
Something surprising we learned on the trip: Hiking gives you an amazing sense of accomplishment!
Insiders' tips: Crowds build by midday, so we made the habit of early rising—even 6 a.m.—and morning outdoor adventure. Then we spent the afternoon relaxing at the heated hotel pool. Also, get the GyPSy Guide App downloaded before you get there. It's like a tour guide in your car wherever you go. Best $15 we spent!
We would suggest this trip to others because: Family time was amazing!