Taking the field: Kaylee Hartung is getting the scoop for ESPN
The horn cries out, and it is time. The mark is on the move. She doesn't have long. Just long enough to fail, really, if she doesn't get what the network and the millions watching want to hear.
And suddenly there he is, hustling, escorted and distracted. Days, maybe weeks, of preparation all come down to this. These 90 seconds. Ready, steady, go.
Kaylee Hartung is on the air.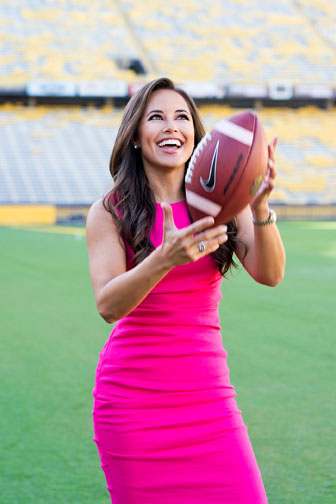 There's a pressure to this work, but it comes not from the precise pace of her crew's often breakneck schedule or the cameras and lights always trained squarely on her face or even the jet-engine screams of thousands in the stadium. No, this urgency to connect through the chaos comes instead from inside the ESPN sideline reporter herself.
"You just want to be good so bad," says the Episcopal High School graduate, over beignets at Coffee Call one September morning. Hartung's hair is tucked under a bright blue Dodgers cap, and she talks warmly and rapidly as if the game-clock is ticking. She admits that the least favorite part of her job is pulling meaningful dialogue from a coach at halftime, but viewers at home would never know it.
She remains poised in the midst of it all.
"Kaylee's preparedness and passion for college football is what I think makes her stand out on the sidelines and stand out in the field," says colleague Jesse Palmer, an ESPN football analyst and former Florida Gators and NFL quarterback. "She basically lives out of a suitcase—traveling all over the country on short notice, and she continually delivers top-level reporting."
It turns out Palmer's confidence in sharing ESPN broadcasts with Hartung is a reflection of how the entire crew views the young female member of their team. She says the bulk of the advice she fields today from the broadcasting veterans who surround her can be summed up simply: "Keep doing what you are doing."
This 30-year-old now calls Austin, Texas, home—thanks to a few years hosting ESPN's University of Texas-associated flagship Longhorn Extra. Now Hartung serves as a sideline reporter for ESPN's SEC Network and a frequent contributor to SportsCenter. But she claims to never once wanting to be "the next Erin Andrews." Instead, in college, she idolized Katie Couric. Hartung graduated from the decidedly non-sports-centric Washington & Lee University and launched her broadcasting career in Washington, D.C. with CBS News.
"If you'd have told me as I was standing at my graduation without a job lined up that eight years later I'd be reporting for ESPN on college sports at the highest level, I'd have laughed at you," Hartung admits. "If I had tried planning how to do this, I'm sure I would have screwed it up somehow."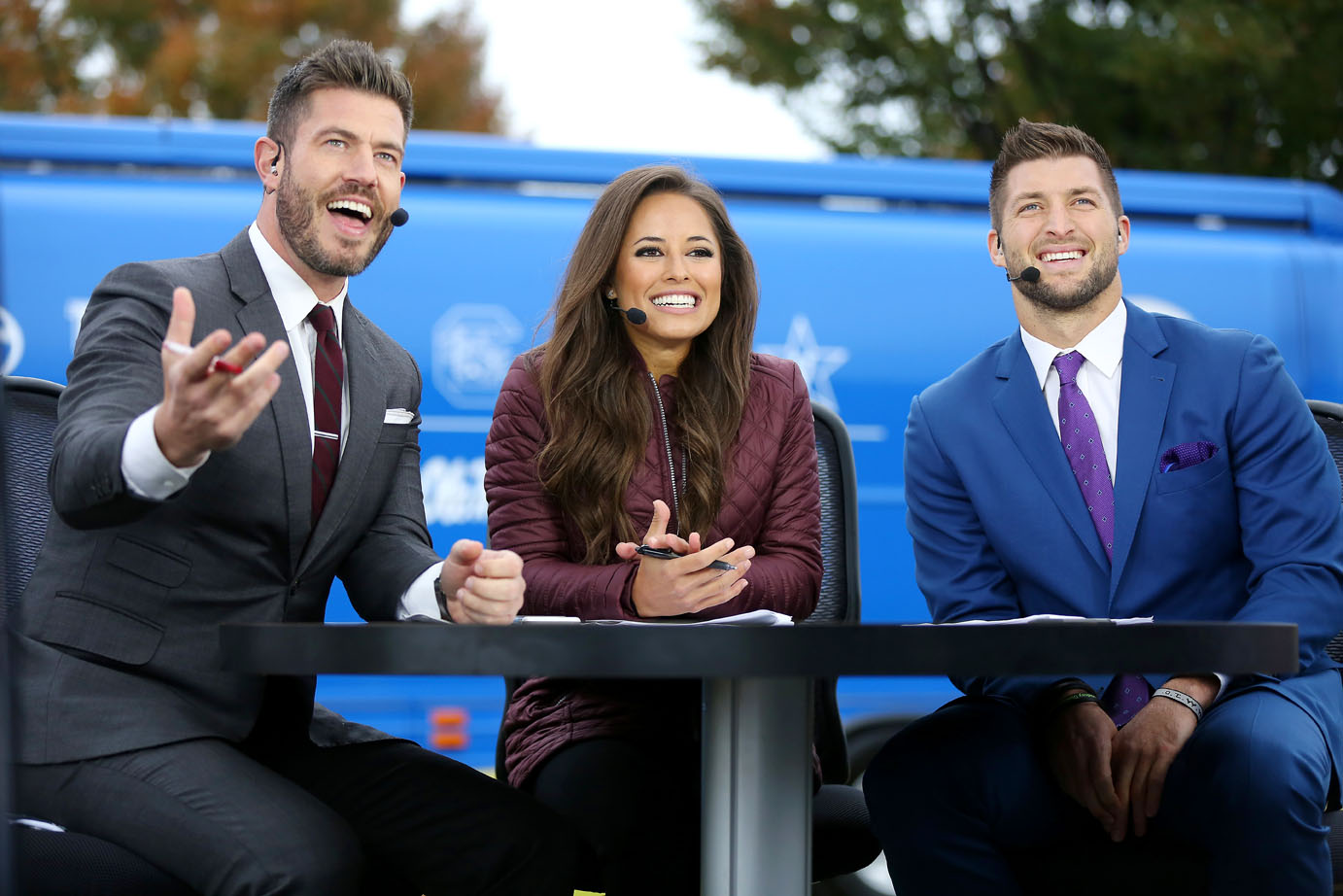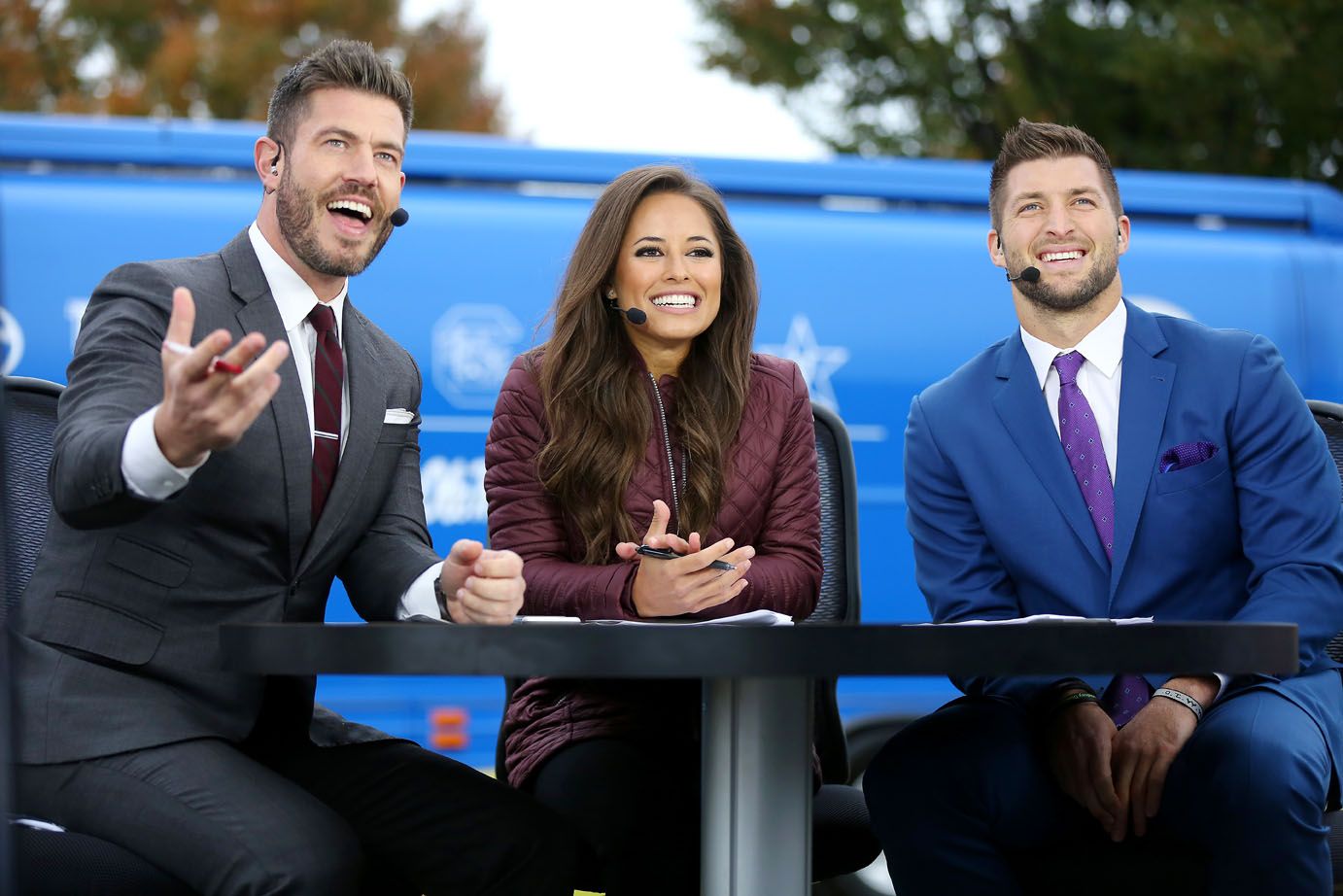 Instead, Hartung launched to prime time with incredible hard work and determination along with a natural on-air charisma. She compiles copious notes for each interview—"If anyone saw how much research I did for a short interview, they'd probably laugh and say I was wasting time"—watches playbacks of her segments to study her performance, and reminds her employers often that she is open to any opportunities to report for the network.
"I've made it clear to my bosses that my job is my top priority, that I'm ready to go at a moment's notice, and that I'm glad to do it," Hartung says. "I very rarely say no."
This open-mindedness is in part due to the international upbringing Hartung experienced. Her father, an aviator and businessman who died while piloting a vintage plane during an air show when she was 11, grew up in the Netherlands. So Hartung spent the summers of her youth visiting her relatives there and traversing western Europe.
"Flying all the time for work is no big deal to me," she says. "It's something I'm used to from an early age. There have been plenty of times where I had less than 24 hours notice or had to hop on a plane the same day."
Hartung could be sent to one of three different places the week after our conversation. Each is written in on her calendar—in pencil. Hartung knows how to pack and be out the door in five minutes. She doesn't have a husband or children to coordinate with. "I don't even have a goldfish," she says. But it also means she sometimes has to cancel on friends at the last minute. "They understand, and they're amazing."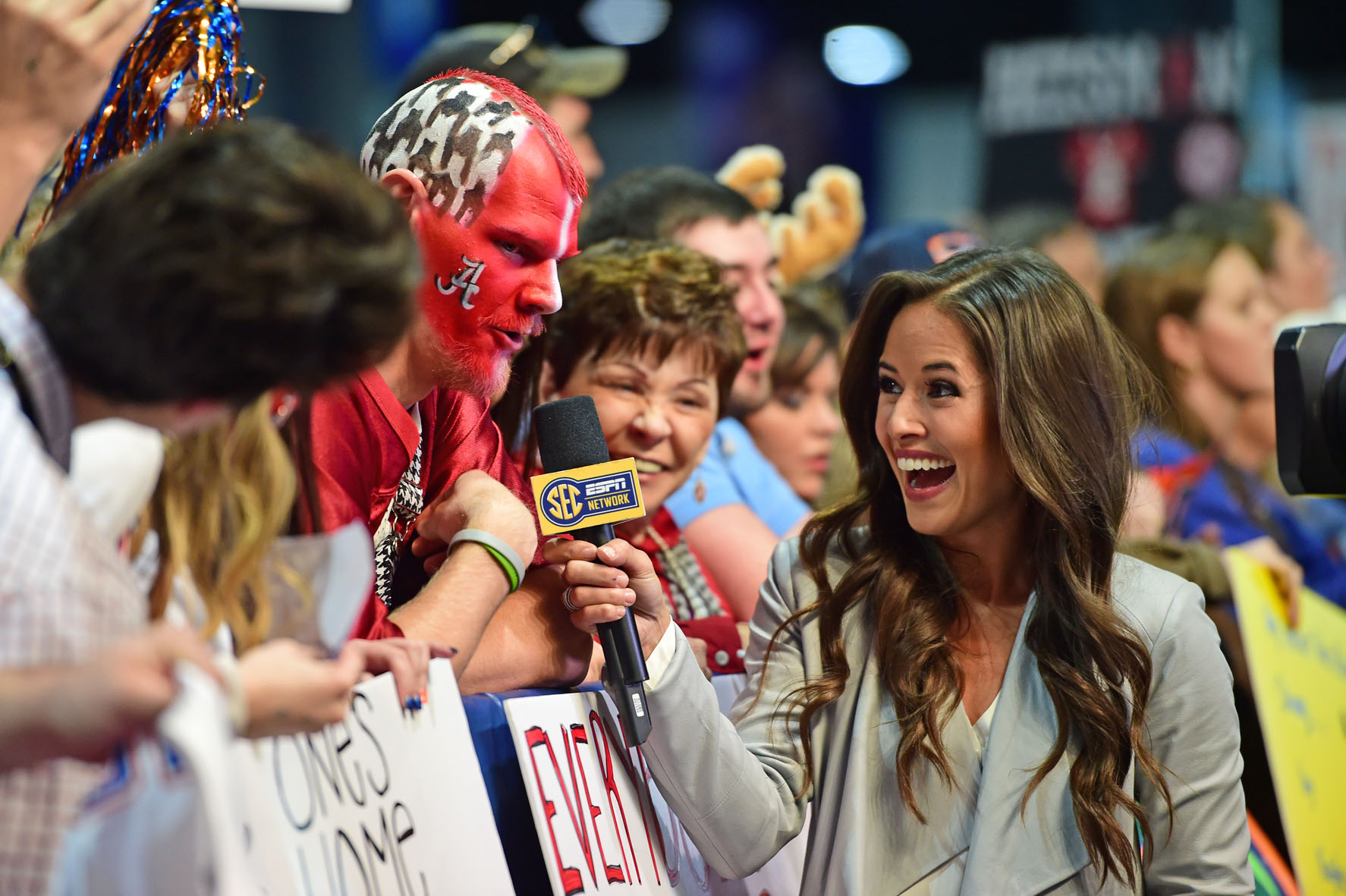 "Kaylee was in my wedding, and she didn't miss a party or any of it even though she was working with CBS and traveling a lot," says Katie Collins Fetzer, a counselor and co-owner of The Wellness Studio in Baton Rouge. "After the wedding, she sent this video that was edited of all the events and the wedding. She'd been secretly filming the whole time. I had no idea, but that's the kind of friend she is."
In high school, Hartung was the good-looking cheerleader all the boys had a crush on, says Jordan Piazza, co-owner of the revitalized Phil's Oyster Bar, where Hartung ate and hung out the night before we met. Her family and the Piazzas have been close for many years.
"Kaylee's authentic love for what she does has been obvious from the beginning," Piazza says. "And her outgoing charisma and knowledge has, in my opinion, helped her climb the ladder rather quick."
After graduating from Episcopal in 2003, Hartung chose Washington & Lee for its highly regarded political science and broadcast journalism programs. A stint interning with NBC Nightly News in college was her game-changing moment. "It took only one day for me to realize I wanted to be near the biggest stories," she says.
So Hartung secured a role with CBS News' Washington Bureau shortly after graduation and produced, shot and edited reports for CBSNews.com. She also worked as an associate producer for Sunday political powerhouse Face the Nation and served as assistant to the show's iconic host, Bob Schieffer.
People often ask her why she switched from news to sports, from being groomed by Schieffer to working under the wing of perhaps football's most familiar face, Brent Musburger, and Hartung has a straightforward answer.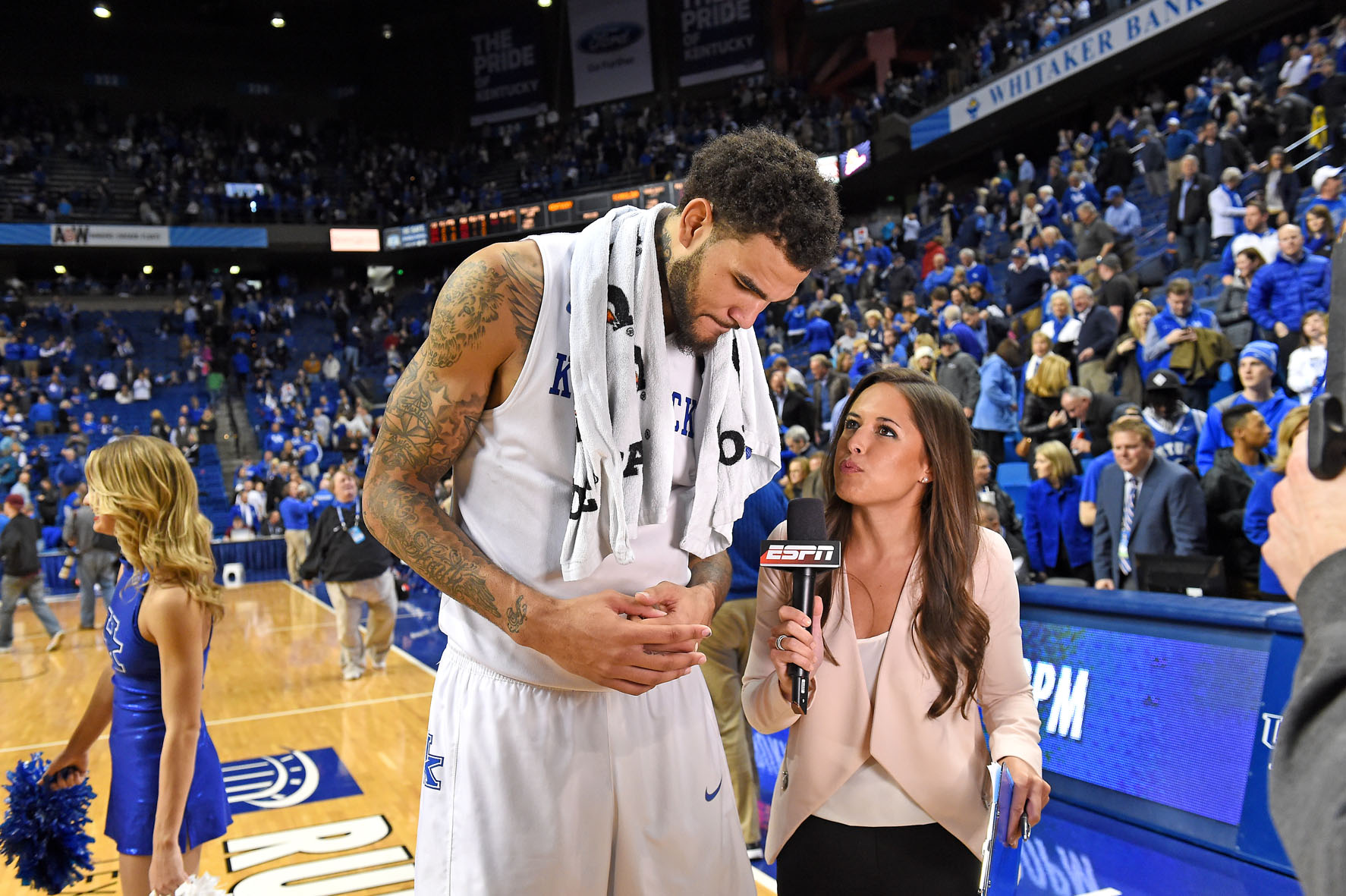 "Those are two guys who will go down as broadcasting legends," she says. "The common thread between them is curiosity. They love what they do, and they are genuinely curious about the world and the people they come in contact with. To see that vibrancy in both of them is inspiring, and that's what I work hard to be."
Consequently, Hartung says she's less interested in X's and O's. She wants a story. She wants to connect. "My questions are a lot different from ones asked by the commentators," she says. And she is asking these questions in an effort to counteract the rigid media training the coaches and players go through at fall camp.
Her first question to interim head coach Ed Orgeron after LSU's win over Missouri in his first game as Les Miles' interim replacement? Describe your emotions. She goes right for the heart.
"It's been fascinating to watch her step into this category of fame, and the coolest part is to see that she hasn't changed at all," Fetzer says. "She's always been composed, poised and authentic, and that comes across. She can go deep and not just scratch the surface. She is always looking for depth. And that makes her a perfect fit for that job."
It all goes back to her two towering mentors and how they view the craft.
"You know they know so much, but they keep asking questions," Hartung says.
What's next for her career is the big question facing Hartung. Her ESPN contract is up next year and, though she's a fan favorite, she knows anything can happen in broadcasting. She won't have too much downtime to turn over the possibilities in her head, though. Unlike her subjects on the field, Hartung gets no off-season. She works not only football, but SEC basketball and baseball games, too. What's new is that after many seasons at this on-air game, she's beginning to realize the benefits of adaptability over planning.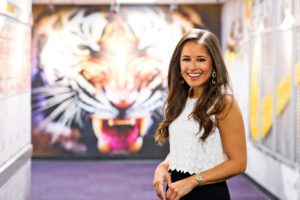 "I'm only 30," Hartung says. "I shouldn't be getting too comfortable, and I'm more open now to possibilities than I ever have been. I realize now that you can't control everything. Some things you need to leave open to what possibilities might come your way."
Until then, she's soaking up this experience with Musburger and their crew this fall. The travel and the show prep and all those night-before dinners where her mentor can go on for hours with eye-popping anecdotes from the annals of college sports history keep her fire lit for more.
So does she see herself sitting on Musburger's side of the table many years from now? Will Hartung be telling some young sideline reporter about the time, long ago, when she was riding shotgun and Les Miles ran a stoplight on television, or how Anthony Davis, while still hooping for Kentucky, gleefully photobombed her interviews in Rupp Arena? No matter where her career leads, these colorful tales, and many others, make the 90 seconds of sideline stress seem like a blip on the screen.
"I have the best seat in the house, and I get to be a part of really important moments of people's lives, and that's an honor," Hartung says. "I have to respect that by giving it my best, by telling a story that matters."
---
Hartung isn't the only local woman making a name for herself in the sports media world. Check out our feature stories with Fox Sports' Jennifer Hale and LSU football's Emily Dixon, both of which were featured in our November issue of inRegister.