A Tiger with taste: Emily Dixon is both fan and fashionista
Emily Villere Dixon is not the offensive coordinator for the LSU football team. But as the wordier coordinator of offensive operations, she laughs whenever someone accidentally introduces her, a petite and stylish 29-year-old, by that slip of the tongue.
"I'm definitely not setting up any game plays," she says, "but I do work with our offensive coordinator to put game plans and call sheets into a physical form to use on the field every game day. I schedule and book travel and work with our assistant athletic director of recruiting, Sharon Lewis. I go on visits for prospective student athletes—basically whatever the offensive coaches need me to do to help stay organized."
Tiger fans might also be familiar with Dixon as a reporter for LSUsports.net, where she regularly interviews the team's coaches and student athletes on camera. A 2009 graduate of LSU's Manship School of Mass Communication, she sometimes posts a few of the most hilarious and candid moments from these interviews on her Instagram, along with photos from her gameday-themed blog. In short, Dixon has made sports journalism her life's work—and will graduate with a master's degree in kinesiology, concentrating in sports management, this December. But that doesn't mean she's turned complacent about it, especially in the midst of change after Les Miles' sudden farewell.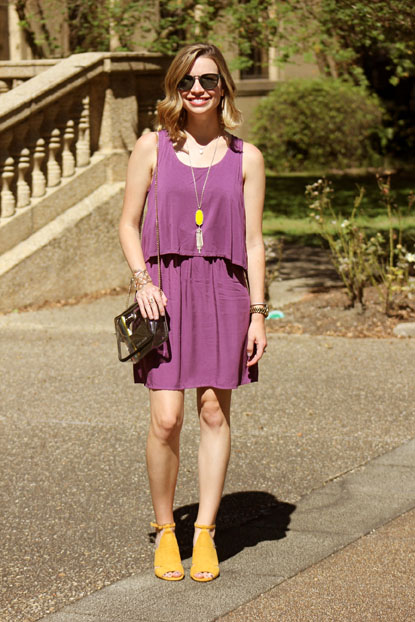 Dixon landed her first student job in the LSU football office after a chance meeting with Nick Saban while still a high-school student in Houston. After graduating from LSU, she bounced around for a few years, learning the ins and outs of sports reporting.
"Let's say you want to be just like Erin Andrews," says Dixon, referring to the host of Dancing with the Stars and sideline reporter for Fox NFL. "And every day you're not Erin Andrews, you ask yourself, 'Am I not doing something right? Am I falling behind all these younger girls on TV?' When that happens, I just stop myself and remember that I love my job. I love coming to work and talking with my coaches and doing interviews. So I always tell people that journalism is a bigger world than you would initially think. There's more to it than just writing or being on TV."
Dixon's blog, for example, stems from a more creative urge, which allows her to highlight local boutiques and model her sideline style to help anyone "complete the look" for gameday.
But Dixon's line of work can also put her under the spotlight of another kind of scrutiny—that of people critical of her status as a female reporter in the male-dominated realm of sports journalism.
"Often I'll go to press conferences and realize that I'm the only girl, or one of only a few girls, in the room," she says. "There's the constant stigma of feeling like you have to work extra hard to prove yourself, because people will assume that a guy in my position might automatically know more."
She may never have played football herself, but she notes that there are plenty of male newscasters who have also never played, and yet they seem to have a leg up in terms of respect in the industry. Plus, she says, the pressure to maintain a certain physical appearance often proves to be an unfair burden to women in the field.
"Message board posters or trolls might leave comments on that," she says, "but I got to the point where I decided that as long as they're not commenting on me putting out wrong information or doing bad interviews, then I can deal with the other stuff. I want to make sure that my work and what I live to do speaks for itself."
These days, Dixon says she rarely thinks about those sexist commenters at all.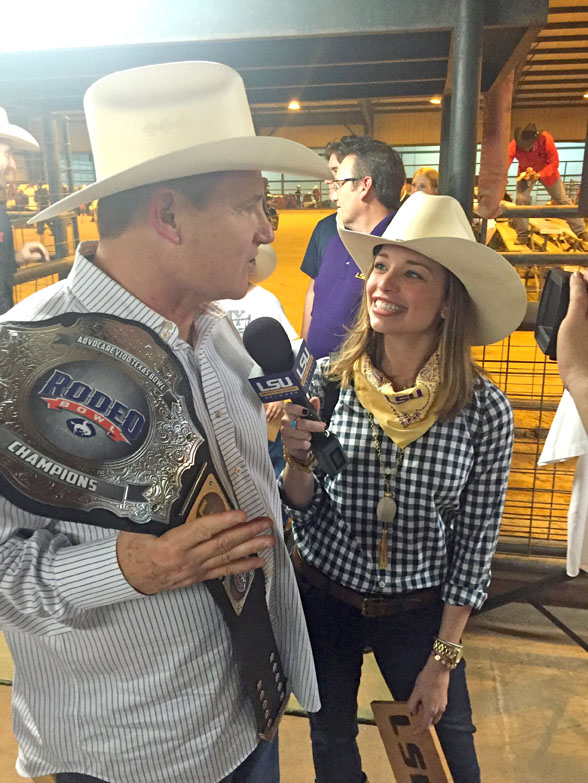 "I love interviewing our players because of our interactions and the great answers they give," she says. "Some of them I've known since they were high-school students being recruited. And if I'm only worried about what other people are thinking of me, then my job wouldn't be half as enjoyable."
Through her years at LSU, Dixon has also benefitted from the tight-knit community forged under Les Miles, the only head coach she had ever worked with since her start as a freshman student worker. Her emotional blog post on his departure, "Dear Les Miles," is one of her most popular posts to date.
Something else also helps make working as a minority figure in a large field much easier, she says: surrounding herself with other women who share the same passions and concerns.
"Sharon Lewis gave me my job when I was 19, and I still work with her," Dixon says. "And the other women I work with—like Tam Davis, Ya'el Lofton, and Lois Stuckey at the front desk—are all supportive. If I didn't have them around me, then I probably wouldn't have made it to my fifth season with the team."
See Dixon's work at LSUSports.net and emilyvilleredixon.com, or follow her on Twitter and Instagram.