On a roll: Basel's Market Food Truck
Pulling into the parking lot in a massive 1977 Chevrolet, Kailyn Lindsly is not who you would expect to be behind the steering wheel. Yet she navigates through the narrow lanes with perfect ease—despite her platform heels.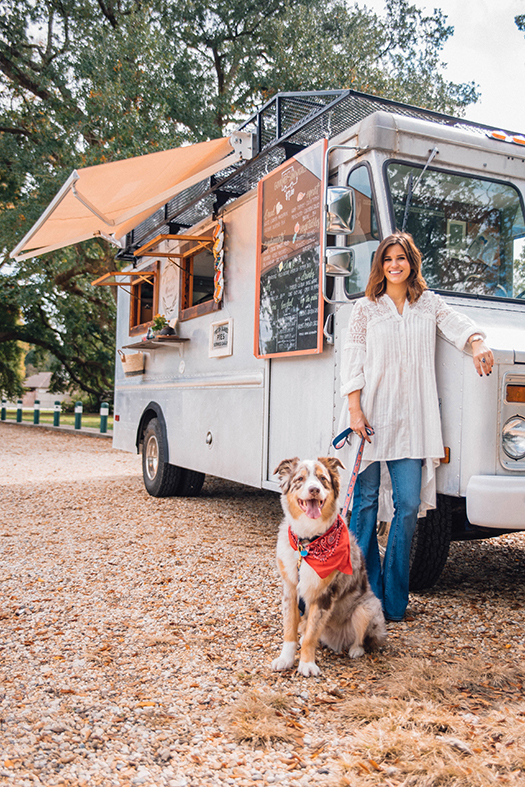 "I think I'm better at driving the truck than I am my car at this point," laughs Lindsly, the 24-year-old entrepreneur behind Baton Rouge's newest mobile restaurant, Basel's Market Food Truck.
Named after her six-year-old Australian shepherd Basel, the truck has had the ultimate makeover since Lindsly and her family discovered it in March.
"We found the truck four streets from my house. A handyman had been using it," says Lindsly. "It was a lot of work, but I love that I fixed the truck myself—with lots of help from my family, of course. I went from nights of online shopping to looking up as much as I could about plumbing, but now I know how things work and who to call."
And while the truck's transformation is awe-inspiring, the real stars of Lindsly's show are her freshly made and locally sourced menu items, from build-your-own sandwiches to homemade chicken and crawfish pies. Growing up at her family's store and deli, Calvin's Market, Lindsly knows the importance of ingredients. She worked tirelessly with employees—and lifelong friends—at Calvin's to create a menu that not only reflects personal favorites, but utilizes all the best from breads to meats to vegetables.
Now, more than a month after the mobile business launched, Lindsly is excited about spreading the gift of good food with Baton Rouge and beyond.
"I'm still feeling it out and trying to get down a routine," says Lindsly. "I want to bring good vibes and good food with me
wherever I go."
To follow Lindsly and Basel's journey, follow @baselsmarketfoodtruck on Instagram and Facebook.