Letter perfect: Stationery designer and letterpress printer Hope Johnson
Hope Johnson is an old soul. Through her letterpress company The Little Blue Chair, she seeks to create meaningful and beautiful experiences for life's milestones, and she does so with equal parts love and creative inspiration.
Johnson fell in love with designing invitations as a little girl. Two decades later, she spends her days in her home studio with her kids, hand-feeding paper into "Marlin," her 100-year-old, 1,500-pound, Chandler & Price letterpress, to create custom stationery and invitations.
Johnson discovered her letterpress on eBay and named it Marlin after the Texas city it was in. While operating Marlin is inspiration enough for a lover of all things vintage, Johnson's design space also helps to get her creative juices flowing.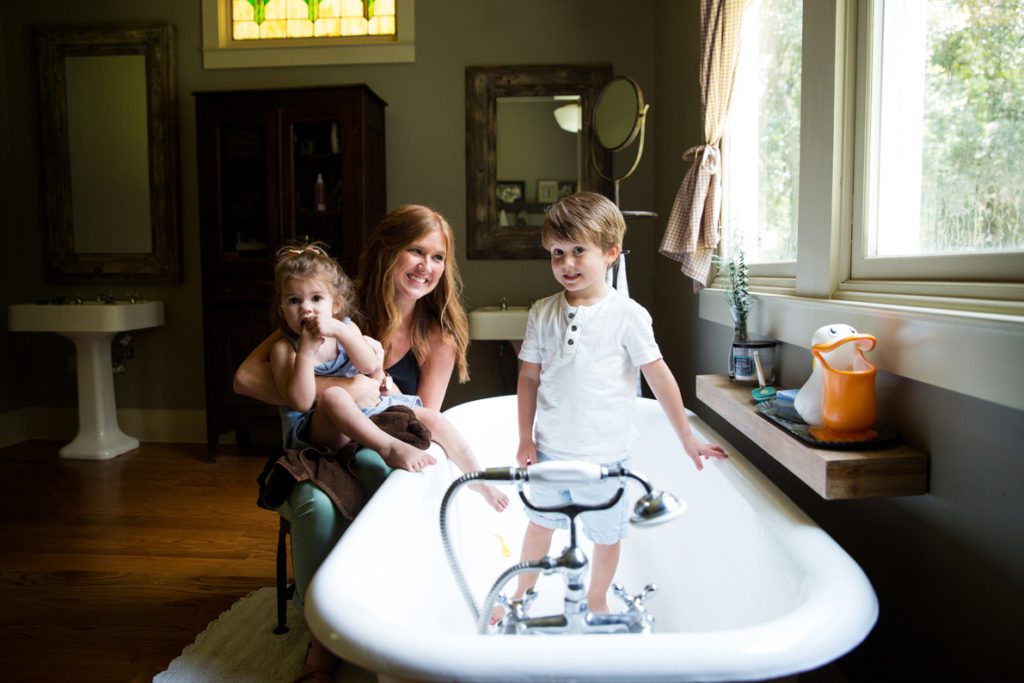 The home she shares with her family is, in itself, a work of art. In 2009, Johnson and her then-fiancé hatched a plan to move an old home, then fix it up and sell it. In the process, they found out it was too expensive to move—so the couple spent a year designing and building a replica of an 1800s home.
Today, there are ink stains on the floor of daughter Isla's room, where Johnson started The Little Blue Chair before their kids were born. Over the past five years, her company has grown out of the bedroom and into a backyard studio built by her husband. That studio houses a little blue chair that, unsurprisingly, has a bit of history to it.
"It was the chair my cousins and siblings and I used to sit in and open Christmas presents, one at a time. There weren't many cousins, so my grandparents wanted to make it last," Johnson says. That same Christmas-morning feeling of surprise and wonder should be found in wedding stationery, she says.
Johnson learned bookbinding and letterpress at LSU on her way to a bachelor's degree in digital art with a minor in printmaking. There, she noticed the difference between digitally printed items and their letterpress-printed cousins, and she was hooked. Johnson also took lots of business classes, knowing she wanted to own her own company. "The thought of working for someone else never crossed my mind," she says.
After graduating, her mission was to find a tabletop letterpress. Once obtained, she began learning the craft and printing for friends and family. As her business grew, she accepted a large job that her small press couldn't handle, and that's when Marlin—a rare find—came into the picture.
While The Little Blue Chair sees more than its fair share of party invitations and stationery, wedding invitations are really where her heart is. Johnson encourages brides to submit any sentiments they want included, from a quote from their grandmother to a meaningful illustration. And most brides have a vibe they want to convey—warm and organic, formal and romantic, airy and bohemian. Johnson puts it all together. "I tell that story through their stationery," she says. From months of design and prep work to hand-drawn invitations to whimsical papers, Johnson's art is a labor of love.
And love is never too far away, with Finn, 3, and Isla, 2, often inside with a nanny or grandparent during the workday. While they can't be in the studio when old Marlin is printing (despite his age, he runs on a motor), there's plenty she can do with the babies underfoot. The kids often have playtime in the studio, painting contentedly while Johnson designs or prepares her next batch of papers.
"Or I can pop over into the studio during naptime," she says. "I'm grateful that at this time in my life, everything is right at home with me, in my backyard."
Check out thelittlebluechair.com.