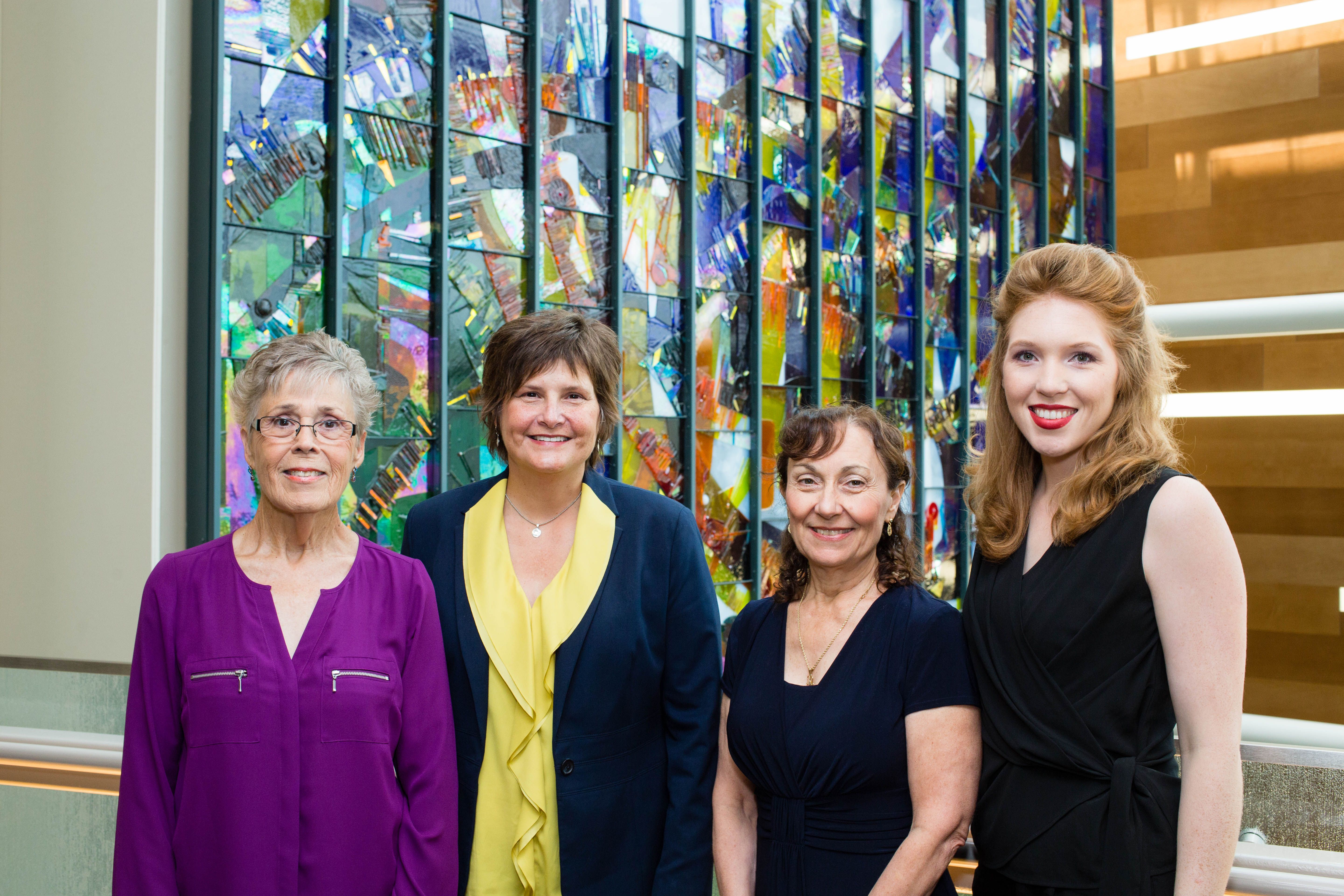 The harmony of healing art at MBP-OLOL Cancer Center
Photos by Frank McMains; Above: Nora Taylor, Linda Lee, Francinne Lawrence and Chelsea Norris, assistant director at Ann Connelly Fine Art, pictured in front of Steve Wilson's "Lord Hear our Prayers."
A holistic approach to medicine and carefully curated art create rejuvenating energy at Mary Bird Perkins—Our Lady of the Lake Cancer Center
---
Nora Taylor was walking through her den. "Get ready," she heard an inner voice tell her. She immediately knew "get ready" meant one of two things: get your affairs in order or get ready to fight. Again.
The latter would prove to be true. The second battle she would fight with acute myeloid leukemia would be more challenging. It would be more emotional. But the second battle she would win, just like she did the first.
"I'm doing well," the 71-year-old says. She still works two days a week, vacations with her family and attends Mind-Body sessions at Mary Bird Perkins—Our Lady of the Lake Cancer Center, to which she credits her good health.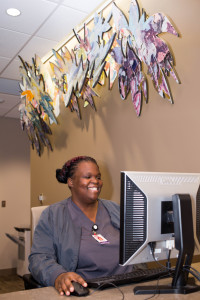 The sessions are part of the Healing Arts program at the center—a relatively new program that complements the traditional treatments patients receive by adding an emphasis on thoughts and emotions to help improve physical health. Activities include support groups, pet therapy, water aerobics and more.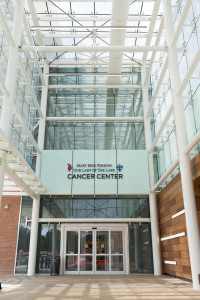 The Healing Arts program isn't just for patients and survivors, though. It's for all who enter the facility. The 26 strategically placed pieces of curated art throughout the recently renovated six-story building are meant to engage, provoke and distract.
Distract they do.
The 22-foot glass installation that greets all who enter the grand first-floor corridor can't be missed. It hangs down from the 47-foot-tall atrium with 170 panels made up of colorful shards of glass from across the world. It's striking, beautiful—and distracting.
"If we can make those who come here say 'What in the world is that?' in those nanoseconds, we've been successful in introducing beauty," says Linda Lee, administrator for the cancer center.
Included in the renovations was the construction of a meditation room. "Lord Hear our Prayers," the large-scale installation produced by local glass artist Steve Wilson, also serves a focal point in this room just off the atrium. Meditation, offered as part of the Mind-Body approach for patients, is also available to employees, some of whom now get to work early to spend quiet time here.
"The human component coupled with the abstract completes the circle as best we can for those who come here with a serious disease," Lee says.
The rest of the renovated facility resembles an art gallery. The building is quiet and calm and the artwork is reflective of nature—in particular, south Louisiana nature.
"We want it to feel like home," says Marian Walsworth, director of radiation therapy operations.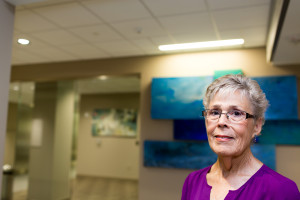 "The Oaks" by Kate Trepagnier hangs in the main corridor's seating area, giving viewers a glimpse at the majestic trees that were inspirational and healing to her through her family's own cancer journeys. Trepagnier's oil painting of Bayou St. John before Hurricane Katrina hangs in a first-floor waiting area along with Mia Kaplan's "What the Swamp Means to Me," a three-dimensional piece of calming pastel flowers.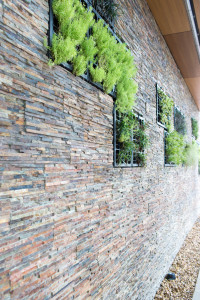 "Nature is so healing," says local gallery owner Ann Connelly, who served as consultant for the art aspect of the Healing Arts project. "We hope it takes the patient away from the pain they're going through."
Though the call for entries spanned the nation, most artists ultimately chosen for this project have ties to Louisiana. Images produced by C.C. Lockwood, a local nature and wildlife photographer, are displayed by each elevator, each floor representing a different layer of nature.
When Nora Taylor saw the C.C. Lockwood installation on the second floor for the first time, she became emotional. The black-and-white photograph of a narrow bayou channel stretches to the ceiling. Between the tall cypress trees, there's an opening. There's an end point.
Francinne Lawrence, survivorship director at the center, was responsible for designing the patient portion of the Healing Arts program. She's completing her Ph.D. in holistic medicine and asked the cancer center if she could volunteer to better understand how holistic and traditional medicine work together.
"They don't exist side by side but they blend together," she says. "It's an intangible quality, I think. We need to focus on what goes into the body, and I'm not just referring to medicine."
Her simple request to volunteer would turn into a full-blown Healing Arts program, which has assisted more than 300 patients, has physicians on board, and, most importantly if you ask Lawrence and patients like Taylor, really works.
"It was simply a matter of planting a seed," Lawrence says. "There's actual scientific research that shows the positive effects of the healing process through art."
Lawrence says for most patients, cancer doesn't end when treatment ends.
"I'm very fortunate and grateful to be alive," Taylor says. "When you leave, you feel renewed. All cancer patients try to live courageously, but this program could benefit anyone on their cancer journey."
The Mind-Body sessions are offered at no cost to patients and are run largely by volunteers. Participants may practice yoga when not receiving treatments or color mandalas when they are. Coloring mandalas, intricate patterned spiritual symbols, allows the mind to relax, Lawrence says. When the mind is relaxed, the body can relax, she says.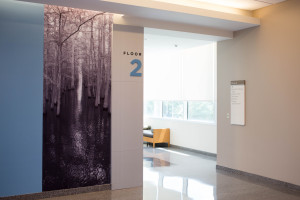 The techniques impact the production of hormones, immune system effectiveness, food digestion and many other body functions. Often patients feel as if they're at the mercy of their illness, Lawrence says. But with the Mind-Body techniques, patients can practice exercises—such as breathing—at their will, when needed.
"People go through treatments in a very mechanical way," she says. "But healing happens with the mind, body and spirit. There's a whole gamut of emotions that comes with cancer. Oftentimes it's hard to express those emotions with words. So we turn to art. Art isn't for everybody, but it's for more people than you might think."
In addition to healing patients physically, Lawrence is also interested in healing them spiritually. She wants them to make peace with the physical changes happening with their bodies. This can only be done, she believes, if participants open up their creative side.
"I want to bring healing into the soul," Lawrence says. "Not every patient can be saved. But every patient can be healed."