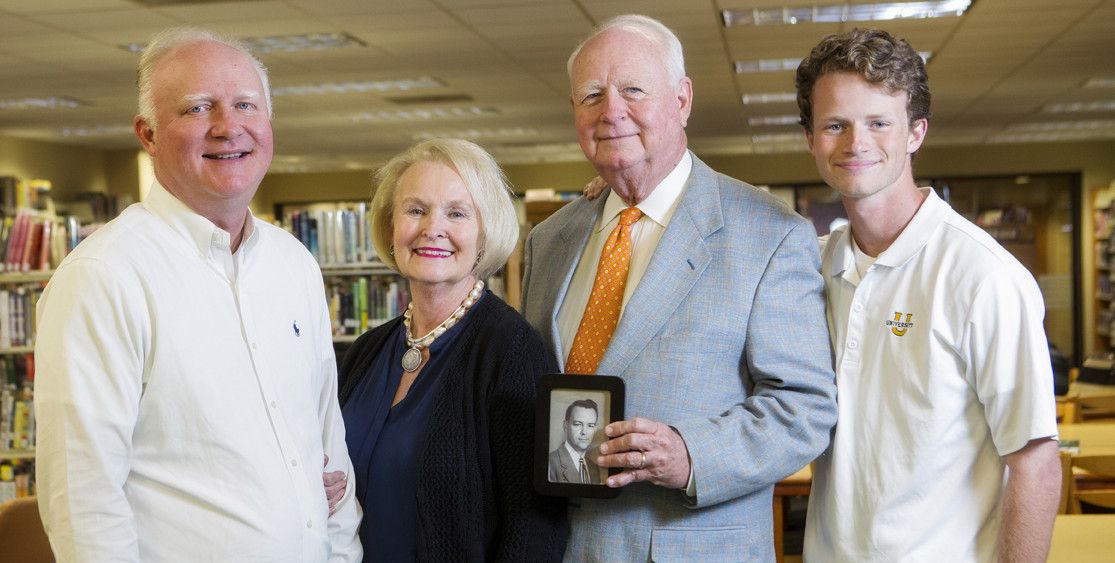 Merrill Faye and Bridger Eglin, center, graduated from U-High in 1961. Their son Connor, left, is also an alum, and his son Hudson, right, will graduate this month. Bridger holds a photograph of his father, William, who taught at the school for more than a decade. Photo by Collin Richie.
U-High's 100th graduating class is filled with legacies
When Bridger and Merrill Faye Eglin attended University Laboratory School in the late 1950s, boys wore jeans and T-shirts to class and girls donned skirts, shirts, sweaters and bobby socks. Students had LSU student ID cards, which gave them access to anything on the college campus, including football games and the Huey P. Long Fieldhouse pool. After school, many U-High students headed to the Dari-Delite on Nicholson for milkshakes and sodas.
"It was like a family," says Merrill Faye, her eyes welling up with tears. "It was such a fun place to be. We worked hard, and we had great teachers. We studied hard, and it was a lot of fun. It was really like the TV show Happy Days."
All three of the Eglins' children—Connor, Rachel and Will—graduated from U-High. And this month, with the commencement of U-High's 100th class, their oldest grandson Hudson will be wearing the cap and gown.
Because of their strong allegiance to their alma mater, the Eglins agreed to serve as Centennial Celebration co-chairs of events taking place all year long.
"We couldn't say no," says Bridger, whose father also taught at U-High. "This school is an important part of our lives."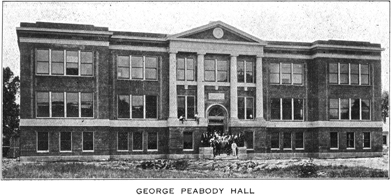 The Eglins aren't the only ones with grandchildren graduating this year. Of the 109 seniors, seven are grandchildren of U-High graduates, while another 14 have parents who graduated from the school. The legacy tradition is strong.
"U-High was a nice place to be," says Paulson Armstrong, who graduated in 1950 from the school when it was still located at the Pentagon Barracks. His granddaughter Elizabeth will also graduate this year.
"We were lucky because most of the students were very interested in being educated," he says. "The faculty was good; they taught well."
The school opened its doors in 1915 as Demonstration High School at the LSU downtown campus with the goal of providing teachers and pre-service teaching candidates an opportunity to study and observe effective teaching methods and to obtain practical classroom experience. At the time, 64 students were enrolled in grades eight through 11. A seventh grade was added in 1923 and the name University High School was adopted. By 1937 the school included the first through 11th grades. In 1945, 12th grade was added and crowding became an issue. The new facility located on Dalrymple Drive opened in 1953.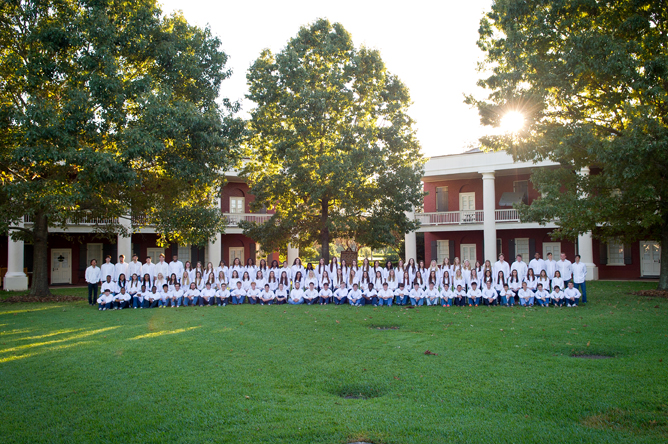 Today, there are more than 1,400 students from kindergarten through 12th grade. Over the years, the school has expanded to include a second story, an elementary wing, a high school academic wing, two gyms, a turf field on campus, a turf multipurpose court and two new playgrounds. Two separate fires actually forced a few of the renovation projects. The school has gone from four total faculty members, including the principal, the year that it opened to 130 faculty members on staff.
"We are proud of the evolution of U-High. It's seen so much change, but it has still maintained its integrity," says Bridger. Merrill Faye agrees. "We have a great devotion to this school," she said. "It's more than just an obligation. We have an allegiance to the people who graduated from here. And it's exciting that vibrant people still want to send their children to school here. It makes me very nostalgic every time I step on campus."
---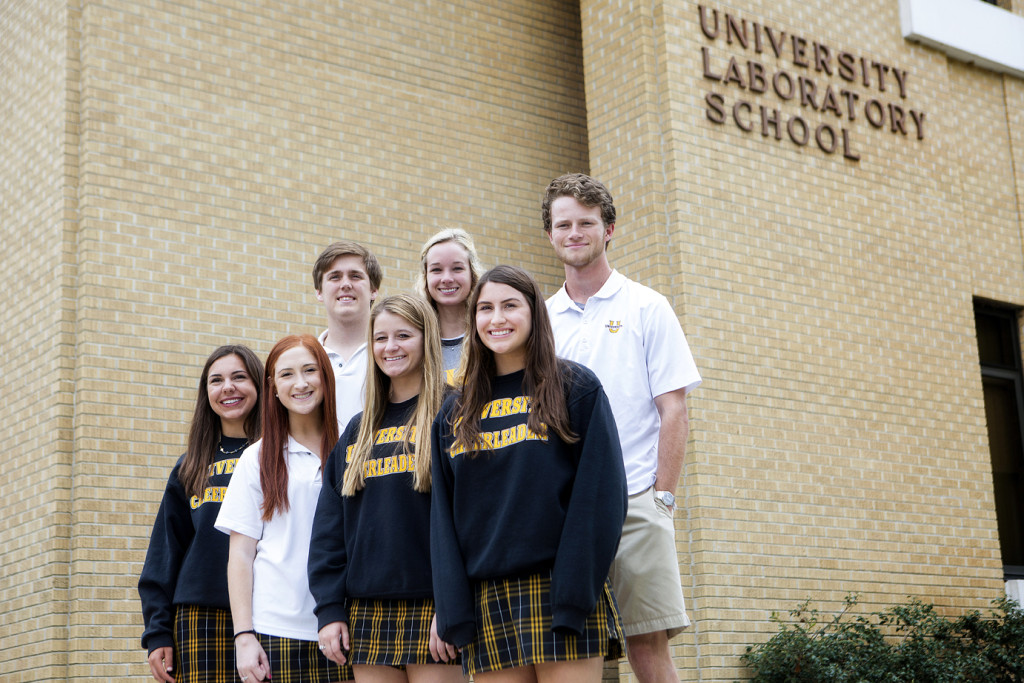 A new generation
Seven graduating seniors have grandparents who are alums of U-High
Elizabeth Armstrong
• Daughter of Keith and Mary Beth Abraham Armstrong
• Granddaughter of Dr. Paulsen Armstrong
• There are numerous Armstrongs who attended University High School as far back as 1927. Mary Beth is an Abraham, and all of her siblings attended U-High as well. Dr. Armstrong's sister married a Hall, and all of the Hall children attended the school.
Anna Aronson
• Daughter of Laurie Aronson
• Granddaughter of Richard Lipsey
• An aunt and great-uncle are also graduates of U-High.
Mary Barrow
• Daughter of Dr. Gray Barrow
• Granddaughter of the late Dr. Wylie Barrow Sr.
• Numerous Barrows attended University High School as far back as 1926.
Hudson Eglin
• Son of Connor Eglin
• Grandson of Merrill Faye and Bridger Eglin
• Great-grandson of William Eglin, a teacher at University High School during the 1950s
• An aunt and uncle are also graduates of the school, along with several great-aunts, great-uncles and cousins.
Meredith McKernan
• Daughter of Shannon Field McKernan and Gordon McKernan
• Granddaughter of Jimmy and Laura Field and Mary Evelyn Johnson McKernan
• Numerous aunts, uncles and cousins have attended the school.
Katlyn Upp
• Daughter of Dr. James Robert "Bobby" Upp Jr.
• Granddaughter of James Robert "Jimmy" Upp Sr.
• Numerous Upps, including aunts and uncles, have attended U-High as far back as 1941, including Dr. Charles Upp, Edmund Loy Upp, Terri Lynn Upp Manning, and the late Diane Rene Upp Simino, for whom a scholarship is named.
Madison Vick
• Son of Dr. Randy Vick
• Grandson of Dr. Maurice "Mac" Vick Jr.
• Great-grandson of Mrs. Whitfield Vick, a teacher at University High School
• Uncle Mackie Vick III and great-uncle James "Jimmy" Vick also attended school here. Numerous Vicks have attended University Laboratory School since the 1950s.