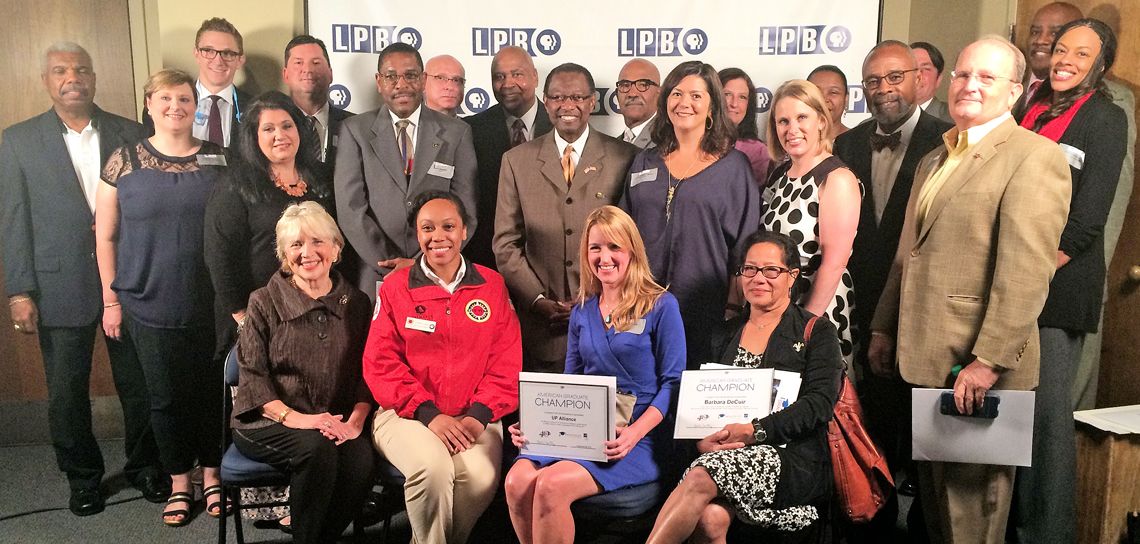 Giving back: LPB's American Graduate
These days, a typical evening might involve sitting down in front of the television to watch the reality show escapades of some of America's most excessive families. Inundated with images of expensive clothing, houses and cars, we sometimes forget that reality for most people is often quite different from what we see on the screen. A Kardashian may not need to finish high school to be successful, but for the 25 percent of Louisiana students who fail to graduate, what happens next is far from a stint in the limelight.
That's why Louisiana Public Broadcasting decided to start using the airwaves to make a change. In 2014, LPB joined more than 80 stations around the country for the national dropout prevention initiative American Graduate, which uses the influence of local public radio and television stations to increase reporting on the dropout crisis, convene diverse stakeholders and provide access to free resources for teachers and parents.
"January was National Mentoring Month, for example," says Kevin Gautreaux, senior producer at LPB. "So a lot of our American Graduate efforts paid special attention to the fact that a huge part of keeping students in school requires having caring and consistent adults in their lives."
Along with a yearly American Graduate Day that dedicates 24 hours of LPB programming to the dropout crisis, companion TV and radio programs work to highlight local organizers, teachers and mentors—called "Champions" in American Graduate lingo—who work to help at-risk students stay on track.
Missy and Troy Smart, for example, noticed that a lack of engagement was holding children back at the Rocking Horse Early Learning Center in Port Allen, a facility that their two daughters were attending each day. The Smarts bought the daycare and improved teacher training, ensuring that children stay excited to learn through immersive lessons and hands-on exploration.
---
Bernell Boudreaux, chairman of the Project Excel mentoring program for middle school students, the flagship project of 100 Black Men, was especially concerned that the graduation rate for black males in Louisiana was less than 50 percent. Through Project Excel, Boudreaux and his team have improved the odds by offering scholarships and helping students chart a five-year plan that includes high school graduation; 90 percent of those students have achieved their goal.
Similar in its mission, the Louisiana Department of Education's Jump Start program helps engage at-risk high school students by implementing coursework aligned with industry credentials, a perfect solution for students who prefer hands-on learning opportunities. John Brooks, a Jump Start student from East Ascension High School, took this alternative route and is currently working on a welding certification through the Pelican Chapter of Associated Builders and Contractors.
Even former dropouts looking for a second chance can partner with the Louisiana Community and Technical College System's WorkReady U program. Participant Destiny Heaton, who grew up in a household that didn't value education, went on to graduate with honors in business from the Mansfield campus of Northwest Louisiana Technical College. Now Heaton serves as a positive role model for her own three children. That desire to help the next generation is the common thread among all of American Graduate's Champions.
"I want them to see," says Heaton, "that no matter where you come from, where you've been or who you were, you can be anything you want to be." 
HOW YOU CAN HELP
To sponsor the Rocking Horse Early Learning Center or make a monetary donation, call 225-749-4004. To donate to Project Excel or other 100 Black Men projects, email [email protected] or call 225-356-9444. To donate or volunteer with the Jump Start program, email [email protected]. To support the WorkReady U program, click "Give" at lctcs.edu. And visit lpb.org to see the American Graduate videos.