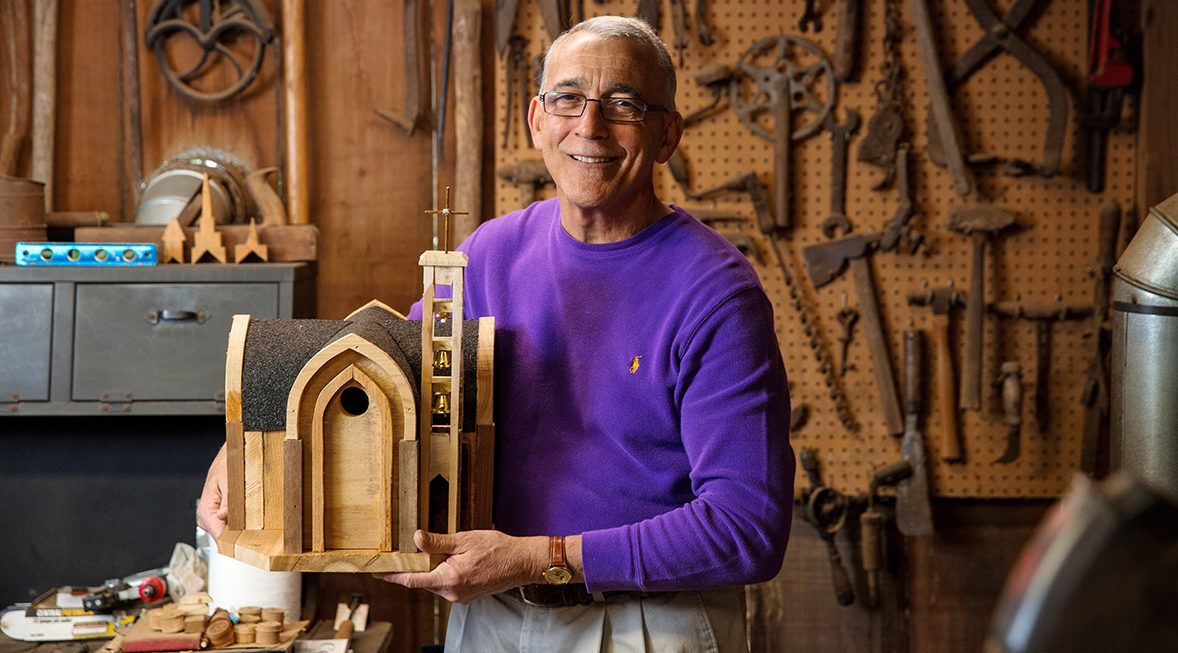 Altar ego: A doctor's healing hands turn a woodcraft hobby into houses of worship
---
'Dr. Miletello?" The woman stood on the threshold of her house, assessing her husband's doctor on her doorstep, dressed down in shorts and a do-rag. "What are you doing here?" Oncologist and hematologist Gerald Miletello was not there to deliver information regarding her husband. In fact, he simply wanted to rummage through the remains of their wooden fence lying in a heap curbside waiting for the trash truck. He had a new birdhouse in mind.
Miletello has a strong reputation of being a kind, compassionate and astute cancer and blood disorder specialist throughout the region. His workdays are long and can be draining. But when he steps into the woodshop behind his home at the end of the day to work on birdhouses, he says it all melts away. But these aren't just any old birdhouses—over the past 15 years, he has built hundreds of replicas of churches, many local, some far-flung, and mostly Catholic.
"I'm sorry, but we only have Catholic birds in Baton Rouge," he once joked to a woman who wanted two replicas of First United Methodist Church downtown. Of course, he made the replicas and has even recreated the chapel at Yosemite National Forest in California.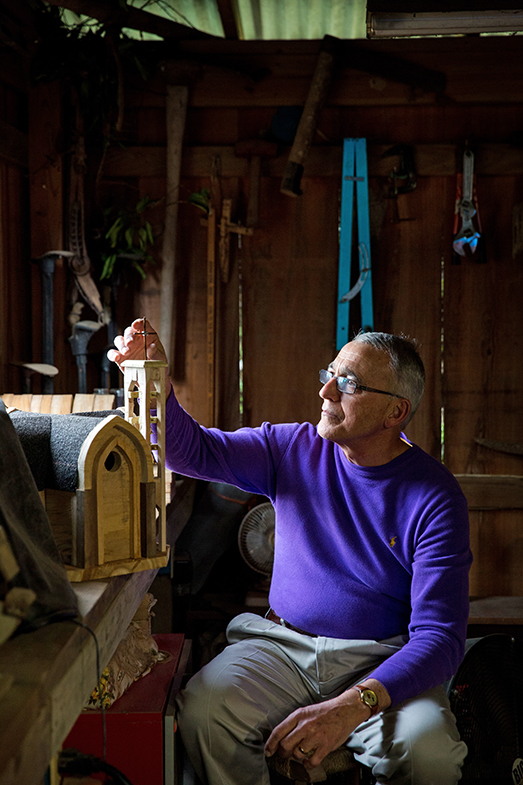 The big request lately is St. George Catholic Church on Siegen Lane. The doctor got 20 requests for it at Christmastime, many of the buyers stressed out and frantic for a last-minute Christmas gift. But these take time, he said, and if it's stress-inducing, he's not going to do it. "This is strictly for fun, not for money!" he says.
Good thing, because at $75 to $100 a pop, and with the time he puts into each of them, Miletello jokingly calculates he's making about 35 cents an hour at his hobby.
But it's relaxing for him, and that's the important part. "I can come out here for an hour and forget everything that's happened today. I light a fire, I turn the news on," he says. "It's a good way to get your mind off everything."
Miletello's neighbors know when he's in the shop, as smoke is usually pouring out of the chimney, even in the summer. These days, he's got plenty of discarded St. George bell towers for firewood. "It has so many little pieces!" he says, and they've all got to be cut out by hand. What isn't crafted by hand is done with a band saw Miletello got for himself two Christmases ago. It's in mint condition, cleaned every day.
A longtime hobby woodworker, Miletello used to make little things for around the house, like tables for his daughters, now 32 and 34. "I don't have a lot of talent," he says. One day, years ago, he bought a $7 birdhouse at a craft fair. He came home and took it apart, and thought to himself, I can build this. He doesn't know what caused him to start with a church birdhouse, and says he'd never seen one before. But he hasn't stopped long enough to question it.
He showed photos of his work to someone while on a recent vacation in California, resulting in an order, and just spent $600 to ship four birdhouses to Napa. Paper N' Things on Jefferson takes custom orders from clients for him. And if he doesn't have a buyer for a finished house, he'll put it in the waiting room at the clinic and it will be gone in a day, he says. Word has gotten around, and the calls keep coming in steadily from Baton Rouge's deeply devout population.
"People call the office, and my nurse will say, 'So-and-so is on the line and wants a birdhouse,'" he says. "People that aren't patients will call me. My nurse says she didn't know this was a real estate job and she'd be selling my houses," he says, laughing.
The funny part is, he's not particularly a bird-lover, and it doesn't seem like his clientele are either. Although they're weatherproof and set up for outdoor use, by most accounts, the church replicas live indoors. Many are given as thoughtful wedding or anniversary gifts to commemorate where the couple was married.
Retirement is still a ways off, but Miletello is looking forward to one day spending a week in Amish Country, learning woodworking. In the meantime, he'll still be accepting donations of recycled wood, so maybe think twice before hauling that old cypress off to the burn pile or the curb. It just may house a future congregation of birds.