"Saga of the Acadians" on display downtown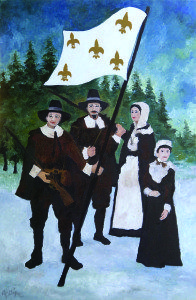 The Foundation for Historical Louisiana is displaying George Rodrigue's Saga of the Acadians at the Old Governor's Mansion through Friday, Dec. 4. The 15 original paintings depict the journey of the Acadians from Nova Scotia to Southwest Louisiana 250 years ago.
The collection is on loan from the George Rodrigue Foundation of the Arts and the Anne and Wendell Gauthier family. The exhibit is open to the public Tuesday through Friday from 10 a.m. to 4 p.m. Admission is free for FHL members and $10 for guests.
Between 1985 and 1989, George Rodrigue painted the Saga of the Acadians, a series of 15 paintings chronicling the Acadian journey from France to Nova Scotia in the 17th century, from Nova Scotia to Louisiana during the Grand Dérangement of 1755, and finally the first official return visit from Southwest Louisiana to Grand Pré in the 1930s.