LSU Museum of Art to reopen permanent collection this weekend
The LSU Museum of Art will host three days of special events to celebrate the reopening of the museum's permanent collection, Art in Louisiana: Views into the Collection.
Museum members can attend an opening reception tomorrow, Friday, March 4, from 6 to 8 p.m., where they can chat with special guest Congressman Garret Graves, eat food catered by Heirloom Cuisine, and listen to the live music from Nathan & the Zydeco Cha Chas on the fifth floor of the Shaw Center. Non-members can check out the collection free of charge this Saturday and Sunday, March 5 and 6. On Saturday, guest curator William Rudolph will also present a 2 p.m. lecture on the exhibition's portrait and landscape galleries.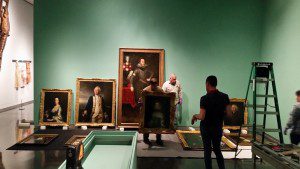 LSUMOA has dedicated more than 8,000 square feet to showcase the collection's artwork, which include examples of Louisiana fine and decorative arts from the 1700s to the present day, some of which have not been displayed for the public in more than 10 years. The purpose of the new emphasis on regional works is twofold: to transform the museum into a true hub for art lovers while allowing the museum's education department to build bigger and better curricula, tours and community programs.
"The reinstallation of the permanent art collection galleries will provide the LSU Museum of Art with a new identity, and it will allow us to better engage our visitors," says Executive Director Daniel E. Stetson. "This is the most important initiative since the campaign to build the new museum in the Shaw Center 10 years ago."
For more information, visit lsumoa.org.