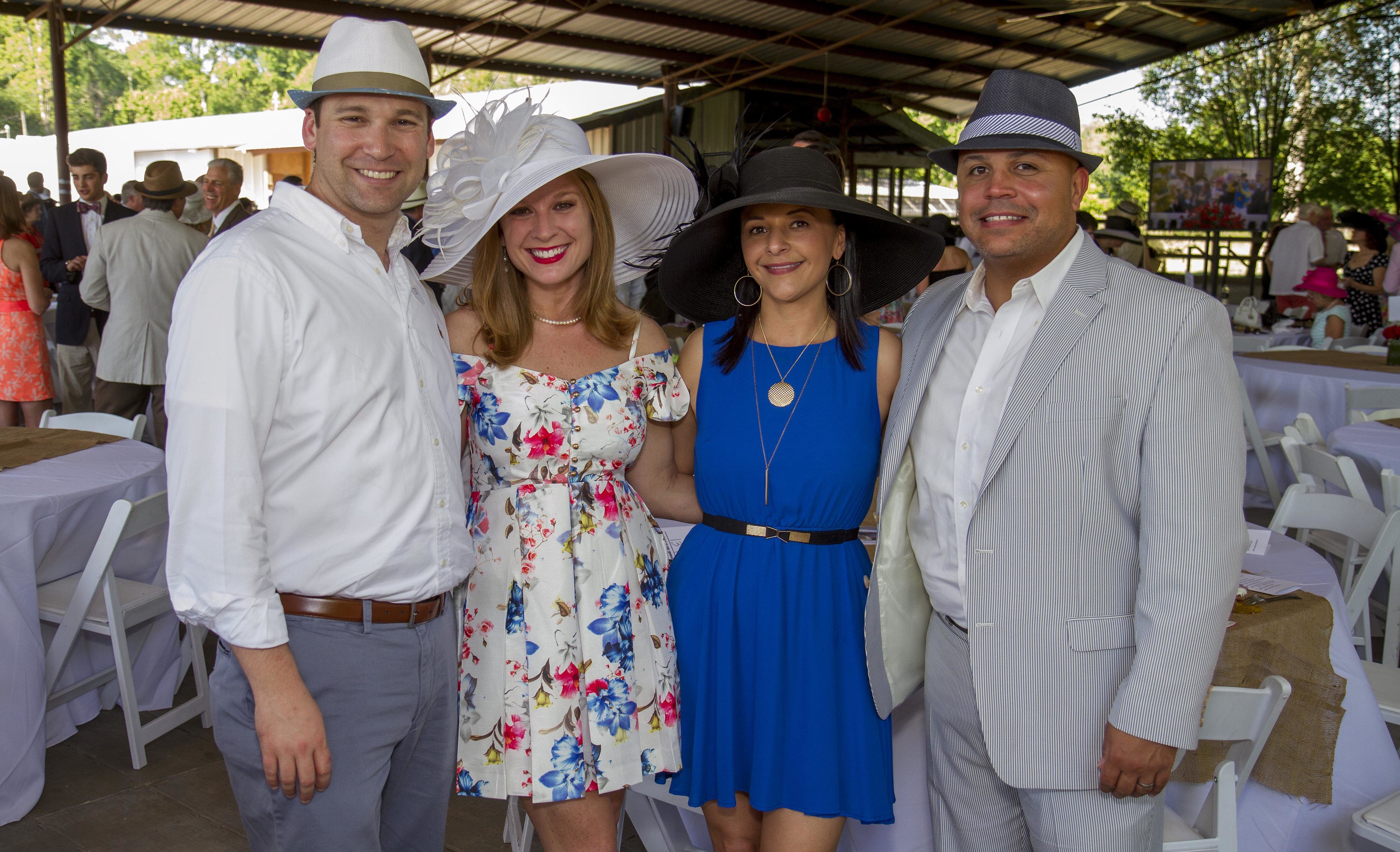 Good times, great causes: Fundraising events throughout the month of May
This Saturday, May 5, is GaitWay Therapeutic Horsemanship's annual Derby Day at GaitWay fundraiser in which guests are invited to dress up in true Derby fashion–wide-brimmed hats and all–to enjoy food, friends and the running of the Kentucky Derby. Proceeds from the event allow children and adults throughout the community to experience healing by working with horses.
---
Families Helping Families is hosting its ninth annual Active for Autism 5K run, walk and fun fest this Saturday, May 5, at the Pennington Biomedical Research Center on Perkins Road from 8 to 11:30 a.m. The family-friendly celebration serves as the main fundraiser for the organization's Resource Center for Autism Spectrum Disorders, which offers services to families throughout Louisiana. For more information on Active for Autism and Families Helping Families, check out this story from the inRegister archives. And to register for Saturday's event, sign up on the event page here.
---
Saturday, May 19, is the South Baton Rouge Cancer Walk and Health Fair from 7 a.m. to 1 p.m. at the Dr. Leo S. Butler Community Center. The free event hosted by various groups throughout Baton Rouge, including the Wall of Fame Committee, Councilwoman Tara Wicker, Susan G. Komen Baton Rouge, Representative Patricia Smith and Senator Yvonne Colomb, aims to raise awareness for breast cancer, as well as healthy lifestyles with Mary Bird Perkins Cancer Center and Woman's Hospital conducting health screenings, survivors giving testimonies, and much more.
---
Spay Baton Rouge is hosting its annual Raise the Woof: Comedy for a Cause event at L'Auberge Casino & Hotel from 7 p.m. to 10 p.m. on Thursday, May 24. The event features three comedians, headlined by James Uloth, a silent auction, refreshments, live music and more. To purchase tickets, visit the event page here.
---
This Saturday, May 5, Cat Haven and Affordable Smiles are hosting the 2018 Cinco de Meow Bowling Tournament. At $175 per four-person team, each participant will receive rental shoes, refreshments, a T-shirt and a chance to win prizes. All proceeds will go towards Cat Haven. Tickets can be purchased here.
---
The Fashion Association at LSU is holding its Annual Fashion Show and fundraiser in the Union Royal Cotillion Ballroom on Wednesday, May 9 at 5 p.m. Seniors will be presenting their final collections alongside the work of fellow underclassmen. Tickets are $15 online and $20 at the door.
---
The American Cancer Society's  Relay for Life of Baton Rouge will be held Saturday, May 5, at 5 p.m. at AZ Young Park. To register, visit the event page here.
---
For the second year in a row, Ochsner Baton Rouge is presenting Clash of the Cooks on Saturday, May 19, from 10:30 a.m. to 2 p.m. The massive jambalaya contest will also feature live music and local brews while raising money towards the medical expenses for local families battling cancer. It will be held at LSU South Quad Drive parking lot 403, rain or shine.
---
Home Bank is presenting the 2018 Stamp Out Hunger food drive, hosted by the United States Postal Service and National Association of Letter Carriers, on Saturday, May 12. To participate in the nationwide event, members of the Baton Rouge community are asked to leave non-perishable food items in or near their mailbox to be delivered to the Greater Baton Rouge Food Bank. 
---
For the third year, Sigma Engineers and Constructors Inc. will host the Slice of Life Golf Classic on Monday, May 14, at Carter Plantation. The tournament is still accepting hole sponsorships and event sponsorships, all of which benefit the Greater Baton Rouge Food Bank.
---
On Sunday, May 13, Baton Rouge Birth Services and New Orleans Doulas will host the first-ever Baton Rouge No Child Wet Behind Diaper Drive and 5K at BREC Highland Road Park, starting at 9 a.m. Bring a pack of diapers the day of the race, or purchase them through the event's Amazon Wishlist to be entered to win a $150 gift card to Crawfish Aquatics. Until May 10, you can also save 10% off of registration using the code RUNBR.
---
Girls on the Run, a nonprofit promoting confidence, character, care, connections and confidence in young girls here in Baton Rouge, is finishing its season with its Girls on the Run 5K. The untimed race is open to the public and will be held Sunday, May 6, at Pennington Biomedical Research Center. Events begin at 1 p.m.
---
Our Lady of the Lake Children's Hospital is hosting its annual Fiesta tonight, May 3, at the Baton Rouge Metropolitan Airport Dow Hangar. The event brings together friends, families and the community in order to raise money for the freestanding hospital. Tickets for the event are available here.
---
This Saturday, May 5, St. Jude Children's Research Hospital is hosting a Day at the Derby to celebrate the 144th annual Kentucky Derby, while also raising money for St. Jude's continued mission to provide cost-free medical care to children in need. Tickets to the event can be purchased here.
---
Friends of the Animals and Yelp Baton Rouge are teaming up with The Bulldog for a Pints for Pups event Thursday, May 17, from 5 to 7 p.m. The "yappy hour" is open to humans of drinking age as well as their four-legged companions, with a portion of the night's proceeds benefitting the two organizations' tireless efforts to find forever homes for the many homeless pets throughout the Capital City. For more information, visit the event page here.
---
Saturday, May 19, the St. Elizabeth Foundation is marking its 30th anniversary with a White Ribbon Gala to celebrate three decades of service and more than 600 babies placed. The evening will also serve as a fundraiser for the organization's mission to serve mothers and families throughout the community. For tickets, visit the event page here.