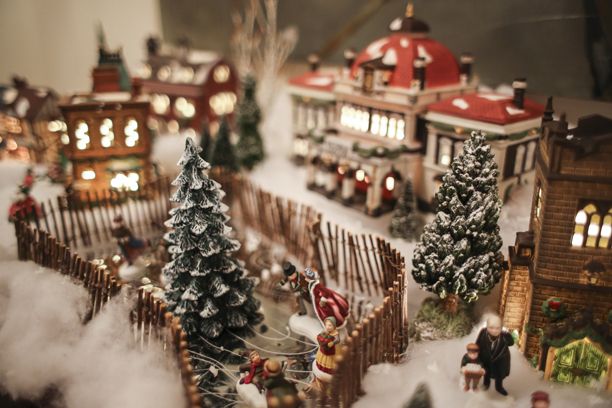 Friends mark the holidays in storybook style
Photos by Melissa Oivanki
Book club members celebrate the year's final chapter at an intimate holiday gathering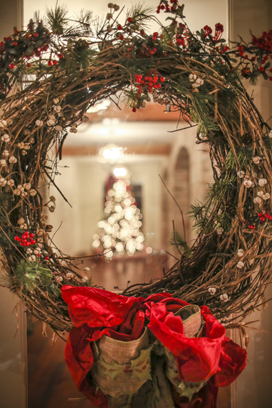 The conversation is always lively at the monthly meetings of the local book club created by Shelton Jones eight years ago. Sixteen women, most of them mothers with young children, enjoy the opportunity to discuss details of the group's latest book selection during this regular respite from Dr. Seuss and Junie B. Jones.
The titles they choose have ranged from Same Kind of Different as Me to Valley of the Dolls, and the menus at their evening meetings are often crafted around the books' themes or origins. When they read Where the Wind Leads by Vinh Chung, for example, they dined on Vietnamese food. For The Help, they ate Southern fare from the Junior League of Jackson cookbook.
"We are not just a book club in name," says member Caroline Lemann. "We all really do love reading and discussing books."
Last December, Lemann and her husband Ben opened their home to host the club's annual holiday party. "We all bring our spouses to a Christmas party in December, " she says. "For a few years, we met at a restaurant for a seated dinner. Then we all agreed that we preferred a home because the more casual atmosphere allowed us the freedom to visit with everyone rather than just those at each table."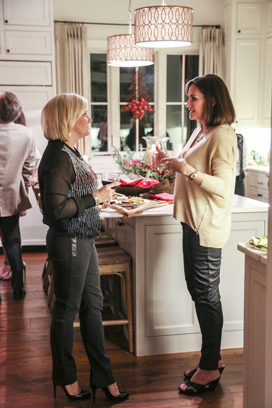 Last year's event was catered by William Wells of Culinary Productions. "That allowed us all to be able to relax and enjoy the party and not have the stress of preparing all the food," Lemann says. The menu included a carving board with peppercorn-crusted beef tenderloin and bourbon-glazed smoked pork loin, a carousel of shrimp prepared three ways, bacon-wrapped and fig-stuffed chicken bites, smoked salmon cornets, crab and Brie beignets (recipe follows), and sushi rolls. Desserts were a variety of miniature pick-up goodies including baklava and strawberry and chocolate cake balls.
The merry mood was set from the moment guests approached the garland- and red-ribbon-adorned front doors. Inside, the holiday décor embodied what Lemann calls a "sentimental" theme. "I have four children, so I want to decorate with things they will remember," she says. "My mother and grandmother collected special holiday items for me as a child, and I remember those so fondly. I want my kids to have the same things."
Throughout the house, vignettes were arranged with collections of Goebel angels—an annual gift to one daughter—as well as Santa ornaments and nutcrackers for her son and silver-plated ornaments for her younger daughters. Another special decoration is a handed-down Christmas village with hundreds of pieces setting the wintery scene. "I have often stayed awake well into the night setting it up so the children will be surprised in the morning," Lemann says.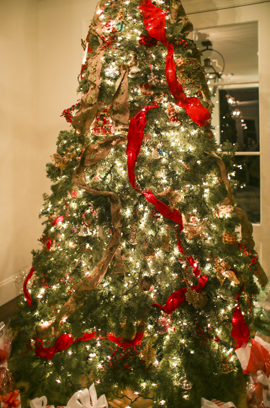 A small Christmas tree was adorned with pottery ornaments made by the Lemanns' daughters over the years with artist and friend Jane Dyer; another tree displayed more than 50 years of Hallmark ornaments collected by Lemann's aunt.
"I truly love taking all these treasures out and thinking about special people in our lives and of Christmases past," Lemann says. "I have great memories of decorating with my children while drinking my mom's homemade hot chocolate and listening to Christmas music."
The party went on late into the evening, as many couples stayed to swap stories in the living room—but with no book club agenda this time, just a focus on fun.
"This group of friends is a good cross-section of people," Lemann says. "Our kids go to different schools and are different ages. We live in different neighborhoods. But we have one thing in common: our love of books. So it's nice to be able to enjoy each other's company and have a festive evening together."
Click on the photos in the gallery below for a closer look at this party:
---
Crab and Brie Beignets
8 oz. Brie cheese, softened
1⁄4 tsp. cayenne pepper
1⁄4 tsp. onion powder
1⁄4 tsp. garlic powder
8 oz. Louisiana jumbo lump crabmeat
4 (4-inch) puff pastry squares
Preheat oven to 450 degrees. In a mixing bowl, mix Brie and seasonings together well. Fold in crabmeat. Place 2 oz. of crab mixture in the center of each puff pastry. Fold corner to corner, and crimp edges with a fork. Place on a baking sheet and bake for 10 minutes or until golden brown. Makes 4 (4-oz.) beignets.
William Wells, Culinary Productions
---