"Evening with Great Authors" hosts author Charles N. deGravelles and LSU Heisman winner Billy Cannon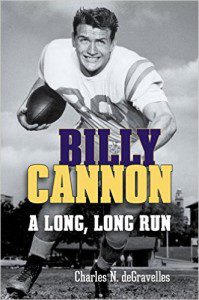 Adult Literacy Advocates of Baton Rouge will host its 6th annual "Evening with Great Authors" today, Thursday, Feb. 25, at 6 p.m. in the Dalton Woods Auditorium inside the LSU School of the Coast and Environment.
This year's speaker is Rev. Charles N. deGravelles, author of the Louisiana Literary Award winning book Billy Cannon: A Long, Long Run, the story of LSU's only Heisman Trophy winner. In a series of previously unpublished personal anecdotes, deGravelles' conversations with Cannon allow readers to follow the football star's journey from his glory days to his prison time served for a counterfeiting scheme and finally to his redemptive—and current—position as a dentist at Louisiana State Penitentiary in Angola. Cannon himself will be present at tonight's event as a special guest.
An Episcopal deacon and chaplain at Episcopal School of Baton Rouge, deGravelles has written poems and short stories that have been published in literary journals and anthologies nationwide. But it's his 25 years spent ministering to Angola inmates—including men on death row—that gives him a special connection to Cannon's history.
A catered reception of hors d'oeuvres and adult beverages, included in the ticket price, will follow the event. Guests are also encouraged to bring a new or gently used book to donate to the Phi Kappa Phi book drive for South Louisiana Teach for America.
The LSU School of the Coast and Environment is located on the corner of Nicholson and Nicholson Extension, next to Campus Federal Credit Union. Tickets can be purchased at the door for $20 ($10 for seniors or $5 for students), at adultliteracy.ejoinme.org or by calling 225-383-1090.