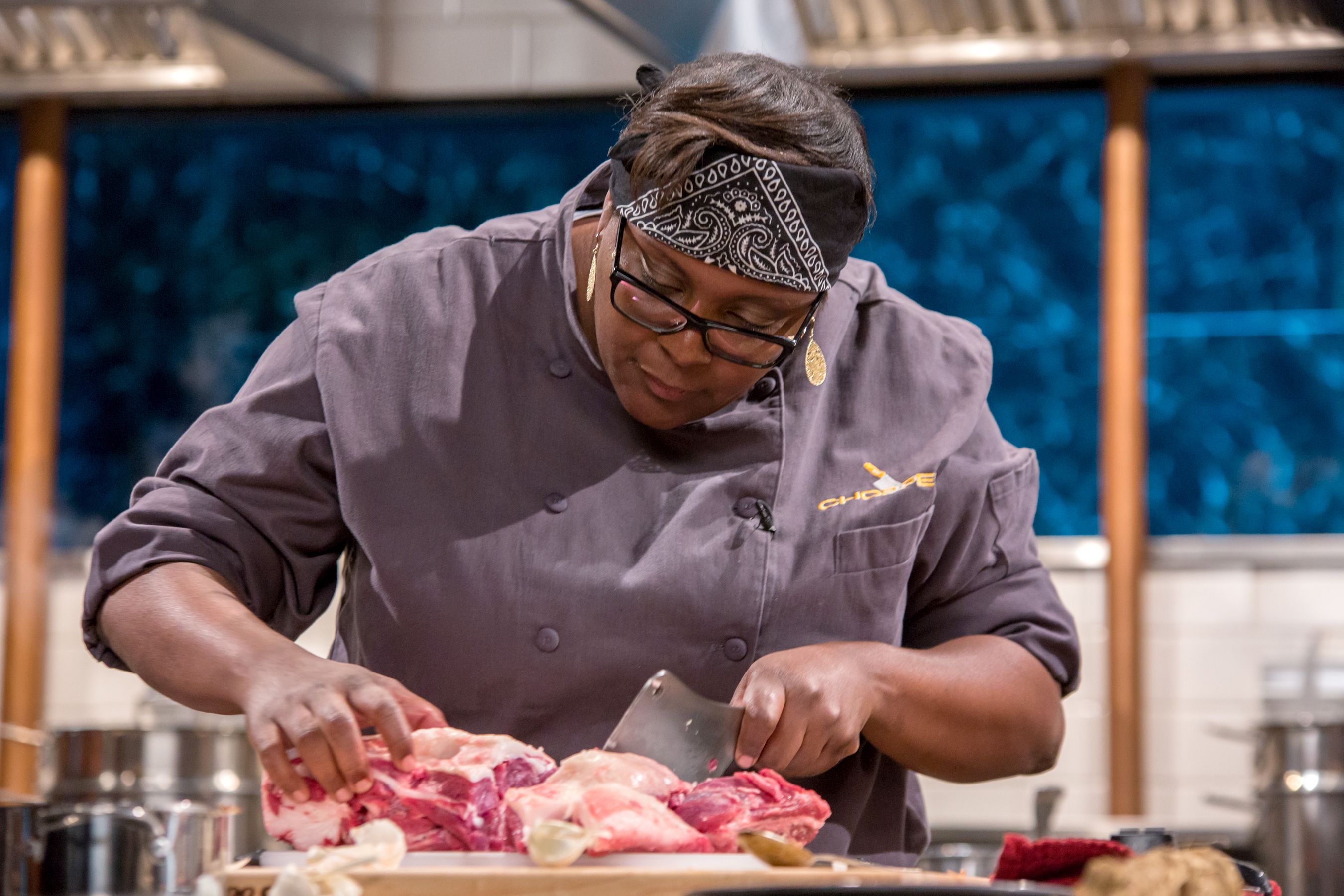 Making the cut: Airis Johnson brings Louisiana roots to the big screen and the big city
---
Time is ticking. Airis Johnson, a contestant on Food Network's cooking competition show Chopped, needs to tone down the spice of her chili dish or face elimination.
Using the required four ingredients from the show's mystery basket—a strange combination of five-alarm chili, cinnamon rolls, lamb shoulder and horseradish root—Johnson tries to melt the sugar from the cinnamon rolls to sweeten her entrée.
That isn't as easy as the Southern University alumna hoped, so instead she does something that shocks those watching. "I just take the whole cinnamon roll and plunge it into the pot," Johnson remembers. "I can hear the judges and the audience saying, 'What the hell is she doing?'"
The gutsy move works in her favor. The judges love Johnson's three-alarm lamb and beef chili with lime and horseradish crema and move her into the championship round, where she prepares a cornbread cake with bourbon-glazed pineapple and a spicy Sriracha ice cream. After 16 hours of filming, Johnson is exhausted and excited when they announce that she has won. "At the same time, in my mind, I knew I would win," she recalls.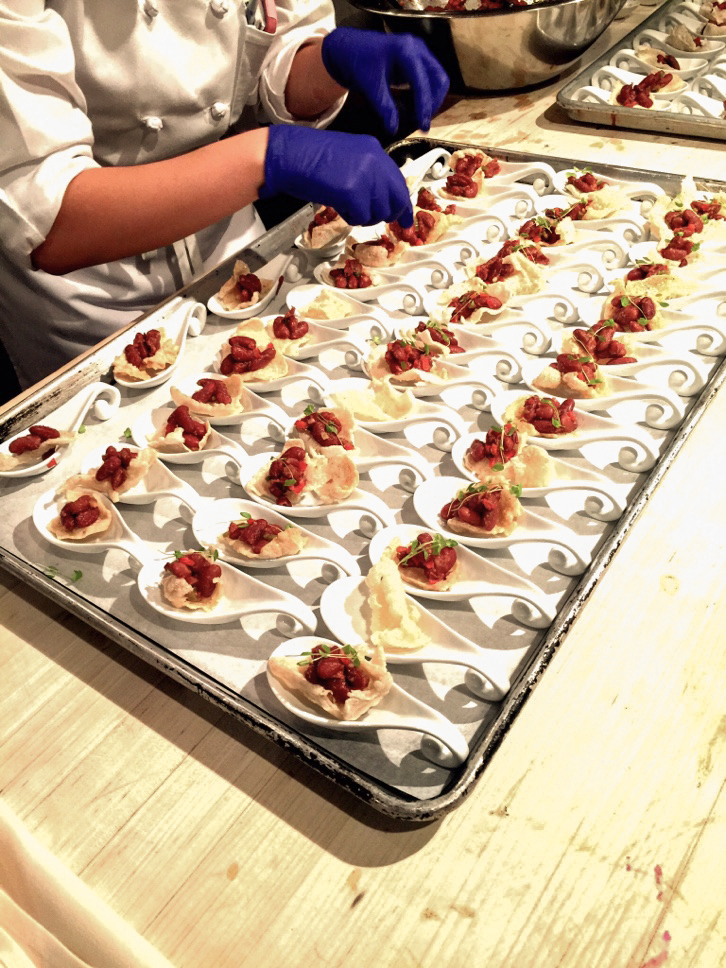 Johnson's prize from the episode, which aired last October, was $10,000. She invested the money back in her business, Airis Foods, through which she creates and sells homemade spice blends and other goodies.
But the road to Chopped wasn't an easy one for Johnson, 40, who now lives in Brooklyn as a caterer, private chef, consultant and food blogger. Born and raised in New Orleans, Johnson grew up with her mother, brother and grandmother and attended high school at St. Mary's Academy. She didn't grow up cooking, however; her grandmother often shooed her out of the kitchen, she says.
Johnson's road to culinary success began in Baton Rouge, when the on-campus dining options during her college days at Southern weren't to her liking. She began cooking dishes such as smothered pork chops with green beans, potatoes and rice and gravy on two hot plates with her roommate in their dorm room. Johnson says she remembered these flavors from her childhood. "Mysteriously, a lot of these things, I just knew innately how to cook," Johnson says.
Her friends raved about her cooking, but she focused on earning her marketing degree before moving to New York City. There, she took night culinary classes while working a day job, but after graduation, she found she wasn't quite ready for the real world of fast-paced restaurant life. A stint in the prepared foods department of a Whole Foods Market taught her hands-on skills like how to make 75 pounds of rice and 150 pounds of beef stew at one time—while several line cook jobs taught her the ins and outs of life in a high-energy kitchen.
But it was a kitchen job at the Gordon Ramsay restaurant at the London Hotel in midtown Manhattan where Johnson says she got an education in "everything."
"I learned what I always wanted to learn, which was finesse and technique," Johnson says.
At Ramsay's restaurant, Johnson discovered new vegetables, meats and seafood options. "Coming from New Orleans, the only fish we ate were catfish and trout," she says.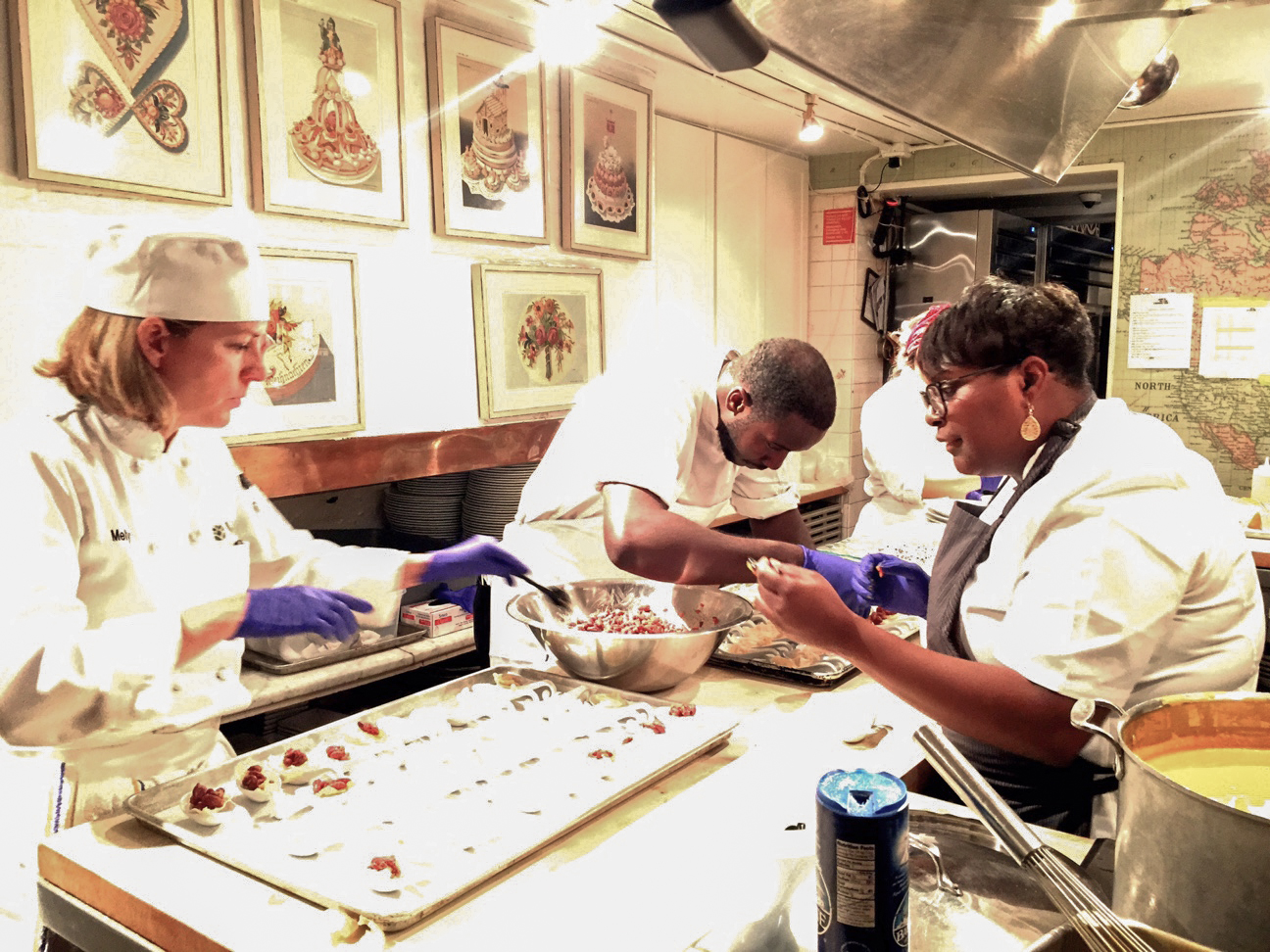 After nearly five years, Johnson was offered an executive chef position at a New Orleans-style restaurant in Queens, where she drew upon her roots to create a menu with "classic Louisiana flavors" including red beans and rice, jambalaya, and poboys—even a tofu poboy for vegetarians.
Meanwhile, she developed an itch to travel. She explored Rio de Janeiro and Tokyo, and back in the States, she used her overseas experiences to influence a pop-up Dinner Lab production she prepared with the Asian fresh-food convenience store theme "Tokyo 7-11."
Her wandering lifestyle also allowed Johnson the time to pursue an appearance on Food Network. She screen-tested and first served as a backup chef in case a Chopped contestant couldn't participate. "I didn't get a chance to compete but made friends with the producers,"
she says.
The next season, Johnson applied again, and producers asked her again to be a backup chef. This time, Johnson declined. She thought she was done with Chopped. But in March 2017, producers emailed and asked her to be on the show.
"I went with one goal," she says. "I was going there to win."
Johnson's accomplishments didn't stop after her stint on the small screen. She has continued mentoring young culinary students at home in New York, and she spent the month of February doing the same in Johannesburg, South Africa, an adventure that included a guest teaching stint at the Johannesburg Culinary and Pastry School, a visit to an herb farm, and a night safari in the bush. Her recent dining clients have included everyone from festival-goers to a member of Danish royalty. In November 2017, she knocked an item off her bucket list when she received an invitation to cook a Thanksgiving menu inspired by her New Orleans roots at the prestigious James Beard House in New York City.
"I think I was more excited about that than winning Chopped," Johnson says. "That was a real breakthrough for an independent chef."