Dinner Lab offers a culinary odyssey
Photos by Jenn Ocken
Dinner Lab sends daring diners on an edible adventure
---
Exclusivity. Secret locations. Bold menus. Dinner Lab offers Baton Rouge the next level in event dining: the jacked-up pop up.
The Dinner Lab concept began in New Orleans in 2011 with just 18 guests at its first meal. A year later, the company began selling memberships. After conquering its first expansion to Austin in 2013, Dinner Lab moved into 33 markets, with Baton Rouge being the most recent addition earlier this year.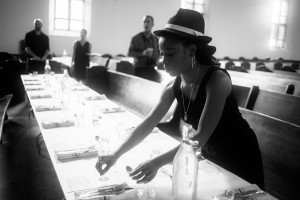 Those 32 other cities are one of the benefits of membership; members can purchase tickets to any Dinner Lab event in any of its cities. That geographical diversity adds to Dinner Lab's ability to attract the best and brightest chefs from across the country.
The heat of July seemed the perfect time to focus on Southwest cuisine in Baton Rouge. The first seatings offered on a warm summer evening sold out in less than 24 hours, so a second date was added, and the Saturday-night event sold out quickly as well.
While the menu was intriguing, the announcement that Chef Elton Hyndman of Nino's would bring this "Slow Southwest" menu to the table certainly piqued members' curiosity.
Asked why he chose to partner with Dinner Lab, Hyndman says, "To be honest, I was honored. They have an amazing reputation and a killer concept and have worked with some of the best."
And the departure from the Italian cuisine he has perfected at Nino's? "When I purchased Nino's I couldn't afford a new sign," he reveals. "If the marquee had read 'Bill's BBQ' we would be discussing ribs. My passion has roots in New Mexico, where I worked for some true masters."
If the menu and Hyndman's participation weren't enough, Dinner Lab's nod to the trendy farm-to-table conversation in Baton Rouge, spearheaded by Slow Food Baton Rouge, teased a fresh take on Southwest staples.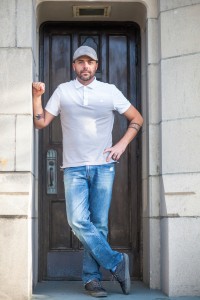 "Chef Elton's dinner emphasized locally sourced products through Indie Plate with almost all of the dinner ingredients obtained from local farmers and artisans, which is an important aspect of Slow Food Baton Rouge's mission," says Slow Food Baton Rouge board member Carl Motsenbocker.
Like something from Willy Wonka, the lucky ticket holders received instructions on where to meet just a day before their reservation. Some found the location quickly, while others, looking for a school, found themselves tentatively entering a church instead. Any concern this might not be the right place was immediately answered by the bartender, who greeted guests with a signature "Holy Spritzer" cocktail.
Louisiana New School Academy, run by Valeria Temple Thompson, was eager to share its unique North Boulevard campus with Dinner Lab diners. "The Dinner Lab team was great," says Thompson. "It felt more like a theatrical production than a dinner. And live theater is exactly what we'd love to do with this space."
In the nave of the church, old oak pews were turned to face long tables. Camera phones flashed as guests stepped into to the surprisingly elegant venue, which featured massive stained-glass windows and an altar-turned-kitchen station. Some diners found seats with friends while others made new acquaintances. The long tables encouraged guests to taste and review, share and explore with those around them.
This was George Economides and his wife Lydia's third Dinner Lab event. "Lydia and I love good food, but most importantly we love meeting new people," says George. "We like the idea of featuring different chefs every time, and the chef being more visible than in a restaurant makes the whole experience more personal."
Dinner Lab events are intended to be an adventure, so Hyndman made fearless choices on the five-course menu, including a New Mexican barbecued goat T-bone entrée and other exotic ingredients like smoked oysters paired with pork belly.
The opening offering of braised beef ribs with chayote and peach slaw was paired with event partner Gnarly Barley Brewing Company of Hammond's Korova Milk Porter. Again, the thread of local and adventurous wove through the evening's tapestry. The sweet and spicy closing course, fresh fig fry bread with dark chocolate spread and honey goat cheese, was paired with Cleto Chiarli Brut de Noir Rose.
Like a well-timed sermon, each course came as a welcome closure to the previous adventure. In timing and temperature, each of five servings built upon, but took its own liberties from, the last. Guests were led through the tale of Chef Hyndman's passion, Slow Food Baton Rouge's purpose, Louisiana New School Academy's arts focus, and Gnarly Barley's roots.
If all the world's a stage, then Dinner Lab has perfected its gastronomical play.
To view more photos from the event, click on a photograph in the gallery below: