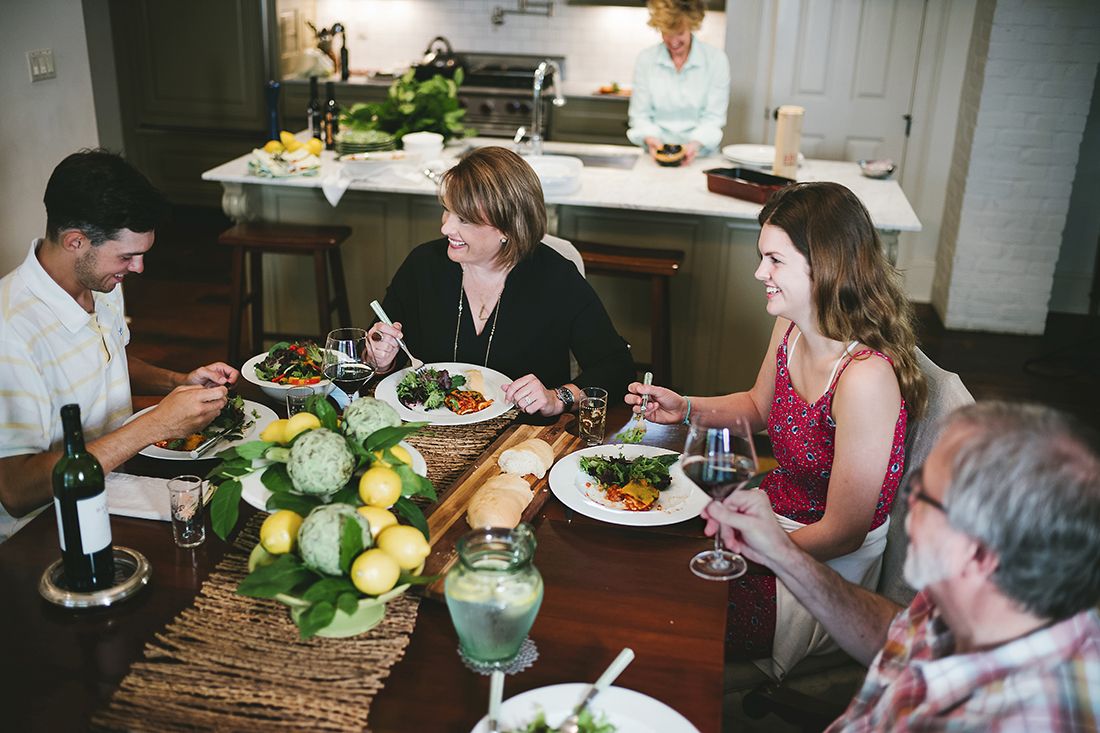 Gather for good: Making the case for cooking at home
---
My  teenage daughter said, "This supper looks like a hot mess." A failed attempt at grocery shopping had me rummaging for provisions.
Frozen chicken thighs were thawed, baked, pulled and slathered with a quick homemade barbecue sauce. There would be no sandwiches; we had no bread. The CSA box yielded corn on the cob, tomatoes, cucumbers and a cute little cabbage. The first went into the oven alongside the chicken, the latter into a salad. A three-ingredient slaw came together. A pot of polenta spurt lazy bubbles as it received gratings from the last of a Parmesan wedge. Mushrooms nearing the end of their reasonable life were sliced and sautéed in a bit of butter and Worcestershire to top the polenta.
"Corn AND polenta? Weird," my son observed. We ate standing at the kitchen island, then slowly meandered to the table. Paper plates, coffee mugs, cereal bowls were put to use as vessels for the odd assortment of food. We took a Facetime call from my stepdaughter and family. We ate and passed the smartphone, telling awful jokes to preschoolers in an effort to induce belly laughs. My favorite phrase came to mind: Happy heart. What a beautiful mess.
Cook at home. Eat as a family. That's the message, and the promise is that when you do, you are fending off obesity, diabetes, depression and early death. It sounds too simple, right? However, the case for cooking at home is strong. Food visionaries have written on the subject for years. It's the stuff of books, articles, Time magazine covers and documentaries.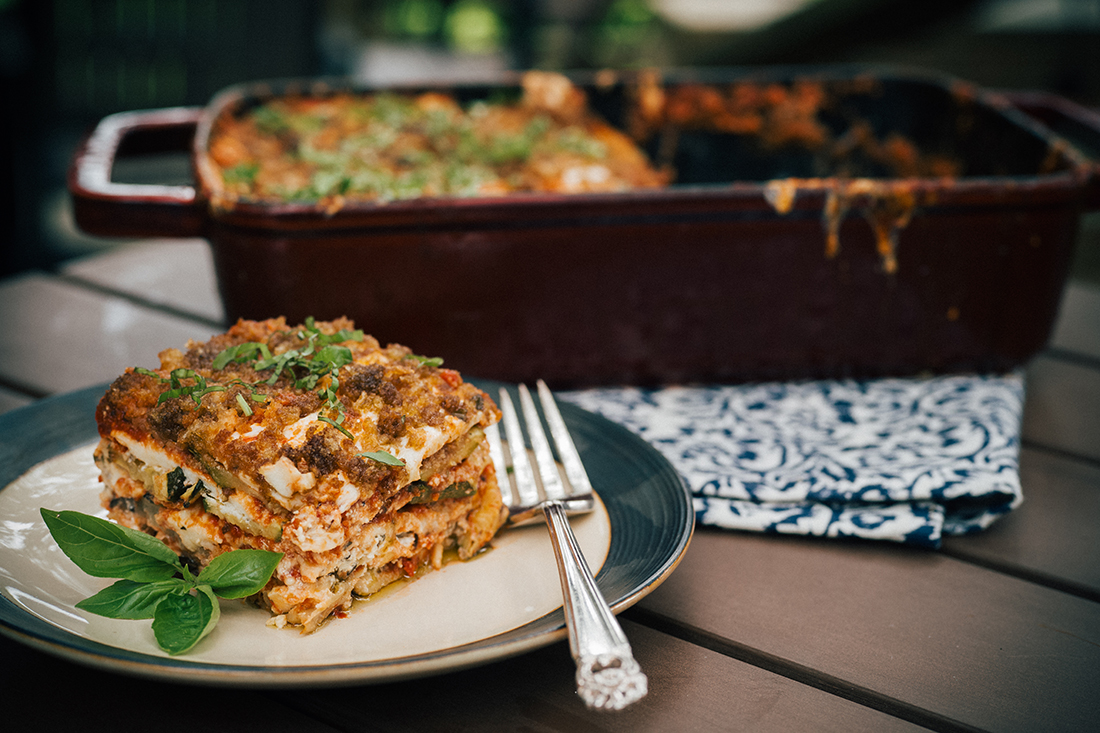 However, the reality is that we are not following this basic advice. According to a Washington Post study, less than 60% of American meals are consumed at home. That's down from over 80% in the 1960s.  A Harris Poll found that one in four Americans eat a fast-food meal every day, and the majority of families reported eating together once every five days.
This decline is odd, given the rise in messages about cooking. A click through your Facebook or Instagram feed is bound to deliver perfectly styled food images just waiting to go viral. I've been known to fall down the rabbit hole of Pinterest and its often-unachievable array of recipes. I've been mesmerized by cleverly edited YouTube cooking videos and binged on celebrity-driven, 24-hour food channels. With all this cooking instruction and inspiration a click and swipe away, why is it such a rare occurrence in our own homes?
The immediate answer is that we are busy. In many families, both parents work outside the home, and family dynamics in general have changed significantly over the last 50 years. However, experts are calling baloney on the "busy" excuse. Michael Pollan, the brains behind the Netflix documentary Cooked, calls us out this way: "Consider that, in the last decade, we've found two hours a day to be online outside of work. Where did we get THAT time? The day is still only 24 hours long. We always find time for the things we value—and we've come to devalue cooking."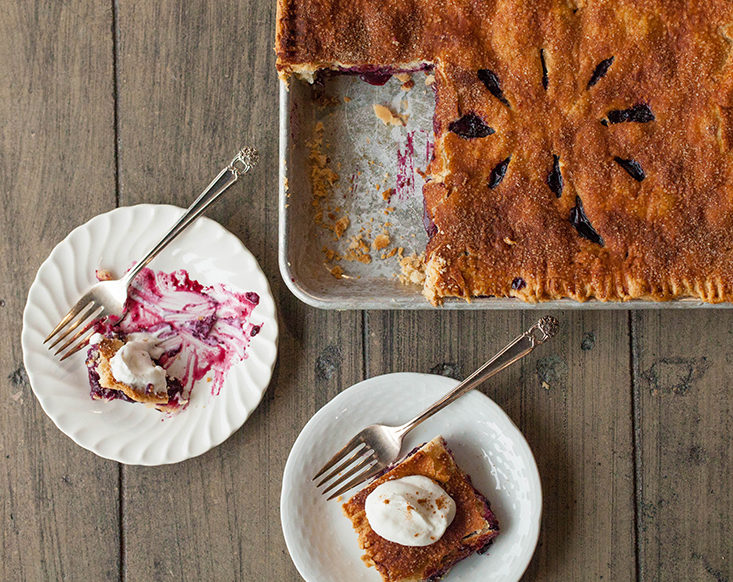 Excuses aside, the case for cooking at home has more layers than phyllo dough. Multiple studies have shown higher obesity rates in children who don't sit down to meals with their family. One study found that teenagers who do not eat with their parents are more likely to be truant. Children who do eat meals with their family have less trouble with drugs and alcohol. Stats like these bring to mind a viral post of an elementary-school teacher's note to parents about her no-homework policy. She instructed: Eat dinner as a family, play outside, read together.
Need more evidence? Consider the "Blue Zones." These five regions, located on various parts of the globe, are unique pockets with more centenarians than any other places in the world. These communities live long, healthy, happy lives, and each zone shares nine common traits. Many of those shared traits revolve around healthy habits like nutrition and exercise, but four involve simply gathering with friends and family.
There is power in a shared meal. I wholeheartedly believe this. In the cooking classes at my store, Red Stick Spice Company, I teach basic techniques that anyone can master. My goal is to make cooking approachable so each person is compelled to do it more often. Each class ends with everyone sitting together to enjoy the fruits of their labor. In my opinion, it's the most important aspect of the class. That's where the true essence of why we cook comes forth—in the smiles and laughter. Learning to cook is important. Sharing it with friends and family is what's most important. Forget perfection. Just cook, eat, talk, repeat. Gather for good.
---
ROASTED SUMMER VEGETABLE LASAGNA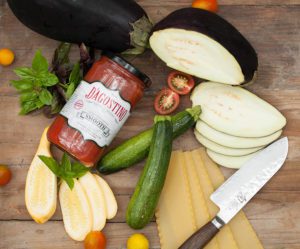 Enjoying a late-summer bounty of eggplant? (Some might call it eggplant fatigue.) Put those aubergines to good use in this gorgeous lasagna. If you have time, bake it, refrigerate it and reheat the next day. When you do, it slices beautifully.
3 medium (about 3.5 lbs.) eggplant, sliced lengthwise into
1

⁄4-in. planks
4 large zucchini, sliced lengthwise into

1

⁄4-in. planks
4 large yellow squash, sliced lengthwise into

1

⁄4-in. planks
Salt and black pepper to taste


1

⁄2 cup plus 2 Tbsp. Basil Extra-Virgin Olive Oil*


1

⁄2 cup coarse breadcrumbs
1 clove garlic, minced
2 Tbsp. Pomegranate Balsamic Vinegar*


1

⁄4 cup toasted pine nuts
2 Tbsp. chopped fresh basil leaves, plus more for garnish
2 tsp. dried oregano
1 tsp. crushed red pepper
1 egg
2 tsp. Creole Italian Blend seasoning*
1.5 cups whole-milk ricotta


1

⁄4 cup grated Parmesan, plus more for garnish
2 cups D'Agostino Smooth Pasta Sauce*
1 lb. fresh mozzarella cheese, cut into

1

⁄2-inch slices
Heat outdoor grill to medium-high heat. You can also use a stovetop grill pan or your oven's broiler. Brush both sides of vegetable planks with
1

⁄2 cup Basil Extra-Virgin Olive Oil, and sprinkle with salt and pepper on both sides. Grill eggplant, squash and zucchini to create golden-brown grill marks on both sides—about 2 to 3 minutes on each side. Vegetables should be roasted but firm. Move to a rack fitted over a sheet pan to cool and allow any moisture to drain away.
Preheat oven to 350 degrees. In a bowl, combine breadcrumbs, garlic, Pomegranate Balsamic Vinegar, pine nuts, basil, oregano and red pepper. Set aside. In another bowl, whisk egg and combine with Creole Italian Blend, ricotta and Parmesan. Set aside.
In the bottom of a 9 x 13-inch pan, spread a few Tbsp. of marinara sauce. Place a layer of eggplant. Top with slices of mozzarella. Spoon several Tbsp. of sauce on top. Top with slices of zucchini. Top with
1

⁄3 of ricotta mixture. Spoon several Tbsp. of sauce on top. Top with slices of squash. Top with slices of mozzarella. Spoon on sauce. Continue alternating vegetables, cheeses and sauce until pan is filled.
Cover and bake for 30 minutes. Uncover and add a layer of sliced mozzarella. Sprinkle breadcrumb mixture over the top, and drizzle with remaining 2 Tbsp. Basil Extra Virgin Olive Oil. Bake, uncovered, for 20 more minutes. Garnish with fresh basil before serving.
---
BLUEBERRY SLAB PIE
If working

with pastry and making fancy fluted edges gives you the blues, give this pie a try. Fresh or frozen blueberries work well, and assembly is a snap. This method delivers lots of pie in one pan—perfect for feeding a crowd.
2 cups fresh or frozen blueberries

1

⁄2 cup sugar
1 Tbsp. cornstarch
1 tsp. lemon juice
2 homemade or frozen pie crusts
1 egg (for egg wash)
Cinna Nilla Sugar
Preheat oven to 375 degrees. In a bowl, combine blueberries, sugar, cornstarch and lemon juice. Stir very gently just until combined. Place a sheet of parchment on a sheet pan.
Shape pie dough into rectangles: If working with disks of dough, reshape them into squares and roll with a rolling pin, turning dough at intervals to achieve a rectangle. If using frozen or refrigerated dough, fold and rework it until you achieve a square, then roll into a rectangle as described above.
Place 1 rectangle of dough on sheet pan. Fold edges under to form a ridge on top of sheet pan rim. Pour blueberry mixture into pan. Place second crust over blueberry mixture, and press edges together to seal crusts. Cut slits into crust to allow steam to escape. Beat together egg and 2 tsp. water. Brush egg wash over crust. Sprinkle with Cinna Nilla Sugar. Bake for 40 to 45 minutes or until crust is golden brown and filling is bubbling. If crust begins to brown too quickly, reduce oven temperature to 350 degrees and tent pie with foil. Enjoy with yogurt, ice cream or whipped cream.