Aimee's Pretty Palate: Casserole Comfort
---
As we welcome in the New Year, you might have anticipated recipes to help keep those newly established weight loss resolutions on track. And perhaps I should be sharing those with you, but I'm betting you'll be inundated at every turn and don't need my assistance. So this month we're getting a little personal.
Recently, my husband and I said goodbye to our sweet Stella Bella. Stella, as you are probably aware, was one of our dogs. She was featured here one month, actually, when I brought you inspiration for celebrating your own furry family members with homemade treats.
And if you're wondering what on earth the loss of a pet (though, don't call her that to my face) has to do with a column on casseroles, just bear with me.
The day Stella passed away, my friend Sandy realized how painful those first few days would be for me having to cook dinner without my sidekick beneath my feet. Her delivery of gumbo was perhaps the most thoughtful thing anyone has ever done. And as I devoured the meal, it got me thinking about the magical healing power food has to help band-aid a broken heart.
While we often associate gifting casseroles with losing loved ones, those impossibly hard-to-photograph baking dishes of deliciousness also have the ability to provide comfort in other times, too. I can imagine that a new mom with a freezer full of homemade casseroles lessens her worry of how she will feed the rest of her family when she is much too tired to grocery shop. And what about your neighbor or fellow church member going through something terrible, or the family member dealing with a new diagnosis? Homemade meals have an innate ability to provide comfort like few other things can.
Rather than making resolutions I know I won't keep, I'm instead heading into the New Year full of gusto, hope and specific intention set on sharing the gift of food and hospitality even more throughout the year. Bring on the casseroles!
---
CHEESY CHICKEN SPAGHETTI CASSEROLE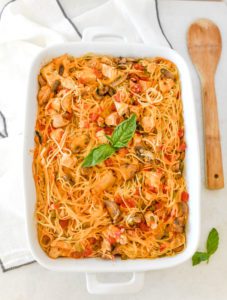 1 lb. boneless chicken thighs or breasts
½ tsp. salt
½ tsp. garlic powder
½ tsp. black pepper
1 tsp. Creole seasoning
1 large bell pepper, chopped
1 large onion, chopped
½ stick unsalted butter
1 (16-oz.) package vermicelli
1 lb. shredded cheddar cheese
1 (10-oz.) can diced tomatoes with green chilies
1 Tbsp. Worcestershire sauce
1 (13-oz.) can sliced mushrooms, drained
Preheat oven to 350 degrees. Spray a 9 x 13-inch baking dish with nonstick cooking spray and set aside.
Place chicken along with salt, garlic powder, pepper and Creole seasoning in a large pot, and cover with 6 cups of water. Cook over medium heat until chicken is tender. Set aside to cool in the broth it created before transferring chicken to a cutting board to cut into bite-size pieces. Do not discard broth.
In a skillet, sauté bell pepper and onion in butter until soft. Set aside.
In the same large pot used to boil the chicken (with chicken removed), bring broth to a boil; add vermicelli and cook until almost done. Pasta will continue to cook in oven, so do not overcook. Add cheese to vermicelli, stirring until melted. Add onion mixture, tomatoes, Worcestershire, mushrooms and chicken. Combine well. Pour into prepared baking dish. Bake for 45 minutes.
Makes 8-10 servings.
---
CHICKEN & SAUSAGE GUMBO CASSEROLE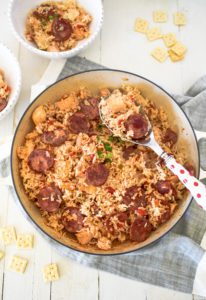 Note: Okra is what makes this recipe gumbo and not jambalaya, but if you have someone who doesn't care for it, just omit it. I did!
¼ cup olive oil
1 lb. sausage, sliced
1 large onion, chopped
1 cup celery, chopped
½ cup green bell pepper, chopped
2 cups rice
32 oz. chicken broth
1 can fire-roasted diced tomatoes
1 ½ lb. cooked chicken, cut into bite-size pieces
1 ½ cups fresh okra, sliced
1 Tbsp. Worcestershire sauce
2 tsp. Creole seasoning
1 ½tsp. garlic powder
Garnish: chopped green onions, optional
Preheat oven to 350 degrees.
In a large Dutch oven, heat olive oil over medium-high heat. Add sausage, onion, celery and bell pepper; cook until onions and celery become translucent. Add rice and cook for 2 minutes, stirring constantly. Add broth and tomatoes and bring to a boil. Reduce heat to low and cook, covered, until rice is tender (about 20 minutes). Remove from heat. Add chicken, okra, Worcestershire, Creole seasoning and garlic powder. Combine well. Cover Dutch oven with aluminum foil and bake for 30 minutes. Garnish with green onions.
Note: If you are gifting the casserole, transfer to a disposable dish prior to placing in oven.
Makes 8-10 servings.
---
GRITS & SAUSAGE BREAKFAST CASSEROLE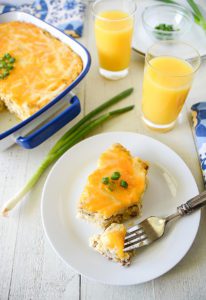 6 cups water
2 cups uncooked grits
½ cup butter, divided
3 cups shredded cheddar cheese, divided
½ onion, chopped
1 lb. ground pork sausage
8 eggs
½ cup milk
1 Tbsp. Worcestershire sauce
1 tsp. garlic powder
1 tsp. Tabasco sauce
Salt and pepper to taste
Preheat oven to 350 degrees. Spray a large baking dish with nonstick cooking spray and set aside.
In a large saucepan, bring 6 cups water to a boil and stir in grits. Reduce heat, cover and simmer for about 5 minutes or until liquid has been absorbed. Mix in ¼ cup butter and 2 cups cheese until melted.
In a skillet over medium heat, cook onion and sausage until sausage is evenly browned. Drain sausage and mix into grits. Beat eggs and milk together; pour into skillet with any remaining sausage drippings. Lightly scramble eggs, then mix into grits. Add Worcestershire, garlic powder, Tabasco, salt and pepper, mixing until combined. Pour grits mixture into prepared baking dish and dot with remaining ¼ cup butter. Top with remaining
1 cup cheese. Bake for 30 minutes or until lightly browned.
Makes 8-10 servings.
---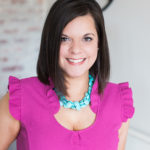 Aimee Broussard is a Southern food blogger and award-winning author. Her recent cookbook Picnics, Potlucks & Porch Parties debuted exclusively on QVC. Join Aimee for weekly recipes with a side of Southern hospitality on her blog, southernfromscratch.com. Find more recipes at aimeebroussard.com.