Aimee's Pretty Palate: Gone to the dogs
---
You guys, it was only a matter of time before I incorporated some canine-friendly recipes into our monthly recipe sharing time together. If you know me in person, you know how insanely spoiled my crew of Cavalier King Charles spaniels are. And while I don't bake for my dogs all of the time, I do celebrate birthdays, "gotcha" days (for my rescues whose birthdays are unknown), and other important milestones with homemade baked treats.
Recently, several well-known pet food brands came under fire for having toxic ingredients in their products—namely, pentobarbital, the euthanasia drug. I'm pretty particular about the treats and ingredients my dogs are offered, but now more than ever I'm sharing my kitchen time with my furry friends and avoiding most store-bought treats altogether.
The Pumpkin Spice Cookies are well tolerated for my recent senior rescue who has a bit of a sensitive stomach, yet they are tasty enough for the rest of my clan. I typically make these in the winter months when I'm enjoying something pumpkin spice of my own. Of course, dogs don't care about seasons and will enjoy them anytime.
As we approach the hot summer months, my Frozen Yogurt Pupsicles are just the ticket for cooling down a dog who insists on being outside with you … while wearing a fur coat. The inserted bone-shaped dog treat serves as a handle for you to politely serve your canine companion as they lick away the frozen goodness.
And lastly, if you're in the mood to truly celebrate and reward your dog, then my Peanut Butter Puppy Cookies are decorated bites of heaven. Or, at least, that's what your dog is going to think! Just be sure to check the ingredients on your peanut butter to make sure it doesn't include xylitol. Artificial sweeteners are incredibly toxic to dogs. Stick with a natural brand and you'll be good to go.
All of these recipes are made with human-grade ingredients and are perfectly safe for people to eat, too—but the flavors and textures are designed with pups in mind!
Bone appetit, y'all!
---
FROZEN YOGURT PUPSICLES
Ingredients
2 cups plain yogurt (non-fat if needed)
2 Tbsp. smooth peanut butter
1 Tbsp. honey
1 ripe banana, mashed
Bone-shaped cookies for handles (optional)
Place all ingredients except cookies into a blender and mix until completely smooth. Divide mixture into individual nut cups or a popsicle tray. Note: Small nut cups can be found locally at Party Time; they look similar to mini cupcake holders but are a bit sturdier.
If you are using bone handles, add to center of nut cups before freezing. Freeze until firm. Pop out of tray (you'll need a knife) or tear away nut cup liner, and serve your pup by using the bone as your popsicle stick. Use within 1 week.
Makes 8-10 mini pops.
---
ORGANIC PUMPKIN SPICE COOKIES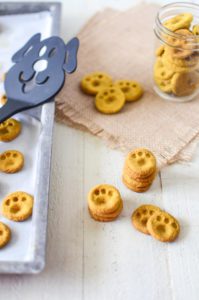 Ingredients
1 cup oat flour
1 cup brown rice flour
½ tsp. cinnamon
½ tsp. ground nutmeg
½ tsp. ground ginger
1 egg
3 Tbsp. unsweetened applesauce
¾ cup canned pumpkin (organic) or fresh, puréed pumpkin
Up to ½ cup water
Preheat oven to 350 degrees. Combine all ingredients except water. Add water slowly, a little at a time, until dough forms. If dough is too dry, add more water. You may not need to add the full ½ cup water; if it's super humid, you'll only need about ¼ cup.
Line a cookie sheet with parchment paper or a nonstick baking mat, and drop dough by rounded tablespoons onto cookie sheet. Or you can be fancy and roll them into balls, flatten and make a paw-print imprint.
Unlike human cookies, these cookies aren't going to rise or flatten.
Bake for 18 to 25 minutes or until golden brown. Transfer to a wire rack to cool completely. Store cookies in an airtight container or in refrigerator for up to 1 week.
Makes 2 dozen.
---
PEANUT BUTTER PUPPY COOKIES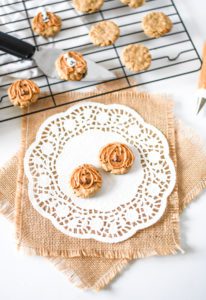 Ingredients
1 cup whole wheat flour (you can also use oat flour)
½ cup rolled oats
2 to 3 Tbsp. peanut butter, chunky or smooth
¼ cup plus 1 Tbsp. hot water
For decorating
½ cup smooth peanut butter, slightly warmed
¼ cup carob chips, melted
Preheat oven to 350 degrees. In a medium bowl, mix together flour and oats. Add peanut butter and hot water; combine well. Using a mini cookie scoop (or rounded spoonfuls), shape into rounded balls, then slightly flatten onto a silicone baking mat. If you're not decorating the cookies, you can add an egg wash (1 egg whisked and applied with a pastry brush to the tops) to cookies prior to baking for shiny cookies.
Baking time will depend on your dog's preference: Bake for about 30 minutes for a slightly soft interior and hardened exterior, or about 40 minutes for a crunchy cookie. Allow cookies to cool completely on a baking rack.
To decorate, using piping bags with small decorating tips, outline your dog with peanut butter. Use melted carob chips for eyes and mouth. Serve immediately.
Makes 1 dozen.
---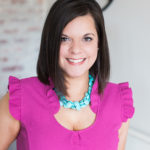 Aimee Broussard is a Southern food blogger and award-winning author. Her recent cookbook Picnics, Potlucks & Porch Parties debuted exclusively on QVC. Join Aimee for weekly recipes with a side of Southern hospitality on her blog, southernfromscratch.com.