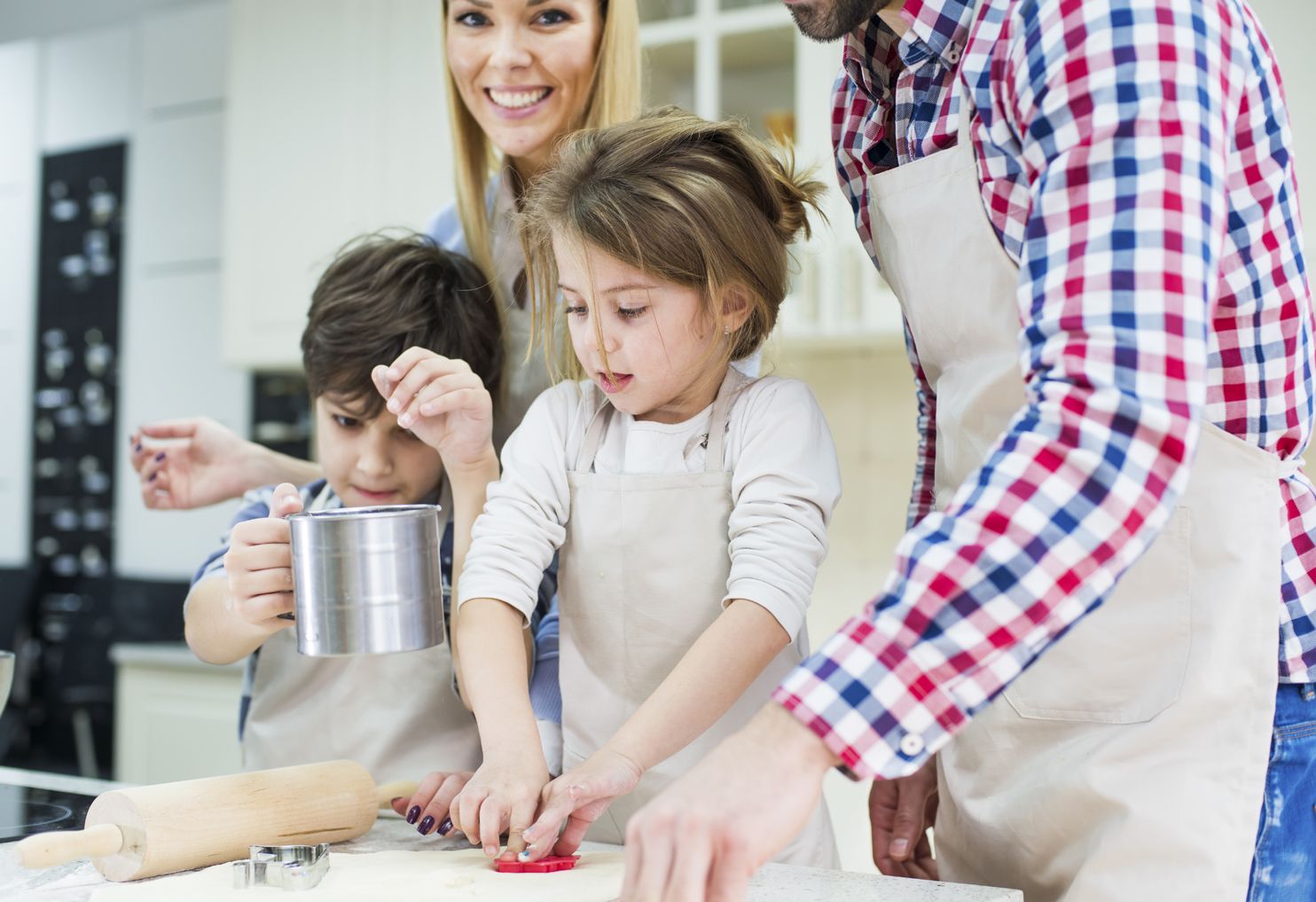 How to cook with your children and come away happy
---
The mess is real. It comes with the territory if you have kids that cook. They haven't mastered the art of cleaning as they go. They spill the flour on the counter. They drop sauce on the floor. They mismeasure the milk. But the benefits of letting children engage in occasional meal preparations are worth it. Baton Rouge author and chef Tracey Koch encourages parents to pull up a step stool and let little ones engage in the process.
"Bringing your kids into the kitchen is the best way to get them to try new foods, form better eating habits and, not to mention, work on math and reading skills," says Koch, a graduate of the Cambridge School of Culinary Arts. "Don't tell the kids they are doing math and reading, it may scare them away. But seriously, teaching children their way around the kitchen is a valuable life lesson that they will carry with them into adulthood."
Here are a few of Koch's tips to help make cooking with kids an enjoyable time:
1. Plan ahead. Before inviting your little kitchen helpers into the kitchen, find a few recipes that you feel comfortable making, as well as recipes you know your kids will most likely eat. By you choosing a few recipes in advance, you have already selected options that you are comfortable with. But allowing children to make the final decision will give them a sense of control.
2. Have a plan of action. Once the recipes have been selected, it is time to make a plan of action. Now is the time to check the pantry to see what ingredients you already have at home and which ones you may need to pick up at the store.
3. Know that kids and cooking take time. Realize that completing your dish may take a bit longer than you expect. Make sure you have given yourself a little extra time to accomplish your goal. This will help you to stay relaxed and not feel rushed.
4. Get started. Read through the recipe with your children to make sure they understand the directions. Make sure that everyone is in an apron or something that can get dirty, because they will. Also make sure you review proper hygiene with your little helpers.  Make sure hands are washed before you start and every time they touch or handle raw meat.
5. Keep safe: Part 1.  It is of utmost importance to keep things safe while working in the kitchen. This rule is for adults and children alike. The maturity level of the child will dictate what type of utensils you will be using. All children should be closely supervised when handling sharp knives and utensils.
6. Keep safe: Part 2.  Make sure to have clear rules about the stovetop and oven. Burns can be serious. Keep boiling pots on the back burners, and always turn the handles inwards to avoid then from getting knocked over. Make sure that you use clean, dry potholders when handling hot pots and pans to avoid burns as well.
7. Clean as you go. Cooking can get messy, so it is important to keep your workspace clean while you are cooking.
8. Use this time as a learning tool.  As you begin cooking, ask your kids questions such as, "Which one of these spoons is the tablespoon?" and "Who can show me where the ½ mark is on this measuring cup?"  This is valuable quality time you are spending with your kids, so take full advantage to work on some reading and math skills while you cook.
9. Touch, taste, smell. Aside from your child learning valuable skills like cooking, reading and math, this is also a good opportunity to teach by touch, taste and smell. Cooking taps into all of your senses. Give your kids the full experience and have them physically feel some of the ingredients with their hands and smell the different spices and taste them
as well.
10. Keep it fun. Remember that the way to keep kids interested and engaged while cooking is to make it fun and relaxed.
---
Koch has taught culinary classes for adults and children in the Baton Rouge area since 1996. Currently, with her sister Stephanie Riegel, she writes a monthly food column for 225 magazine. Koch self-published a children's book in 2014 titled Georges: The Goose from Toulouse Who Only Ate Couscous. The sequel is scheduled to be released in the fall of 2016.