Steal the scene: Classic kitchen
A downtown Creole cottage gets an overhaul that stays true to it roots
It started with a stove. Doug and Tracy Stephenson Shaffer have a soft spot for a vintage wares, so when a friend offered them an old chamber stove that was being removed from a family member's home, the duo jumped right on it. Even though they didn't have a kitchen for it yet.
"This was way before we bought this house," says Tracy of the downtown home she shares with her husband and daughter. "We knew we loved the stove, so we stored it until we could buy a home that it would work well in."
The Shaffers found the perfect fit—an 1850s Creole cottage on Louisiana Avenue—in 2007 and spent almost two years working on it. This included a kitchen renovation that incorporated modern amenities but stayed true to the character of the home. Crema Marfil granite tops the cabinets that Tracy sketched out and her father actually built by hand. Original flooring, glass-front cabinets and a farmhouse sink add to the vintage vibe.
"We love living downtown and walking to Live After Five and the farmers market," says Tracy. "With all the modern updates in this house, we aren't sacrificing anything for style and convenience."
---
Here are a few tips on how to create a classic-style kitchen of your own: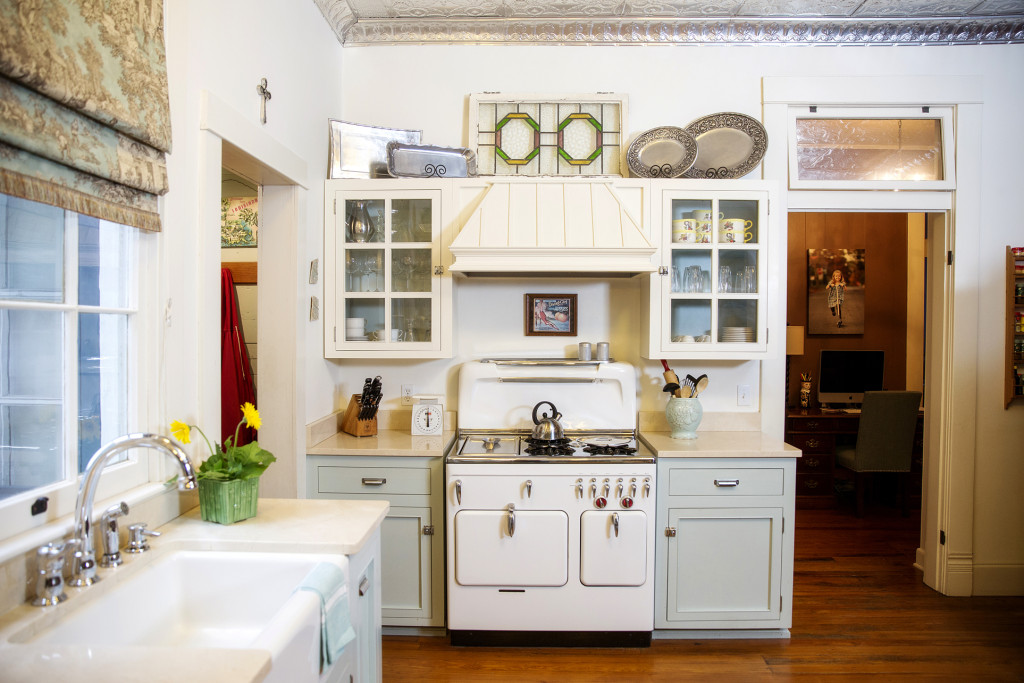 Pressed-tin ceiling
Big style doesn't need to break the bank. Doug Shaffer spent nights and weekends nailing the tin to the ceiling himself to create a charming effect that takes design all the way to the top.
Chamber stove
Every room needs a focal point, and this classic stove truly sets the tone for the room. After the purchase, the Shaffers had the stove completely refinished to be in excellent working order.
Think sink
Deep apron sinks were essential in rural homes before the days of indoor plumbing. today, they add historic character to almost any style of kitchen.
Open shelving
Nothing says "cottage style" quite like plates and glasses stacked on open shelving. But homeowner Tracy Shaffer maintains that it isn't all for looks. "These are the items we really use every day. It's great that they are within easy reach."
Architectural elements
Salvage stained glass offers vintage appeal, adds color and—when place on top of the cabinets—draws the eye up to the high ceilings.
Attention to detail
Even the oven's hood gets special treatment with wainscoting and molding added for true cottage charm.
A touch of color
The grey blue hue painted on the cabinets offers a break from the wood tones of the floors and table and the whites of the walls and upper cabinets. It's an easy design element to incorporate with a lot of wow factor.
Smart storage
In an older home, storage is always an issue. Make your party platters do double duty when placed as decorative items on top of cabinets until needed. Pretty plates and glasses also please the eye when not in use.