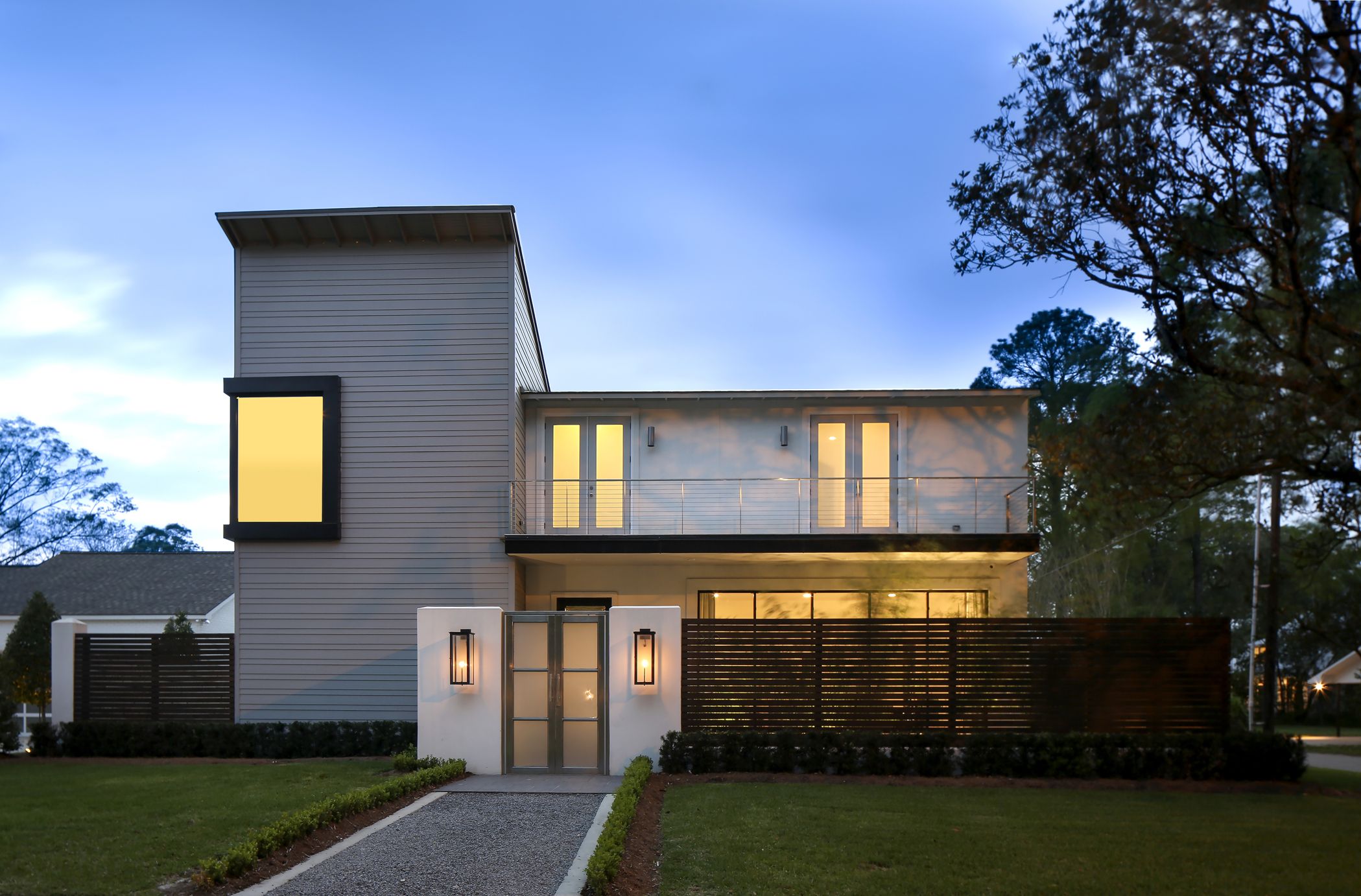 Out of the box: Modernist architecture makes a home shine in a neighborhood teeming with history
Most are familiar with the team-building game called the trust fall. In it, a team member falls blindly backwards into the arms of others in the group—trusting that he or she won't hit the floor. The key is to know your team, trust your team, and respect your team's instincts.
The building of Anthony and Katherine Bonfiglio's contemporary home next to quaint cottages in Old Goodwood was a trust fall of great cost and magnitude. Good thing they had faith in their team.
"Anthony grew up knowing Carol LaCour, and he respected her opinion," says Katherine, of the designer and co-owner of Monochrome Furniture & Design. "When it came time to build a house on the lot that we had purchased, we wanted her advice and ideas. It made sense."
And it also made sense to the couple to create a traditional-style home in keeping with the traditional neighborhood. They asked Carol LaCour along with Dwayne Carruth, architect and owner of The Front Door Design Studio, to design a typical dwelling for their young family. But after the house plans came back, the Bonfiglios hesitated.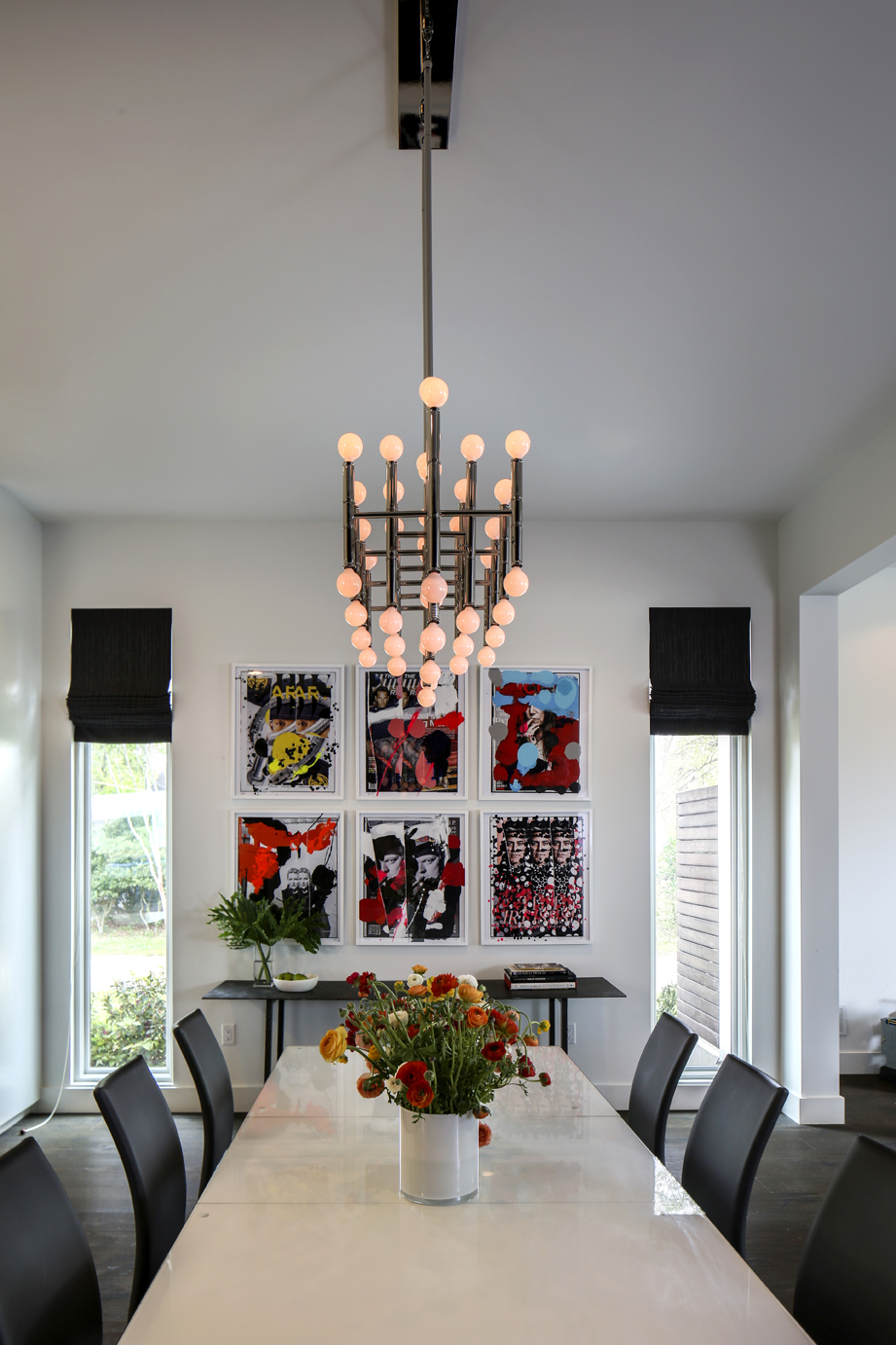 ---
"We showed them the traditional design—a style which we often do. But they had seen images of contemporary homes that we had designed, and they wavered," says Carol. "They ultimately decided that contemporary design fit their lifestyle much better than the standard Baton Rouge traditional. So we designed a home unique to them."
Indeed, Carol and Dwayne collaborated, along with builder Carter Hill and designer Bridget Tiek, to provide this young couple and their two children a home in the heart of the city that would grow with their young family in an unfussy and very functional way. And it wouldn't look like anything else on the block. An open floor plan, clean lines, and an uncluttered atmosphere were top of mind when designing this space. The home's interiors flow smoothly and allow ample room for adjustment.
"They were willing to take chances and to do something different," says Carol of the Bonfiglios. "It's not a huge house, but it is comfortable for them. It works well."
Carol and Dwayne made sure that the kitchen was open to the dining and living space. Also, large windows from the kitchen overlook the backyard to the children's' play spaces. Every area of the house is welcoming to both adult and child alike, and all areas are accessible and usable. Dwayne believes that contemporary homes lend themselves to a more casual and usable lifestyle than their conventional counterparts.
"Unlike some traditional styles, modern is geared to a livable, comfortable existence," says Dwayne. "There is no place for fluffiness or items that are untouchable—such as Grandmother's prized vase on a pedestal. In this design, no one is going to unintentionally knock over anything of value."
In fact, the items of great value are made for heavy wear. The oversized Verellen sofas and coffee table in the living room invite homeowners and guests to kick up their feet up and linger. The lacquered chrome pedestal table from Monochrome in the dining area is described by Dwayne as "indestructible." And the large, deep sectional in the media room allows the whole family, including young kids, to pile in. No area is off limits.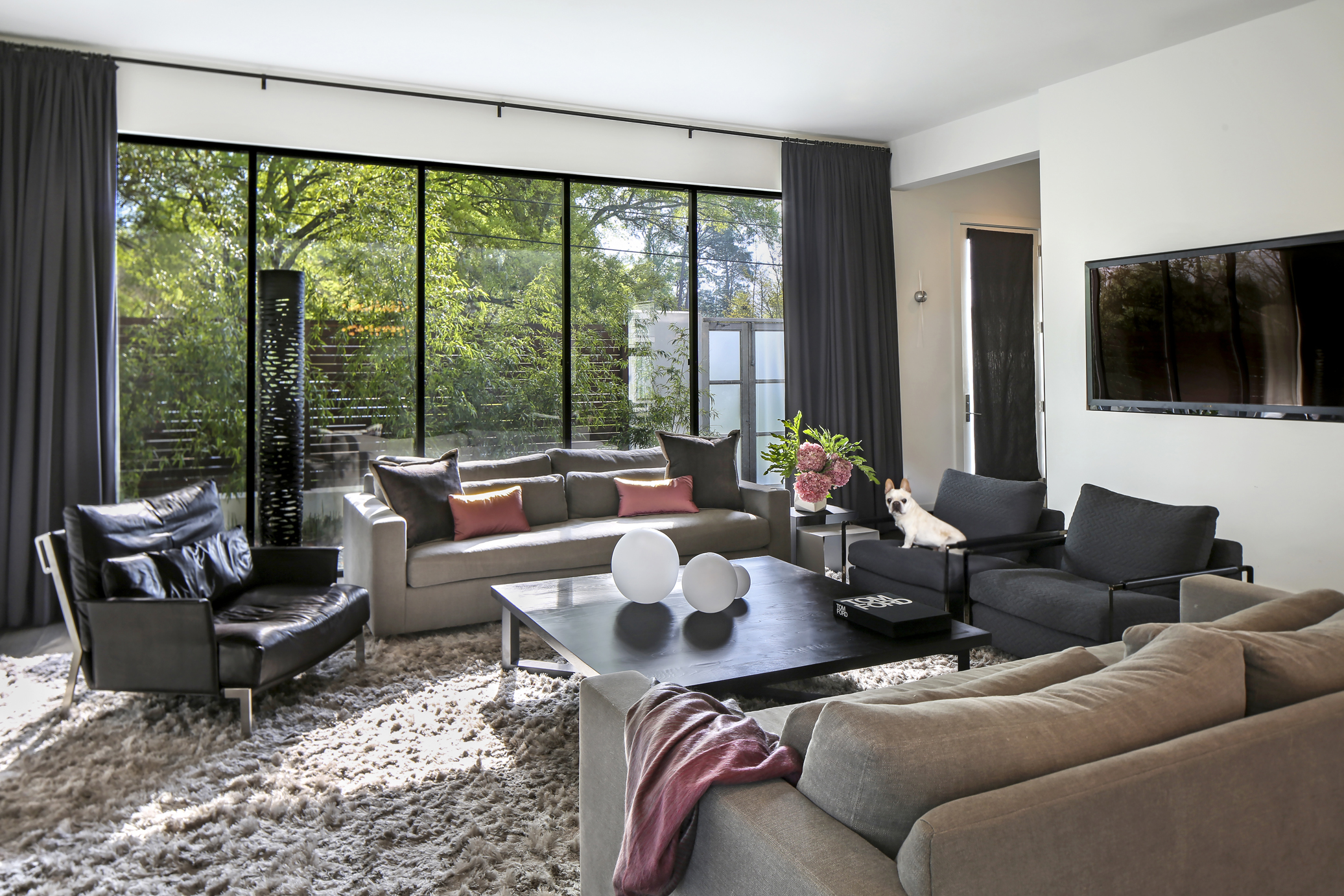 ---
"We always admired great architecture, and we wanted something cool and livable," says Katherine. "We wanted it to be functional, and we don't take ourselves too seriously. We just let Dwayne and the team do what they wanted to do creatively."
Dwayne characterizes the Bonfiglios' interior design as flexible, easy and laid back. Although warm and comfortable—with dark wood floors, curtains and hand-loomed rugs softening the scene—it is still streamlined and minimalistic. The clutter does not have much room to grow here. In fact, the Bonfiglios basically started over with their home furnishings when moving into this house, purchasing practical and hard-working modern pieces with an eye toward the future.
"The beauty of contemporary design is that it is timeless," says Carol. "I grew up in the 1950s and '60s, and my dad loved contemporary design. I still have a few of his pieces. As long as it's good contemporary lines, you won't get bored with it. And it won't go out of style."
Which is why this young family put their faith and trust in Carol and the team. Anthony had witnessed years of her work, respected her eye for asthetics, and knew that she wouldn't steer them to a design that would be dated in a decade. Instead of freefalling into the unknown with a lot of what-ifs and we-should-haves, the Bonfiglios landed squarely in a home that fits them to a T.
"I feel like this house really represents our family and our style," says Katherine. "We like to be a little different, and this house certainly is. It stands out, in a great way. It's better than we had originally planned."