As the hot temperatures roll in, Baton Rouge residents roll out, often to the seaside breezes of Gulf Coast beaches where they can soak up some sun, fish off the dock, or just lounge in some air conditioning free from the 9-to-5 grind. A couple of trips a year could be nice, but for anyone with a large family always looking to celebrate or connect, a permanent vacation home might turn out to be a worthwhile investment, not to mention a fun decorating project.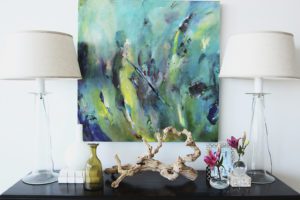 Of course, the typically small quarters of a condo make for some difficult choices when dealing with colors, patterns or kid-friendly finishes. But thanks to the savvy of some Baton Rouge-based designers, a beach house can instead turn into a fun opportunity to create a space with a bit more personality than the average home. A look into inRegister's July issue showcases a few examples of these vacation getaways done right.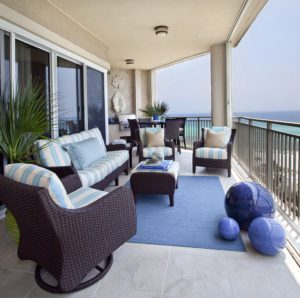 "Incorporating colors that reflect the natural landscape–such as blues, greens, and corals—in accessories and artwork—brings a fresh feel to the home," says Erin Mixson, who designed her clients' Destin beach home to reflect changes in style after 15 years of ownership.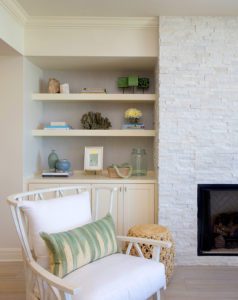 Likewise, a vacation home provides the chance to go off the grid in terms of traditional design, since vacationers likely have less of a chance to grow bored of their style choices. For example, a Destin home designed by Cati Hardy of By Design Interiors takes advantage of layering textures—like seagrass rugs, rattan and bamboo finishings, and shimmering shell lampshades—to create a subtle nautical vibe.
Designer Rachel Cannon, who decorated a featured Orange Beach condo, says that horizontal stripes—reminiscent of canvas beach umbrellas—are a fun way to incorporate the feel of the shore without being too literal. Likewise, simple fabrics in light colors—especially white for children's bedding, says Cannon—can be easy to match, and, in the latter's case, even easier to clean.
To see more ideas from these homes, check out our special beach-themed section in the July issue of inRegister, available on newsstands now.