---
Seen through the eyes of: Caroline Bondy
Who went: My parents Nancy and Beau Bondy and I
We went because: I was between jobs and moving back home from Greenville, South Carolina.
Hotel recommendations: We loved where we stayed in Rome, Florence and Assisi. In Rome, we stayed just behind the Pantheon in a hotel called Albergo Santa Chiara. The breakfast was delicious, the rooms were spacious, and the location was so convenient. In Florence, we stayed one street off the river at Hotel Alessandra. The owner and staff at this hotel were so helpful and friendly. We were just as sad to leave the staff as we were to leave Florence. In Assisi, we stayed on the outskirts of town at Hotel Ideale. The panoramic views from our room were breathtaking. We could see the sunrise and sunset.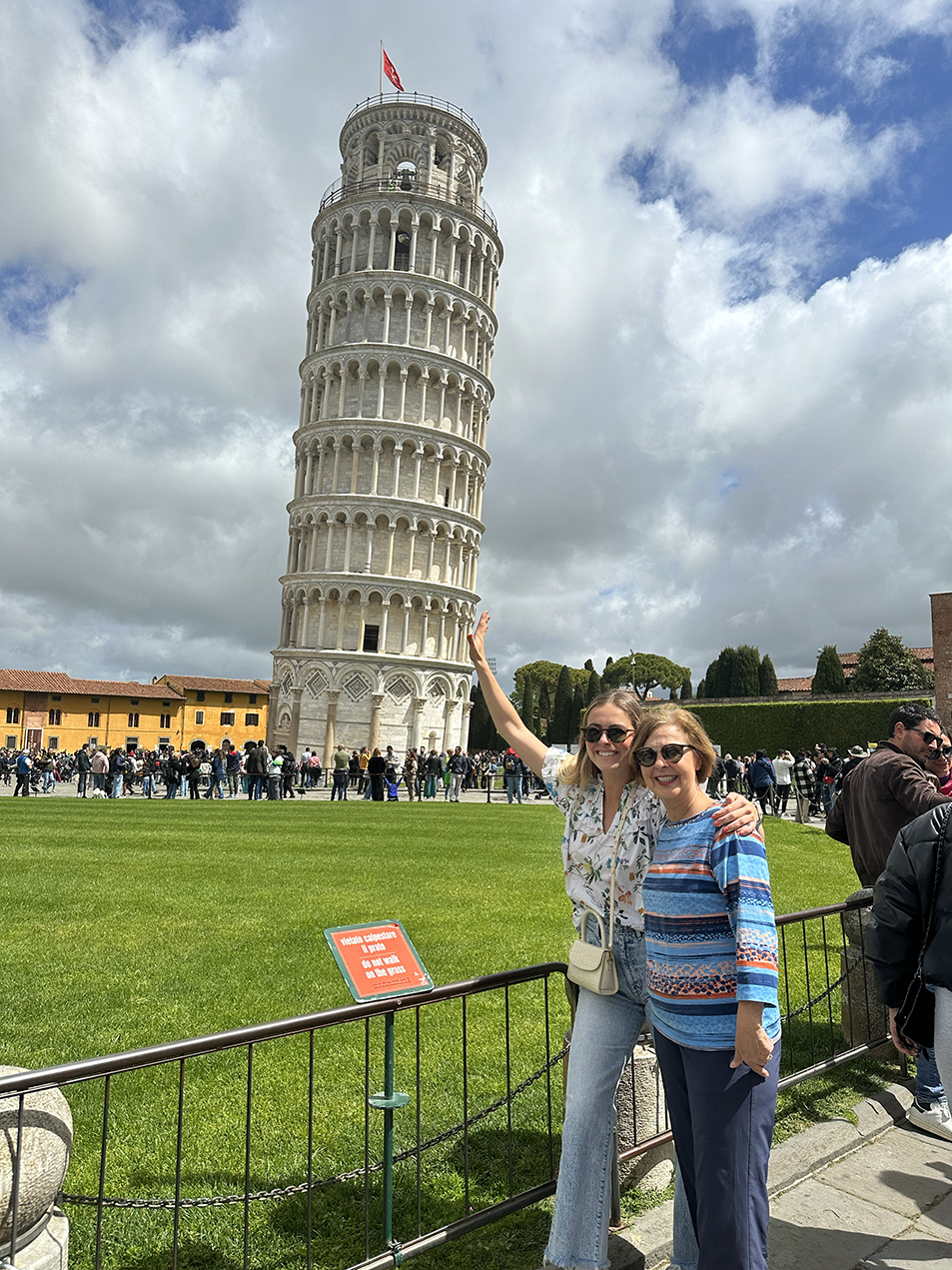 Where to eat: If you ever find yourself in the small town of Orvieto, you must try the carbonara at Trattoria Mezzaluna. It was to die for, and the portions were huge! My dad's cousin recommended Buca dell'Orafo in Florence to us before we left for our trip, and it just so happened that the restaurant was right by our hotel. Beau got the osso buco and absolutely loved it. The last restaurant we loved and actually ate at twice is Il Casello in Monterosso, Cinque Terre. The views at this restaurant were spectacular. Our waiter, Bacco, took care of us both nights and made sure we did not eat our bread before our main course!
Item of clothing you shouldn't leave home without: A raincoat! The weather can change in an instant, so it is better to be overprepared than underprepared. There were countless times where the forecast wouldn't show rain but it would start downpouring.
Favorite historic landmark: The Leaning Tower of Pisa! We loved taking the typical touristy pictures pretending to hold up the tower. It was so fun and very surprising to see how much it really leans in person.
Local attraction worth a drive-by: The views everywhere in Tuscany were worth the drive but specifically, the town of Pienza. We found that this little town was home to some of the very best views Tuscany has to offer. It felt like we were in a postcard.
A great experience off the beaten path: Lake Maggiore. My mom and I prefer Lake Maggiore to the famous Lake Como. Stresa, which is a town along Lake Maggiore, was about an hour train ride from Milan. We found Stresa to be far less crowded than Bellagio. It also had this amazing promenade to walk along the lake.
Worth the splurge: Waterskiing on Lake Como! It was a rip-off, but we knew it was something I had to do. We come from a big family that grew up water skiing on the narrow Tickfaw River, so getting to water ski on grand Lake Como was amazing.
Something surprising we learned on the trip: Venice is more walkable than advertised. I thought we were going to have to take a boat everywhere, but that was not the case. It is, however, very tricky to navigate Venice. But a boat is not necessary unless you are going to visit another island.
Insiders' tips: Pack in a carry-on! Traveling around Italy is already a hassle with the all the staircases and cobblestone streets, so make it easier on yourself and pack light. You might surprise yourself with how much you can fit in one carry-on and a personal bag.
We would suggest this trip to others because: These memories will last a lifetime! This will probably be my last trip with just my parents, as I recently got engaged. I'm so blessed to have had the opportunity to travel around Italy together just the three of us. We were definitely a little tired of each other by the end of the trip, but I wouldn't trade it for the world.