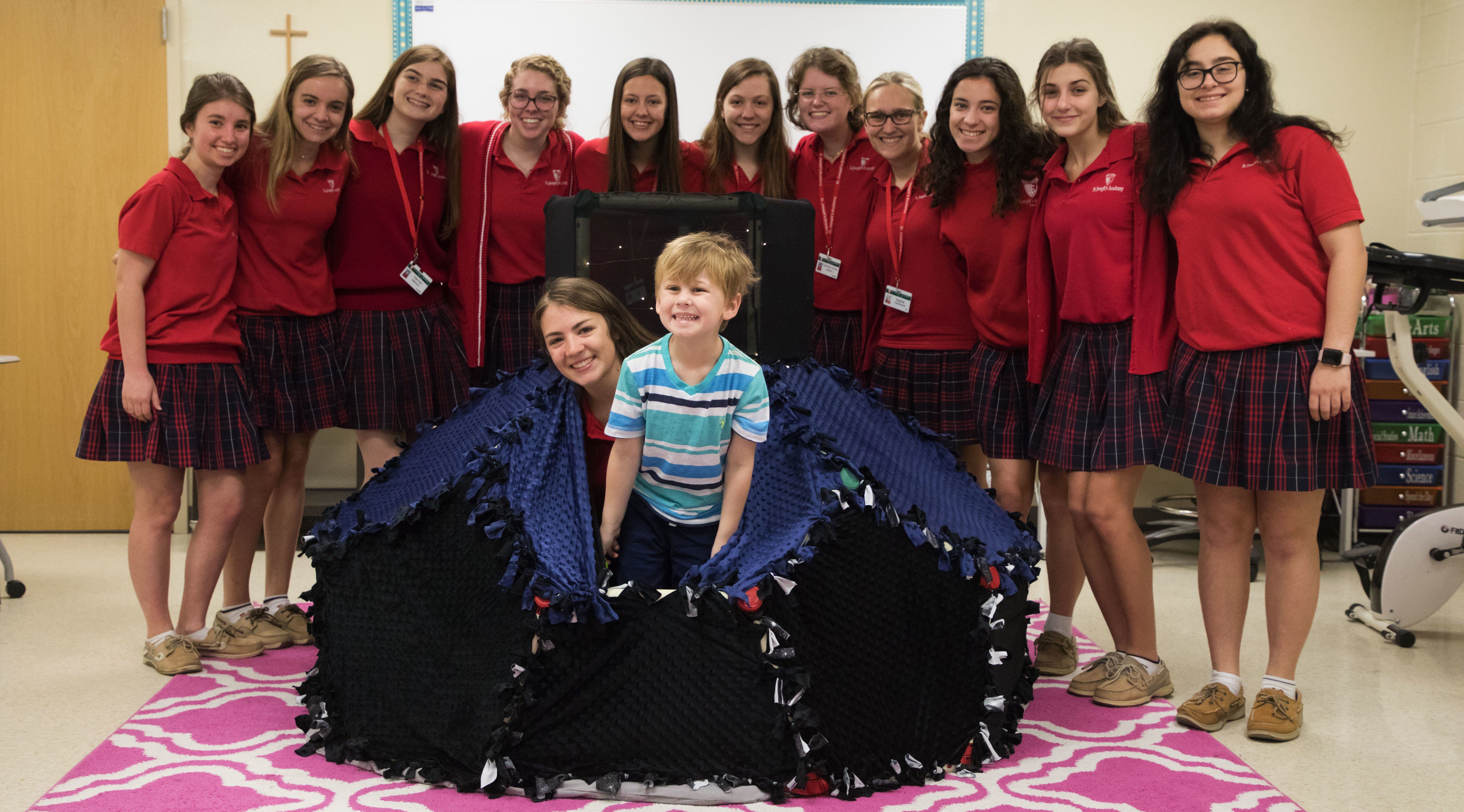 Serving the dear neighbor: SJA students create spaces for children with a sensory disorder
A pit growing in her stomach, St. Joseph's Academy senior Sarah Hill was fighting back waves of emotion as she waited with her fellow physics honors classmates and teacher Jacqueline Savoia for Ethan Tshirky and Jack Meyer, the two young boys with Sensory Processing Disorder who had been at the heart of the class's five-month effort to bring to life personalized sensory spaces, to arrive for the grand reveal.
"In that moment, it didn't matter about the grade," explains Hill. "It all came down to what these two little boys thought."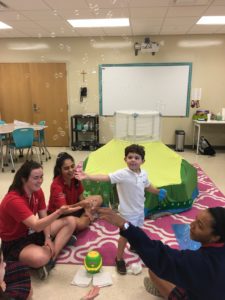 At the beginning of the school year, Savoia had decided to take the curriculum out of the textbook—or, more aptly, the laptop—and into the real world by seeking out and addressing issues within the community.
"We were inspired by a podcast we heard about a solar-powered tent that a group invented to help the homeless," says Savoia. "I had the students research different needs within the community, and we came up with tons of options. We decided on Sensory Processing Disorder, or SPD, because of its increased diagnosis but lack of resources for families affected."
For children and adults affected with the disorder, SPD can manifest in a multitude of ways, from over-responding to stimuli to under-responding and everything in between. Because of this, SPD is often misdiagnosed and misunderstood, leading to a lack of recognition and an absence of readily available treatments. Approaching the problem with Baton Rouge families in mind, Savoia's class took to creating custom sensory spaces for Tshirky and Meyer. Through research and the resources in SJA's Innovation and Design Lab, the girls worked to incorporate different fabrics and toys, such as weighted blankets, oil diffusers and Bluetooth speakers, as well as physics and engineering principles, into the collapsible dome structures.
"It was all about the little things," says Savoia. "Everything depends on the needs of that specific child, and it was so amazing to bring it all together. It was a good opportunity for the girls, but an even better one for the two boys."
"Usually we don't have the resources for something like this," adds student Sarah Hill. "This was the first time we saw something go from paper to real life and it was so exciting and satisfying."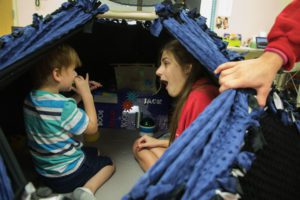 And, as Tshirky and Meyer made their way into the room with their brand new spaces, Hill says she couldn't help but tear up.
"When we saw the boys playing in the domes, it was so emotional," recalls Hill. "I know that sounds corny, but my friend Isabella and I had to snap ourselves out of the tears and emotion. It was just so amazing to see something we had worked so hard on come to life."
The success of the two spaces in answering the needs of Tshirky and Meyer will allow the two boys to use the retreats both at daycare and at home. But, for Savoia, the victory goes beyond the immediate results.
"I really hope to continue doing projects like this in the future," says Savoia. "Sure, there need to be some changes and improvements, but overall, I just hope that somewhere throughout the process, this sparked an interest in the girls for both innovation and service."
To learn more about sensory rooms, check out this story from the May issue of inRegister. And, for more on St. Joseph's Academy and its programs, visit sjabr.org.