Sarah Amacker's vivid artwork provides insight into the psyche of women
From now until August 11, works from Baton Rouge artist Sarah Amacker are on view in LSU School of Art's Glassell Gallery's "Once Upon a Time" exhibit and the "Cur Non" show at Acadiana Center for the Arts.
With her first show in 2010, Amacker distinguished herself as an artist. Six years later, she graduated from Southeastern University in graphic design and the President's Medal for Academic Excellence.
Remarkably, her success in art came after she excelled in the sciences. The Zachary native received a bachelor of science with a major in biological sciences and a psychology minor.
"I was fully intending on pursuing medical school," she explains. "But by junior year, I was feeling burnt out from studying and started making digital art on my computer in my spare time."
Realizing her talent, friends helped Amacker print and display the works; then, they encouraged her to submit them to shows in Baton Rouge and beyond. "I was even able to get pieces displayed at the Ogden Museum in New Orleans and out of state," she recalls.
Ironically, the stress and societal pressures that drove her to both academic success and a career change have become her muse. The results are videos, digital images, mixed media canvases and installations involving layered images in vivid colors.
"My work is very autobiographical specifically from my own experience as a woman and an artist, but I try to think outward to make it relate to a broader audience," Amacker explains.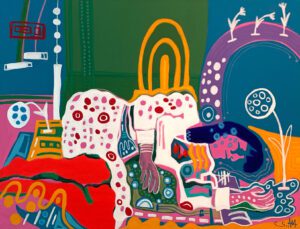 For instance, "GROWTH (Self Portrait in a Dream Landscape)" (pictured above) expresses a realization from a moment of self-reflection. "I've realized the way you think can lead to what you nurture and grow," she explains.
"This work is filled with bright colors to represent my own spirit to dream and persevere—accepting challenges as opportunities to grow," she says. "I hope viewers can relate to the act of dreaming and the possibilities it presents—how that process can lead to inspiration and growth of oneself."
Often, her abstract designs involve words, images and objects seem like a series of clues scattered throughout the work to convey a message. However, decoding the artist's inspiration or meaning isn't necessary for appreciation.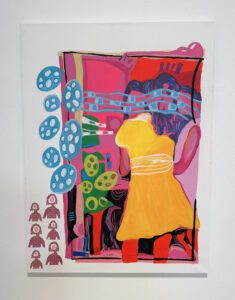 "Sometimes I make work and I may not completely understand what I'm trying to express until months later, and then it finally makes sense," says Amacker. "The beauty of art is it makes you think. We each bring our own life experiences when we look at art, so it's always interesting when people look at my art and tell me what they see or feel. I think it's more about connection."
Despite the public and professional accolades, Amacker largely creates as a form of self-expression. In fact, she rarely offers her art for sale, preferring to concentrate on building a body of work to show at exhibitions.
Besides working as an artist in digital, mixed media and video media, Amacker perpetually immerses herself in art as the full-time marketing and communications specialist for the LSU Museum of Art.
"Art literally changed my life," Amacker says, "So I feel really lucky to work at an art museum and also create as an artist."
---
For more information on Amacker and her art work, visit www.sarahamacker.com.