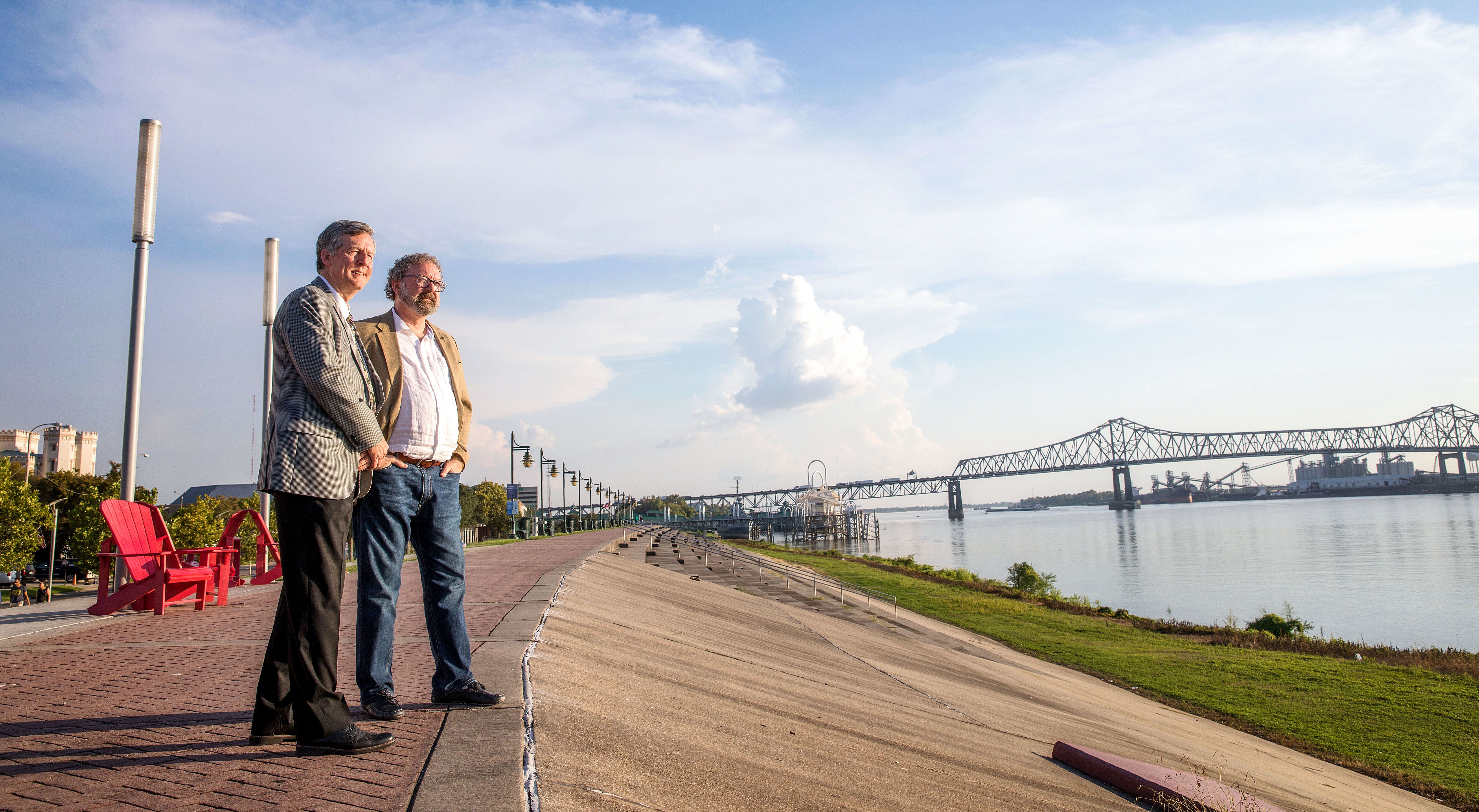 Rotary Club marks 100 years in Baton Rouge with downtown sculpture
---
Rotary Club of Baton Rouge doesn't usually advertise what it's up to, says Thomas Brown, the club's unofficial historian. But since the club is celebrating its 100th birthday, members hope you won't mind hearing a bit more about it this year than usual.
"It's not like we expect anything in return," Brown says. "We just want to toot our own horn just a little bit."
Though the networking opportunities help attract members, "service above self" is Rotary's motto. Rotary International is on a crusade to stamp out polio, and the local club donates to that effort. Rotary Baton Rouge members also promote literacy, participate in blood drives, provide gifts to needy families during the holidays, and donate to flood relief, among many other causes.
Baton Rouge was the last major Louisiana city to begin a Rotary club, Brown says. A group of 34 local businessmen had talked about starting one for two years, he says, but World War I was keeping many of them away from home.
But on July 24, 1918, all but two of them gathered for dinner at the Istrouma Hotel downtown and agreed to submit an application to Rotary International, Brown says. The charter was granted on October 1.
Only men were allowed in Rotary until after a lawsuit was filed against the parent organization during the 1980s. Lucy Priddy was one of the first four women admitted to Rotary Baton Rouge in 1987, Brown says, and she went on to become the club's first female president.
Priddy was president when current club president Ann Trappey joined 25 years ago, Trappy recalls. Over the years, the club has grown a bit more diverse and now is nearly 30% women, she says.
"We're calling it the celebration of the century," Trappey says of the club's centennial.
The club has a party planned for October 18 at the downtown Hilton, which hosted many Rotary gatherings back when it was called the Heidelberg Hotel. The organization is also commemorating the milestone with acts of service such as donating money to pay for 100 polio vaccines and packing 100 bags with necessities for the homeless, Trappey says.
Rotary also plans to place an abstract sculpture, more than 13 feet tall, on the riverfront near the Florida Street/River Road intersection later this year. Beau Olinde, who heads the centennial committee, describes a stainless-steel ball with two steel half-spheres nested above it. The sculpture will play music and display LED lights that will vary with the flow, height and salinity of the river, he says.
Like any abstract work, viewers are likely to interpret it in various ways. "To me, it symbolizes 100 years," Trappey says.
Rotary Baton Rouge has begun crafting a new strategic plan. Asked about his hopes for the club's future, Olinde says he would like to see the club continue to diversify and carry on, or even step up, its legacy of service.
"The networking is terrific," he says. "But we are a service club."