Where to find open-air art in Baton Rouge
---
POETRY IN MOTION
LASM launches a look at the life and work of 92-year-old New Orleans artist Lin Emery on September 26, featuring 30 of her kinetic sculptures made from welded and polished aluminum. Emery's wind-powered works are also on display in outdoor environments around the world, including one of her earliest pieces, "Anthem" (pictured above), which sits outside the Louisiana State Library in downtown Baton Rouge. But this is only one of many striking sculptures and outdoor murals that can be found around the Capital City.
WALL TO WALL
In recent years, some of the city's most basic building facades have received colorful facelifts thanks to mural artists working with the Walls Project and the Museum of Public Art. Even Perkins Rowe has recently gotten into the act with a new outdoor mural (above) created this summer by Marc Fresh. Finding the perfect Instagram backdrop has never been easier.
AHEAD OF HIS TIME
One of Baton Rouge's most iconic outdoor artworks is the contemporary bust-like sculpture of Oliver Pollock created by Frank Hayden in the 1970s. Located at the Bernardo de Gálvez Plaza downtown, the bronze sculpture features the face of Pollock—an aide to Spanish Governor Gálvez and the creator of the dollar sign—along with nine other small faces representing other early Americans in Louisiana. See more Hayden works around town, including the eponymous Red Stick on the bluff at Southern University.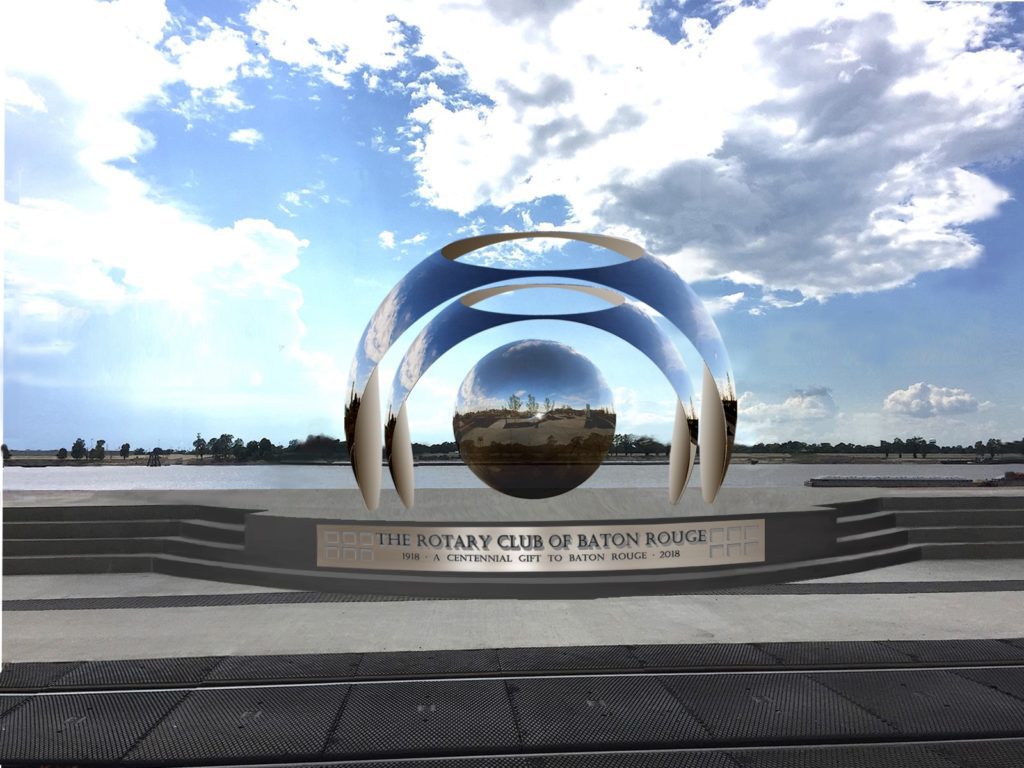 SHINE ON
Baton Rouge's newest outdoor attraction, a spherical stainless-steel sculpture by California artist Po Shu Wang, is slated to be unveiled on the Mississippi River levee near Florida Street in October. Commissioned by the Rotary Club of Baton Rouge in honor of its 100th anniversary, the 14 x 20-foot sculpture will play varying music-like sounds determined by data from underwater sensors in the river, and visitors will be able to sing back via a speaker and touch buttons. Talk about making waves!