From the November issue: Jennifer Hale and Emily Dixon take the field
Kaylee Hartung, the subject of inRegister's November cover story, isn't the only sports journalist making the locals proud these days. Our November issue also catches up with two other stars in the reporting game—Fox Sports' Jennifer Hale and LSU's coordinator of offensive operations Emily Dixon—who thrive as minorities in their field.
Jennifer Hale dominated her years at LSU, captaining the cheerleading squad and earning the titles of homecoming queen and Miss LSU, as well as graduating from the Honors College. After falling in love with journalism, she completed a master's degree from Northwestern University and sped off into the world of reporting, eventually landing her role as sideline reporter for Fox Sports. She recently celebrated the one-year anniversary of her own charity organization, Sideline Pass, which brushes shoulders with other athletes and businesswomen donating time and money to help mentor young girls in New Orleans.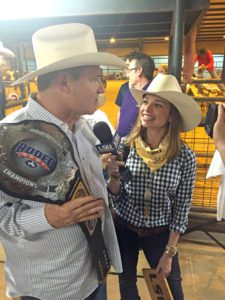 Emily Villere Dixon maintains her strong ties to LSU, currently serving as coordinator of offensive operations for the football team and reporting for LSUsports.net, where she interviews coaches and players for the camera—and sometimes for her popular Instagram feed. There, she not only shares stories and funny encounters with the players we mostly see only behind their helmets, but she also includes style photos from her gameday blog, which often teams up with local boutiques to help style the perfect outfits for Saturday nights in Tiger Stadium.
To learn more about how these two women found success in the world of sports, check out their articles in the November issue of inRegister, available on newsstands now.