From the May issue: The Gray family's fight against opioid addiction
Strokes of red, gold, blue and green depict a cardinal on one of Kim Bullen's canvases. At the center sits a guitar pick in the place of a heart. The bird, and the subtle ode to Jack Gray's love of music, symbolize a campaign started by the Gray family after they lost Jack to a heroin overdose. The campaign strives to help other families who are affected by opioid addiction.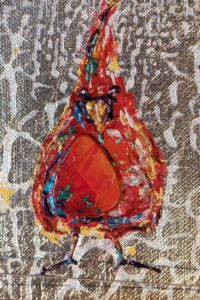 "There's a stigma to addiction, but the truth is this isn't a 'happens to bad people' problem," says Jenny Gray. "It can happen to the best of the best, and it sneaks up on you."
Bullen gave the Grays their first cardinal painting in honor of Jack's first birthday since his passing. Now, people from all over are buying them in support. Bullen's paintings act as symbols of hope for grieving families.
For Jenny Gray, hope lands in her yard more often than she anticipated. She spots the song bird so often that it feels like there's one with every thought of Jack.
To learn more about the Gray family and their campaign, read this story from the May issue of inRegister, on newsstands now.