From the November issue: Lush greenery meets trendy homewares at Red Onion
Located just off Perkins Road near Pecue Lane, the greenhouse-turned-boutique known as Red Onion is hidden away on 9 acres of lush natural landscape. However, the rustic landscape is the store's key to success according to shop owner Brenda Goff.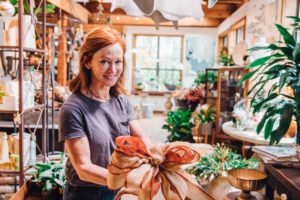 "I think I bring something that a store in a commercial location can't," explains Goff of her boutique which is also home to out-of-the-ordinary plants grown by the property's owner, Ralph Helms. "My location connects customers to the beauty of plants and gives the perfect backdrop to my more unusual items."
With everything from air-plant wreaths to succulent corsages, Goff prides herself on creating a business that she is proud of above all else. Originally wanting to take over a business that had already been started, Goff is thankful for the twists in her professional career that led her to starting her own story in a greenhouse 17 years ago. The adventurous takes on floral and homeware favorites that fill the walls and shelves of Red Onion have since attracted a close-knit customer base that Goff says inspires her to expand and create more and more every day.
"If you listen to your customers, they will tell you what they need," says Goff. "I prefer to invest in people rather than things. It's the people that make working worthwhile."
Check out the full story from inRegister's November issue, on newsstands now, to learn more about Brenda Goff and the treasures that can be found at Red Onion.