Celebrate summer: Major milestones become intimate gatherings in an outdoor setting
---
Photography by Carolynn Seibert
Event planning by Angela DiVincenti Babin
---
Spring and summer in south Louisiana have always drawn families and friends outdoors on pleasant evenings. But the stay-at-home mandate due to COVID-19 created an even greater need to celebrate in wide open spaces this year. Suddenly every inside event that required more than a handful of people was postponed, and small gatherings moved to the lawn for safety and health reasons. Now, as the rules relax and we are once again (cautiously) dining with others, we recognize that any size event is worth doing well.
"Everyone has their own story to tell, and it is up to them on how to tell it," says Angela DiVincenti Babin of Angela Marie Events. Before the pandemic, she created an inspirational outdoor bridal event for this magazine. But during the lockdown, Babin helped a few brides reimagine their planned weddings on smaller terms. "For some couples, their family is everything and an intimate wedding with their family members is enough."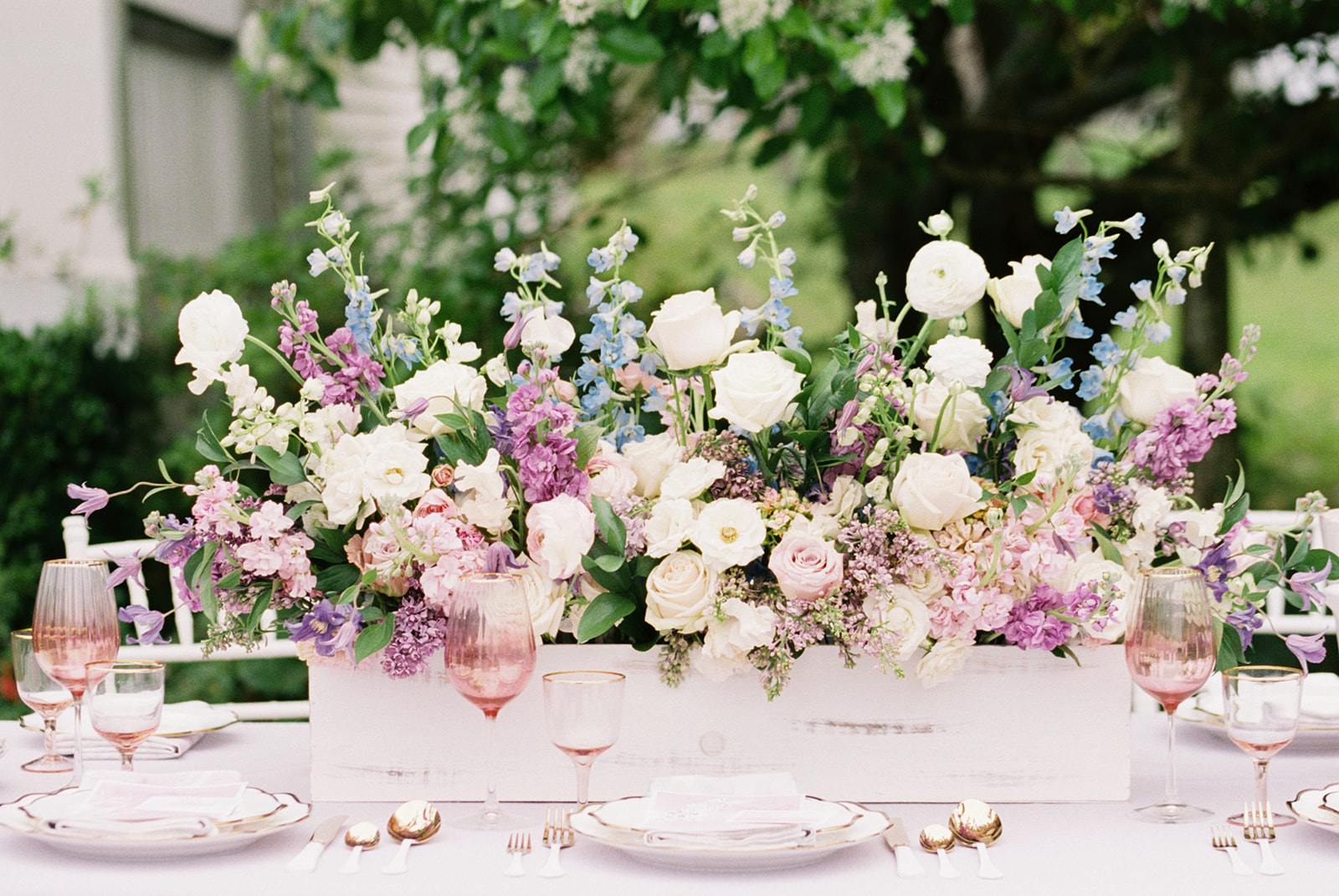 In this scene, the oversized floral centerpiece sets the stage for a grand garden party. Babin used roses, sweet peas, delphiniums, ranunculus, hyacinths, lilacs and more to add color and texture. A simple but sophisticated place setting, pretty place cards and menus, and a lilac tablecloth all reflect the floral bounty and remind guests that color—subtle color—is always in season. So are small, intimate gatherings.
"The trend for smaller events has been happening for the last few years," says Babin, noting that the pandemic forced this new reality for some, with great results. "Brides realize that they don't have to have 300 people at a wedding while sacrificing what they really want—beautiful florals, food, furniture and such. Instead, they have fewer people and they create a scene that is precisely what they dreamed of. They realize what is really important to them, and there is not sacrifice. That's what's really beautiful."
---
RESOURCES
Venue: The James Grace House
Furniture: Element
Florals and designs: Angela Marie Events
Bridal gowns: Blush Bridal
Invitations and paper décor: Rachael Roxanne by Hand
Cake: Sweet Stirrings
Hair: Sarah Pagoulato, SOHO Boutique Salon
Makeup: Abby Manuel
Linens: Nuage Designs Inc.
Champagne chiller: Laura Welch Taylor Art
Model: Natalie Caruso
---
See more photos from this scene below: