Kids take the spotlight in this outdoor concert series made for summer
Burgers, fries and music that's live? We can't think of anything that embodies summer more than those three things. And on Thursday, August 3, they'll come together as Young Band Nation performs at Curbside Burgers from 5 to 8 p.m. on its outdoor stage. This installment is just the latest of an ongoing series that sees young musicians taking center stage at the burger joint the first Thursday of the summer months.
Baton Rouge Music Studios started Young Band Nation in 2008 to give students ages 10 to 18 an opportunity to learn and grow in their music and themselves. The band members perform at local venues once a month, giving students the chance to get up on stage and show off their talents.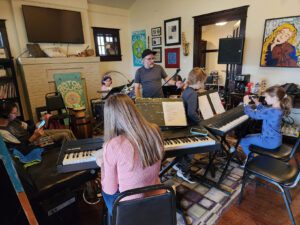 "Our Young Band Nation concert series at Curbside Burgers perfectly embodies our mission to provide quality education and performance opportunities for our talented rock and pop band students," says Doug Gay, owner of Baton Rouge Music Studios. "Collaborating with local service-based businesses like Curbside Burgers allows us to strengthen our community relationships while providing our students with unique experiences."
---
For more information, visit youngbandnation.com.