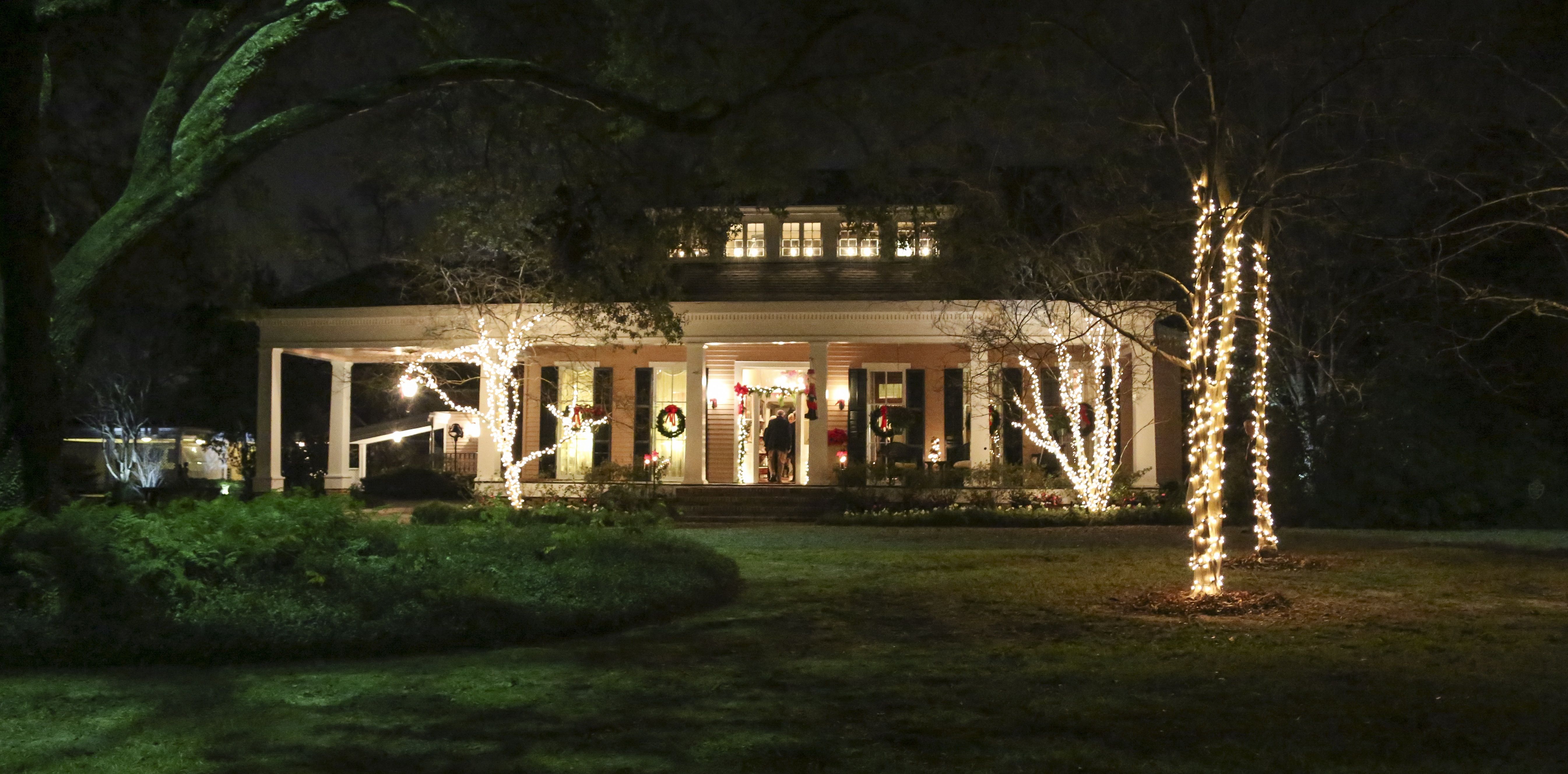 Study club Christmas party offers a taste of tradition
Historic Lobdell house, home to Kay and T.C. Morgan, was the setting for this holiday soirée. Photos by Melissa Oivanki.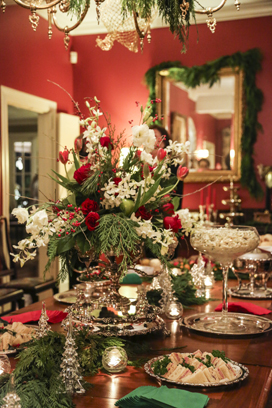 Tertulia: A Spanish word for a social gathering with literary or artistic
overtones. 
La Tertulia: A half-century-old study club in Baton Rouge that gathers monthly for education and fraternization.
In 17th-century Spain, it was commonplace for friends to convene in a private home for a salon-style dialogue about poetry, books, art and politics. More than 50 years ago, a group of Baton Rouge women decided to form a club based on the same ideals. They would meet regularly to exchange books and ideas and to hear from guest speakers on a wide range of illuminating topics.
Today, that group, dubbed La Tertulia by its founders, is still thriving, with 45 members on its roster. In addition to hosting a rotation of expert speakers, the club also takes road trips together and dines out in charming lunch spots. But perhaps the most anticipated gathering of the club year is the annual Christmas party, during which the women—along with their husbands and invited guests—celebrate another year of being together.
The 2014 soirée was held at Lobdell House, a classic Southern structure that was originally part of Goodwood Plantation and dates in part to 1870. For nearly 20 years, the home has been the residence of Kay Morgan, a 40-year member of La Tertulia, and her husband T.C.
"I have hosted the party several times," Morgan says. "I love Christmas—this time of year has always been so special to me. I enjoy sharing my home and my decorations with other people."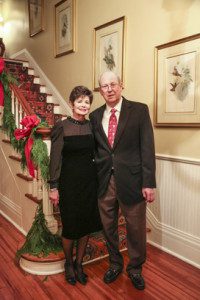 More than 100 Baton Rougeans made their way down the oak-lined driveway to the house for last year's party. Inside, Morgan had decorated each room in a traditional style suiting the historic setting. Her favorite decoration was also her largest—the 12-foot Christmas tree that she calls "my love." "I just have hundreds and hundreds of ornaments," she says. "Many were handmade and beaded by my mother, so they are precious to me." Other baubles on the tree are holdovers from the couple's first Christmas together 50 years ago, and still others are vacation souvenirs.
Fresh garlands throughout the house—around mirrors, tied to chandeliers, surrounding doorways, and draping down the stair rail—exuded the signature scent of the holidays. Lance Hayes Flowers provided both the greenery and the towering red and white floral arrangement that served as a centerpiece on the dining room table.
Surrounding the flowers on the table were the savory dishes that always make up La Tertulia's holiday menu. Members prepared each recipe themselves, from stuffed mushrooms and marinated shrimp to Swedish meatballs and hot oyster dip. "Our signature dish that everyone always gobbles up as fast as they can is lump crabmeat in Green Goddess dressing," Morgan adds. (See recipes at the end of this article.)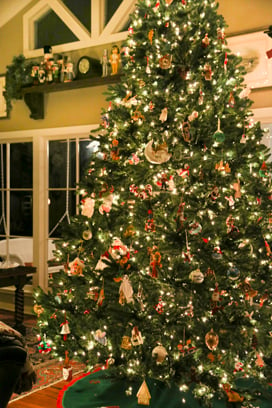 The buffet spread's sweet ending included a perennial favorite, a Bundt-molded chocolate fudge confection. "It's so delicious," Morgan says. "It's rather sinful."
The bar was set out on the back porch, encouraging partygoers to wander through the house and enjoy the cool December evening. As they do every year, each member was allowed to bring one guest couple to the party, and many of those non-members were familiar faces. "Some of the guests have been coming for years and years," says Morgan. "There are a lot of people that I see once a year at this party, and I really look forward to it."
Though its origins might be tied to an intellectual discourse, La Tertulia's members know that friendship and companionship are what have kept them together for so long.
"The camaraderie is what makes our club special—it's not the programs," Morgan says. "It's been a part of our lives for so many years, and we have shared a lot of joys and heartaches together."
Click on the photos in the gallery below to see more of this festive gathering:
---
Lump Crabmeat with Green Goddess Dressing
1 clove garlic, crushed
3 Tbsp. chopped green onion
1 Tbsp. lemon juice
3 Tbsp. tarragon wine vinegar
1⁄2 cup sour cream
1 cup mayonnaise
1⁄3 cup chopped parsley
Salt and coarse black pepper to taste
Red pepper to taste (optional)
2 to 3 pounds lump crabmeat, picked over
Mix together all ingredients except crabmeat. Chill for several hours, then gently toss crabmeat with chilled dressing. Makes 8-12 servings.
---
Tunnel of Fudge
4 1⁄2 cups sugar
1 (12-oz.) can evaporated milk
1 stick butter
Pinch salt
18 oz. semisweet chocolate chips
1 (7-oz.) jar marshmallow crème
4 cups chopped pecans
2 tsp. vanilla extract
Coat a Bundt pan with nonstick cooking spray; set aside. In a large, heavy pot, mix sugar, evaporated milk, butter and salt; stir well. Bring to a full boil, then reduce heat and cook for 8 minutes over medium-low heat, stirring constantly. Remove from heat and add chocolate chips, marshmallow crème, pecans and vanilla. Stir to thoroughly mix, then pour into prepared Bundt pan. Cool thoroughly, wrap with plastic wrap, and refrigerate overnight.
To remove candy from pan, turn upside down on a serving tray. If it does not release easily, place a hot dish towel over pan while still upside down; as pan warms, the candy will release. Makes 5 pounds.