Stronger together: Yoga on the Lawn unites the community in the name of cancer care
After yoga instructor Tanie Bush was diagnosed with breast cancer in 2015, her Yoglates II South family felt the call to do more than just offer encouraging words. Channelling their love for yoga and passion for sharing it with the community, the group started Yoga on the Lawn as a new annual event to not only raise money for Mary Bird Perkins – Our Lady of the Lake Cancer Center, but to increase awareness for healthy lifestyles and early detection.
"When we became aware of Tanie's journey, we had to do something," says Yoglates II South owner April Hill. "My husband Roy and I came up with this idea for a fundraiser that would introduce the community to the fun and healthy benefits of yoglates while raising money for Mary Bird Perkins, where Tanie was receiving her excellent care."
This annual fundraiser, now in its third year, helps the Cancer Center continue to offer care to everyone who comes to its doors, no matter what they can pay, while also offering preventative measures like skin cancer screenings.
"What we want to do is introduce the community to all the ways you can live a healthy life," says Hill. "In addition to bites from Ruffino's and beer from Mockler Beverage, we will also have the largest skin cancer screening in the state. So few people know the importance of regular screenings, but it can be life-saving."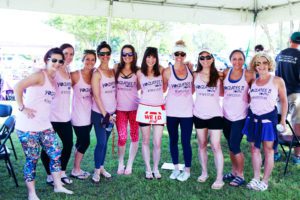 The event will kick off at 9 a.m. Saturday, June 9, at Lipsey's, with everyone invited, no matter your yoga experience.
"We want everyone to feel comfortable," explains Hill. "It doesn't matter what your fitness level is. We just want everyone to come as they are and have a great time with us."
Tickets are available here and are $40 prior to the event and $50 at the door, with VIP and team spots available. For more information about the event, Mary Bird Perkins – Our Lady of the Lake Cancer Center and Yogalates II South, visit the event page here.