Step into history during this weekend's Audubon Pilgrimage
Naturalist John James Audubon may be famous across America for his paintings of North American birds, but he holds an extra special place in Louisiana, to which he traveled in the summer of 1921 to tutor the young daughter of Mrs. Lucy Pirrie, the matron of Oakley Plantation in St. Francisville. Audubon would stay in West Feliciana Parish for about four months, growing fond of the landscape filled with "rich magnolias covered in fragrant blossoms," and painting 32 of his famous studies for The Birds of America.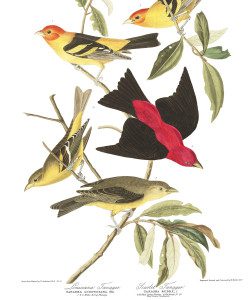 Oakley Plantation has since been authentically reconstructed, and it, along with Wyoming Plantation, St. Clare House, Hillcroft and Wildwood, will will serve as destinations for travelers honoring Audubon's influence this weekend at the 46th annual Audubon Pilgrimage. From Friday, March 17, through Sunday, March 19, guests can join the West Feliciana Historical Society in a journey through time and English plantation country, exploring the rooms of historical homes and experiencing the region that influenced some of Audubon's greatest contributions.
Guests can also stop by the cabins and outbuildings of the The Rural Homestead as it flourishes with lively demonstrations of the rustic skills of pioneer life, or take guided tours through Afton Villa Gardens, Rosedown and other Audubon State Historic Sites, including three 19th-century churches in town and the beautiful St. Mary's Episcopal Church and Cemetery in the country. This year's pilgrimage also includes a special focus on Audubon's artwork, with Audubon Market Hall hosting an exhibition of Audubon prints, featuring images of birds he rendered from across West Feliciana in areas like Beechwoods and Beech Grove Plantations, along Bayou Sara, in the Sleepy Hollow woods, and the Tunica Swamp. Local local ornithologists and photographer C.C. Lockwood will also be leading talks and nature walks.
Light up the Night, the Saturday-evening soirée, will begin at 7 p.m. and will feature live music and dancing, dinner and drinks.
For tickets, schedules and more details, see westfelicianahistoricalsociety.org. Information on St. Francisville accommodations, shops, restaurants and recreation can be found at stfrancisville.us.