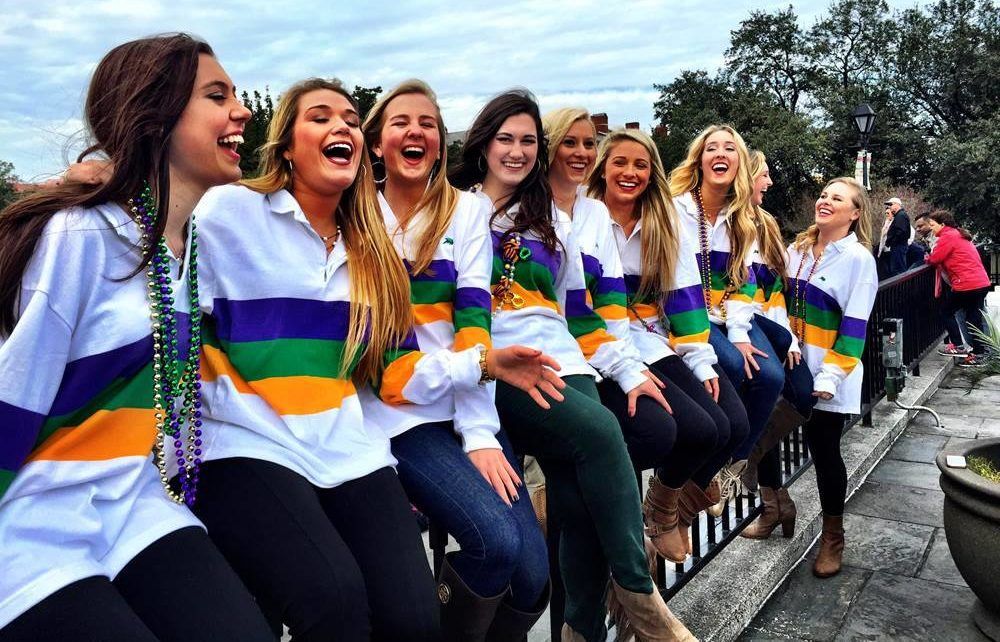 Sales roundup: Win a gift card from Perlis, fall and winter markdowns at Carriages, and more
While celebrating Mardi Gras this weekend, post a picture in your Perlis gear, hashtag #mardicraw2018, and tag @perlisneworleans on Instagram or @Perlis Clothing on Facebook for a chance to win a $25 Perlis gift card.
---
Visit Carriages Fine Clothier for new fall and winter markdowns with select sportswear up to 60% off, all True Grit 40% off, all T-shirts storewide 40% off, select ties and bowties 50% off, and select dress shirts and pants 50% off. Until Saturday, February 10, as part of the end-of-season sale, shoppers will also get an additional 20% off any of the above items.
---
All Mardi Gras merchandise is 50% off now at The Queen Bee.
---
In addition to the ongoing Lee Loves Local sale, Dixon Smith Interiors is hosting an all-day unveiling celebration for Vesela Baker's latest works on Monday, February 12. Baker's paintings will continue to be showcased in the store following the celebration.
---
Jenn Ocken Photography is hosting a Valentine's Sale with 15% off prints with the code LOVEYA2018, as well as 50% off usage rights.
---
Williamson Cosmetic Center is throwing a month-long "Love Your Skin" event, with special deals on Juvérderm, oxygenating facials, Jane Iredale lip products and more. For a full list of deals, visit williamsoncosmeticcenter.com.
---
Mardi Gras tees are 30% off at Wanderlust by Abby, both in store and online with the code THROWMESOMETHING.
---
LD Linens and Decor is hosting a Custom Order Sale through February 19, with 20% off all custom-order bedding, rugs, lighting, upholstery and case goods.
---
Don't miss Russo Ross' Fridaze Trunk Show starting today, February 8, and lasting until Saturday, February 10.
---
The Backpacker is offering end-of-season discounts, with special deals on coats, ski gear and more.
---
Massey's Professional Outfitters is holding its Winter Gear Sale now in store and online.
---
Until February 19, receive 20% off any custom order from LD Linens and Decor.
---
I Do Bridal Couture's Mardi Gras Mambo Trunk Show will continue through this Saturday, February 10, with 10% off the purchase of couture gowns as well as a free "Lauren" veil. Book an appointment online here.
---
Receive 20% off of jewelry, candles, select florals and gifts in honor of Valentine's Day next week at Patti DuPree Furniture and Interiors.
---
NK Boutique's Hollydale location is hosting a Last One Sale, with select items 20% off. Follow NK on social media to see the items.
---
Mingle is transitioning to spring with select items throughout the store 50% off.
---
Tomorrow, February 9, visit Salon Raybon for a fresh do and leave with a henna tattoo for $10 or less.
---
Bridal Boutique is hosting a Venus Bridal Trunk Show February 9 through 13, with special gowns and representatives from the company. To make an appointment, call 225-925-1135.
---
Mint is transitioning from winter to spring with a sale rack featuring items as low as $25.
---
Select designer shoes are half off now, February 8, at Edit by LBP.
---
Bella Bella is continuing its winter sale with half of the clothes in the store 60 to 75% off and shoes and jewelry 50% off.
---
Sale items are an extra 20% off online at Blu Spero with the code SALEONSALE.
---
When you book an appointment for hair and makeup at Glo Beauty Bar between today, February 8, and February 17, you will receive a free spray tan.
---
The Lemon Tree Gifts and Paper just added candles, soaps, diffusers and more to its 50%-off table.
---
Are you a Baton Rouge retailer with an upcoming sale or special event? Email [email protected] with details to be featured in an upcoming Sales Roundup.