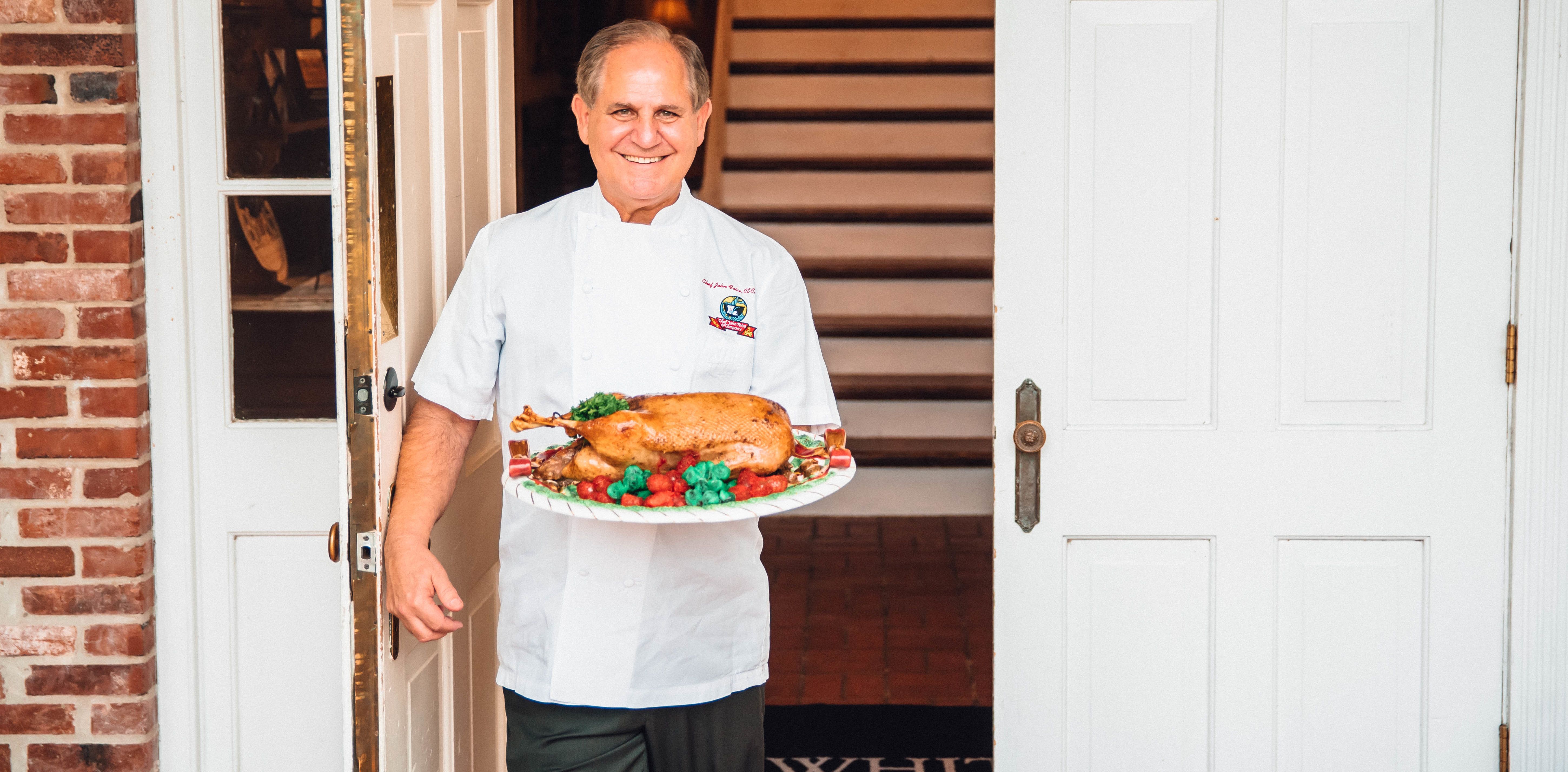 Sales roundup: Chef John Folse book signing, Merry Christmas Madeline, and more
A look at sales in the area:
---
Chef John Folse will be at the Perkins Rowe Barnes & Noble this Saturday, December 9, from 11:30 a.m. to 1 p.m. and Citiplace Barnes & Noble from 2 to 3 p.m. to sign all of his cookbooks just in time for Christmas. With four cookbooks under his belt, Chef Folse has become a staple in kitchens throughout south Louisiana and beyond. For more information on Folse, his book signing, and his many culinary ventures, visit his website at jfolse.com.
---
This Saturday, December 9, join The Queen Bee for Merry Christmas Madeline, a Madeline-themed Christmas celebration complete with an appearance from Miss Clavel. In addition to special activities for kids, the event will also feature 20% off all Madeline merchandise as well as exclusive goodie bags for the first 25 guests. To get more Madeline inspiration, check out this story on The Queen Bee from the inRegister archives.
---
From 5 to 8 p.m. today, December 7, visit the Corporate Boulevard location of NK Boutique for a Very Merry Christmas Event complete with a Gypsy Jewelry Collection trunk show and Tibi Holiday and Resort showing, as well as J. Hilburn Custom Clothier gift advice from special guest Molly Thayer. The event will also feature cocktails, hors d'oeuvres, special discounts and giveaways.
---
Today, December 7, visit the Capitol Park Museum until 8 p.m. for the 3rd Annual Holiday Shop Hop, featuring 30 local vendors offering everything from food to art to clothing. This event is free and open to the public.
---
SOHO Boutique Salon is hosting a Holiday Open House next Wednesday, December 13, from 9 a.m. to 7 p.m. In addition to giveaways and promotions, the event will also feature special holiday treats.
---
This Saturday, December 9, Blackbird Letterpress is hosting a Holiday Sale and Open House with printing demos on Blackbird's antique presses, as well as the featured work of five guest artists. The event will take place at Blackbird's Main Street location from 10 a.m. to 4 p.m.
---
Jenn Ocken Photography is offering 20% off prints and fine art products, as well as buy one, get one one keepsake books and 25 gift tags for $55 now, December 7, with the promo code OCKENCHEER2017. Also, check the Jenn Ocken blog tomorrow, December 8, for the reveal of more savings opportunities.
---
On Wednesday December 13, Edit by LBP is hosting its first ever Baubles x Vintage Tees trunk show with DanniJo's pre-spring and holiday collections alongside their collection of vintage T-shirts.
---
This Friday, December 8, enjoy holiday sips and sweets while shopping Ramy Brook and Percoisa trunk shows at Eros' Christmas Open House from 10 a.m. to 6 p.m. Ramy Brook will remain in store until Sunday from 12 to 4 p.m.
---
Kiki is hosting a Sydney Evan Holiday Trunk Show today, December 7, until 6 p.m. with one-of-a-kind jewelry and more.
---
Every Friday until Christmas, Lukka Boutique invites customers to come celebrate while they shop with a glass of Champagne.
---
Southern Sophisticate is extending its food drive until Wednesday, December 13. For the rest of this week you can bring in 3 cans and receive 10% off your purchase. All canned goods will be donated to the Greater Baton Rouge Food Bank. 
---
This Saturday, December 9, join Time Warp Boutique from 10 a.m. to 6 p.m. for its Holiday Pop Up Market. Shop London Van Oss Botanics, Sea Slug & Sons Printing Co. and handcrafted jewelry by Gabrielle Murphy, alongside Time Warp's own collection of vintage finds. 10% of profits will go to the nonprofit I Am That Girl, which promotes leadership and personal development of young women nationwide.
---
Spread holiday cheer to children spending their Christmas at Our Lady of the Lake Children's Hospital by bringing in an unwrapped gift to I Do Bridal Couture. Donations will benefit the Bella Bowman Foundation. And, until December 16, when you bring in a gift, you will receive 20% off any accessory. In addition, any bride who purchases a gown through December 30 will be entered to receive $500 off their purchase.
---
This Saturday morning from 9 a.m. to 11 a. m.,  The Backpacker and The North Face are hosting Mount Sneaux Day at The Backpacker's Jefferson location. Enjoy a holiday celebration with snowball wars and snowman building, hot chocolate, s'mores roasting, a photo booth, giveaways, in-store specials, and more.
---
Today, December 7, from 4 to 8 p.m., Anton's Fine Jewelry is hosting a Christmas Open House with wine, Champagne, jazz music and special hors d'oeuvres prepared by Sullivan's Steakhouse. Shop featured jewelry collections from Amden, Alwand Vahan, and DSL Pearls. The Alwand Vahan trunk show will remain in store until Friday, December 8, at 4 p.m.
---
As part of its Second Week of Christmas Sale, Oh Baby a Children's Collection is offering 20% off shoes, 25% off Christmas apparel and 30% off Christmas T-shirts through Saturday, December 9. Keep an eye out for deals starting Monday for the Third Week of Christmas.
---
This evening, December 7, from 5 to 7 p.m. the shops at Acadian Village on Perkins are celebrating the holidays with Sip & Shop–Be Merry! The night will feature specials, light bites and cocktails with The Keeping Room, Baby Bump, Edit by LBP, Tiger People Clothiers, Vertage Clothing, The Ruby Slipper Cafe, Air Salon & Blow Dry Bar, Baton Rouge barre3 and La Divina Italian Cafe.
---
This Sunday, December 10, the jolly guy in red will be at Giggles toy store from 2 to 5 p.m.
---
Visit Studio C this Saturday, December 9, from 11 a.m. to 1 p.m. for pop-ups featuring unique breads, cookies, freshly roasted coffee beans and more by Rosch Bakehaus and Pickle Block Roasters.
---
Now through Sunday, December 31, Air Salon & Blow Dry Bar is offering a deal on airstyles at 4 for $100.
---
Rush Salon is offering $10 blowouts every Friday throughout December.
---
Bridal Boutique Baton Rouge is extending its sale of 20% off all rack items until Sunday, December 10.
---
Until Wednesday, December 20, in exchange for 10 non-perishable food items,  Bustle Bridal Boutique is offering to pay the tax on the purchase of a gown. All donations will benefit the Greater Baton Rouge Food Bank.
---
Are you a Baton Rouge retailer with an upcoming sale or special event? Email [email protected] with details to be featured in an upcoming Sales Roundup.