Poverty Point lecture and book signing at Old Governor's Mansion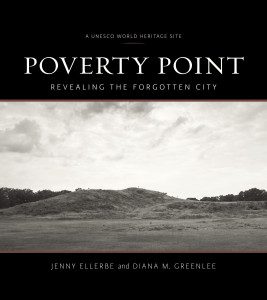 The Foundation for Historical Louisiana will host a Heritage Lecture tonight, Thursday, Jan. 14, on the country's newest UNESCO World Heritage Site, Poverty Point in north Louisiana. Following a 6 p.m. reception at the Old Governor's Mansion, the lecture titled "Poverty Point: Revealing the Forgotten City" will be led by Diana M. Greenlee, station archaeologist and adjunct professor of archaeology at the University of Louisiana at Monroe. Jenny Ellerbe, a fine-art photographer, will share her dynamic black-and-white photos of the ancient site. Both speakers are authors of the LSU Press book by the same name, and a book signing will follow the lecture.
Poverty Point, which was the largest city in North America during the time it thrived between 1700 and 1100 B.C., is now mostly remembered for the prehistoric earthworks that remain on the 920-acre site near West Carroll Parish. Built by the mysterious Poverty Point culture, these series of mounds—along with semicircular ridges and a vacant plaza—have been deemed by the National Park Service as some of the largest and most complex Late Archaic sites ever discovered in North America.
The lecture will include discussions about this little-known culture and its monumental achievements, plus details about the most recent archaeological findings and what excavations have revealed about the creation of monuments and the lives of the people who built them. Greenlee and Ellerbe will touch on the many unanswered questions about Poverty Point: What was the city's function in the ancient world? How did its people acquire their stone materials, some of which had been sourced from origins over 1,000 miles away?
Calandro's Select Cellars and Fine Wine will host the 6 p.m. reception, with the lecture taking place at 6:30 p.m. in the East Room. The event is free for FHL members and $10 for guests. Please register in advance by calling 225-387-2464 or by visiting fhl.org.