A new Baton Rouge Christmas tradition: The Teddy Bear Tea
Visions of sugarplums, jolly laughter, silver bells, a red-nosed reindeer and a whisper from Dickens—the nostalgia of Christmas comes most alive in the presence of children and family.
This year, Juban's Restaurant and The Red Cake Events offer what they hope will be a new Christmas family ritual, the Teddy Bear Tea.
"A lot of people travel to New Orleans to Windsor Court for a holiday celebration like this," says Heather Day of Red Cake Events. "I wanted to start a tradition here in Baton Rouge."
While enjoying the culinary excellence of Juban's chefs for a full brunch, guests will be treated to an experience full of childhood Christmas fantasy. Visitors will be invited to indulge in the spirit of the season by visiting with the Clauses, taking pictures, and even curling up by the fireplace for storytelling by Mrs. Claus herself. Guests can also sing along with the Charles Dickens Carolers.
"Juban's is a great match for this event," says Day. "Everything fits really well with what we are trying to evoke."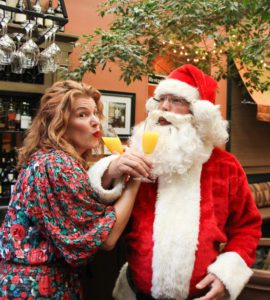 The Teddy Bear Tea will be held this Sunday at 2 p.m. and December 16 and 17 at 11 a.m. and 2 p.m. Tickets for adults and children can be purchased here, with an option for adults to include bottomless mimosas for an additional $10. There is also a VIP alternative which includes premium seating for 10 next to St. Nick, an enhanced dining experience, candy-stuffed stockings for children, bottomless mimosas for adults, and a tableside visit from the Carolers.