Quota's Eyes on the Ties set for next Thursday
Quota International of Baton Rouge's "Eyes on the Ties" brings together fancy clothes, celebrity appearances and great food next Thursday, September 28, at L'Auberge Casino & Hotel, all to benefit Louisiana Public Broadcast's children's programming.
Guests will first be treated to a Southern Chef's Showcase, where they will get the chance to taste gourmet dishes from local Louisiana chefs. A silent auction will feature spa packages, sports memorabilia and jewelry, set to a soundtrack of live music by The Something Blue Band.
Chef John Folse and nationally recognized cookbook author Holly Clegg will serve as masters of ceremonies for a men's fashion show featuring clothing from Baton Rouge designer Martinez Custom Clothier. "Believe me, these guys strut!" event co-chair Bobbie Carey. "And the clothes are beautiful."
After the fashion show, a performance by contemporary dance troupe Of Moving Colors will precede the main event, the moment when everyone's eyes will, indeed, be on the ties. Community leaders including LSU gymnastics coach D-D Breaux, Preserve Louisiana Executive Director Fairleigh Cook Jackson, 225 editor Jennifer Tormo and state consultant Sally Clausen will model celebrity items for a live auction.
Ties signed by celebrities including Zydeco musician Zachary Richard, LSU football legend Billy Cannon and musician and New Orleans-native Harry Connick, Jr., will be up for grabs. Other specialty items include guitars signed by Jimmy Buffet and the Rolling Stones, an Abbey Road Album signed by the Beatles, and a Game of Thrones poster signed by members of the television cast.
The night will end with a raffle drawing for a once in a lifetime trip to London that will include traipsing through the English countryside and wandering through ancient castles. In support of PBS programming, the trip will include a tour of the channel's award-winning series Downton Abbey's sites and grounds. Raffle tickets can be purchased in advance here.
Sponsored by the Baton Rouge Clinic, this event's proceeds will not only go towards funding Sesame Street and our other favorite programs, it will also benefit LPB's online children's media center and annual summer camp. These educational programs benefit thousands of children in Louisiana academically, with features including French lessons and high school prep.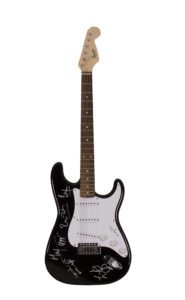 "It's important for people to realize that LPB is also known as Louisiana's classroom," says Carey. "They serve children statewide; the work they do is not just limited to Baton Rouge. We hope to involve people from all over the state with this event."
Quota International brings together professional Baton Rouge women to work together in the areas of healthcare and education. The organization has been a part of projects at Woman's Hospital and Mary Bird Perkins-Our Lady of the Lake Cancer Center and is a founding member of the Baton Rouge Speech and Hearing Foundation, now known as the Emerge Center.
"We're very excited to raise money for this cause," says Carey. "We've been one of the top organizations raising money for women and children empowerment since 1935. This event is all about the kids."
Tickets can be purchased online here or from any Quota International member. Get more information about the event here.