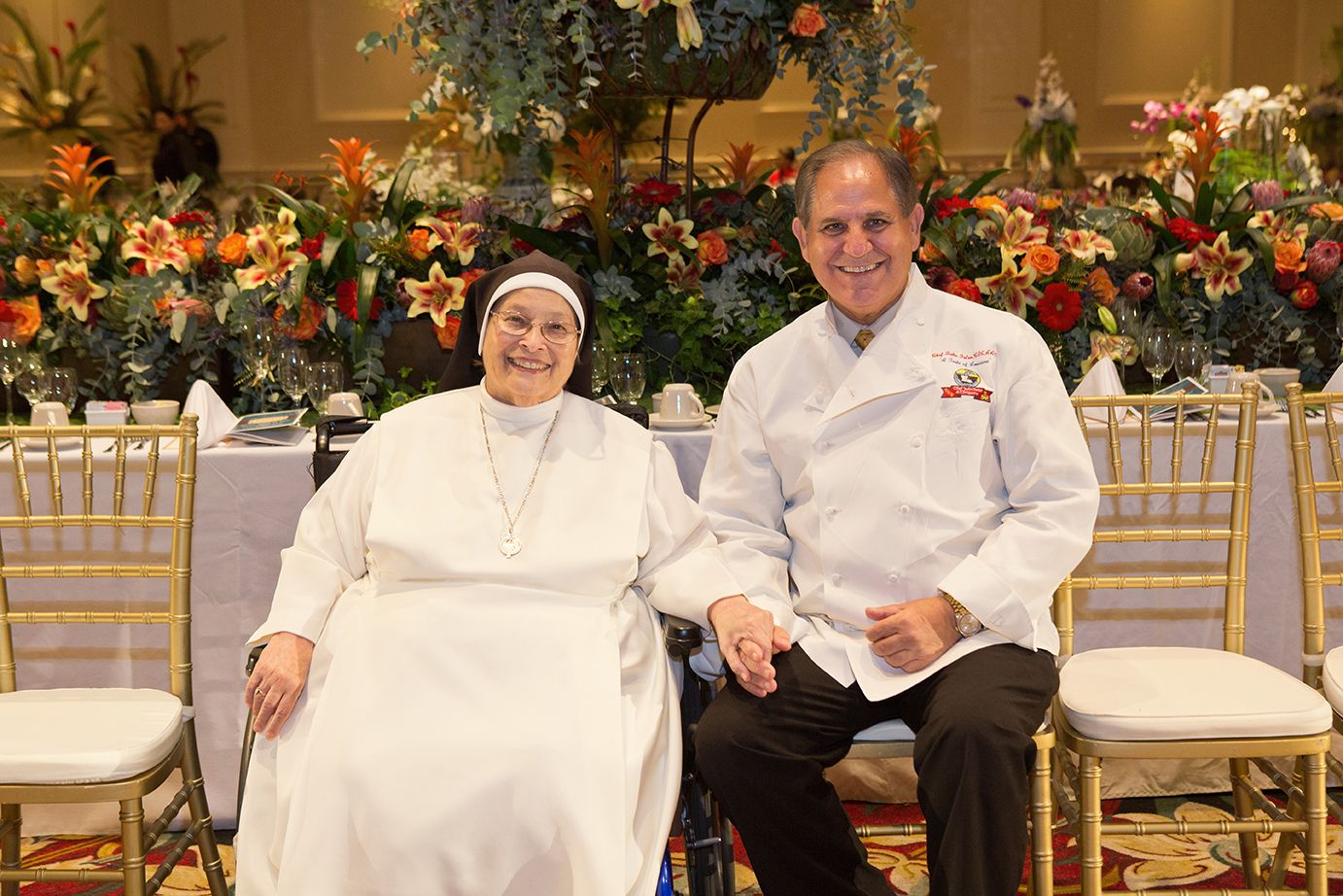 Dining by Design: A feast of Eden
Sister Dulce Maria and John Folse at the 2014 benefit dinner. Photo by Kleinpeter Photography.
Dining by Design marries fantastic fare with creative tablescapes for a philanthropic event with a healing heart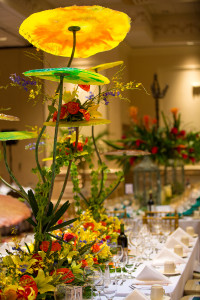 Later this month, 650 patrons will gather around opulently dressed tables for a lavish dinner featuring the handiwork of national and local chefs and top decorators. It's a feast for the senses that nourishes the soul.
Dining by Design is a culinary benefit for the Cypress Springs Mercedarian Prayer Center in Baton Rouge. Chef John Folse cohosts the event with the organization, a Baton Rouge-based hub for healing and spiritual guidance. Its central figure, Sister Dulce Maria, is an internationally known healer who has offered emotional support—and reportedly miracles—to thousands of individuals, some of whom travel from afar.
The event began in 2007 with a sellout crowd of about 300 filling tables under tents at Folse's White Oak Plantation. Demand necessitated a move to a larger indoor venue in 2008, says coordinator Debi Grymes. Each year, Folse recruits a team of chefs from around the country and state to craft individual menus that demonstrate their unique culinary talents. Meanwhile, organizers at the Prayer Center recruit local florists, landscape architects and interior designers to create elaborate tablescapes.
"One year, we literally had a beautiful trough that held this delicate stream of milk and honey," says Grymes. "We've had live butterflies and parrots. It's incredible what these designers come up with. They go above and beyond anything we could possible imagine."
Tables have featured chandelier-like candelabra, chair backs fashioned as angel wings, table linens in bright hues, and floral arrangements that reach to magnificent heights. Designers have four hours to set up their décor, which is coordinated in advance with the corresponding chef's menu.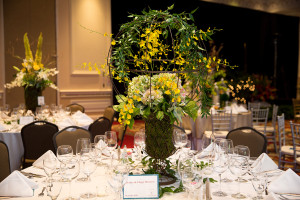 The Center chooses an annual theme with a spiritual focus, and it is revealed to participating decorators more than six months in advance. This year's theme is the Garden of Eden. Last year, it was Heavenly Saints, inspiring the inclusion of statuary of the Virgin Mary, St. Joseph and St. Francis, along with thoughtfully composed flowers and greenery, candles and other elements that worked together to tell a story.
While party patrons enjoy the scenery in the Crowne Plaza ballroom each year, guest chefs heat up the kitchen to produce four-course meals that showcase their culinary artistry and experience. For example, in 2014, Chef Jared Van Camp from Element Collective in Chicago started things off at his table with a sweet corn and crawfish bisque served with fresh coconut, Madras curry, crawfish ceviche and fresh cayenne. He continued with a salad of raw, roasted and pickled baby beets and blue cheese mousse. Van Camp's bold main course was pot au feu of bone marrow poached beef tenderloin, glazed oxtail, braised veal tongue, crispy beef shank, baby root vegetables, cornichon beignet and consommé. And he finished things off with an elaborate peach melba.
"The chefs sometimes take a week off, fly in ingredients, and really just cook the most incredible dishes," says Grymes.
Six national chefs are responsible for the gold-level tables, while four Louisiana chefs take care of the silver. Folse and his team cook for the 400 bronze-level patrons. For the 2015 event, set for Aug. 23, national chefs will serve 20 guests each at chateau-style tables, while 10 diners will enjoy meals by a Louisiana chef at each silver-level table. All guests will partake of an appetizer or soup course featuring crab, followed by salad, a meat course with Certified Angus Beef, and dessert. Jared Van Camp will return this year, along with other national chefs including his Chicago peers Rick Tramonto and Greg Biggers, Pierre Sauvaget and Philippe Caupain of California, and Seth Shipley of Boca Grande, Florida.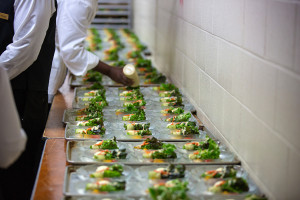 This year's event will also feature a silent auction with prizes including a private dinner with Sister Dulce Maria at White Oak Plantation. A "Wine and Dine" raffle will include 25 restaurant gift certificates and at least 24 bottles of fine wine divided between three large baskets.
Grymes says tickets sell out fast because of the passion many people feel for the work of Sister Dulce Maria, who first arrived in Baton Rouge in 2001. Part of the education-centric Mercedarian Sisters of the Blessed Sacrament, Sister Dulce Maria says she received a spiritual calling from Jesus (whom she calls "Papa") to divert from the path common to her order and focus on healing instead. Sometimes that has meant physical healing or easing pain, say her many champions, while in other instances it has meant an emotional or spiritual healing. In all cases, she seems to be able to bring those she counsels into a closer relationship with God, says Grymes.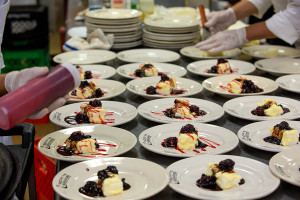 "People are so passionate about this event because of her work," says Grymes. "They want to give back to this ministry." ■
For tickets or more information, see cypressspringsprayercenter.org.