What to do this weekend: Design a headpiece and stay for tea at this DIY event
In a summer slump? The Chapeaux Party and high tea at The Cottage Cafe and Tea Room this Saturday, July 22, will change your tune. Under the guidance of headpiece designers Karla Coreil and Jenn Loftin, guests will design their own couture creations and then model the millinery masterpiece during the tea party.
Years ago, Coreil and Loftin noticed there were not any local options for these unique headpieces, so they decided to take matters into their own hands. For more than a decade, the duo had been making hats for parties, balls and just about any event that could use a pop of ingenuity. "It seems like festive headwear is just the perfect match for South Louisiana, where we have such a culture of celebration," says Loftin.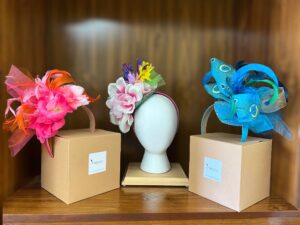 "I think adding a festive chapeaux to an outfit raises the celebration level and brings joy to others," adds Coreil.
The couture crafting starts at 10 a.m. and will be followed by high tea at noon. Coreil and Loftin provide flowers, feathers, ribbons and all other supplies. Tickets can be purchased online here.
---
Read more about Chapeaux Party in this story from the inRegister archives. And for more information, visit chapeauxparty.com.