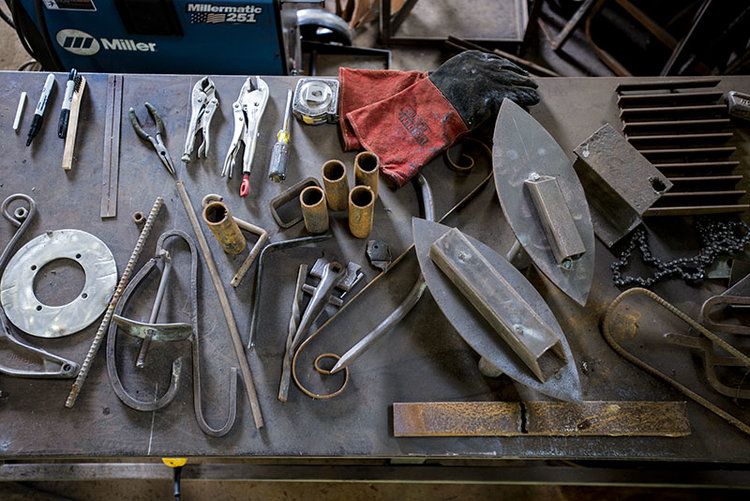 Arts around town: Martin Payton's 'Broken Time,' Sunday in the Park, and more
A look at art-related events in the area:
---
Tonight, October 19, the LSU Museum of Art is hosting a special reception for the opening of Broken Time: Sculpture by Martin Payton, which will be on display through February 11. The exhibition, which consists of 30 steel sculptures, draws on Payton's inspirations in New Orleans jazz and African heritage through the medium of scrap metal which he welds into lyrical representations of the intersection of the two traditions. Taking place at the museum in the Shaw Center for the Arts, the reception will feature a special Q&A with the artist himself, Martin Payton, starting at 6 p.m. followed by drinks and small dishes. Admission is free for members, $5 for students and faculty and $10 for nonmembers.
---
Opening Tuesday, October 24, LSU Theatre presents a production of Shakespeare's The Comedy of Errors, a classic comedy of two twins in one small town. Directed by Meg Grey, the show will run through Sunday, October 29 at the Studio Theatre, Music and Dramatic Arts Building on LSU campus.  Tickets are $12 and available here, or at the Music and Dramatic Arts Box Office.
---
Arts Council of Greater Baton Rouge's Sunday in the Park series continues as The Mulligan Brothers perform in the Shaw Center for the Arts Plaza this Sunday, October 22, at 2 p.m. This outdoor concert event is free and open to everyone.
---
Tonight, October 19, enjoy the music of Grammy winning bluegrass group, Del McCoury Band, as they perform previously unheard poems by the famous American poet, Woody Guthrie. The concert will take place at the Manship Theatre at 7:30 p.m. For ticket information, visit manshiptheatre.org.
---
Join Southern Garden Symposium for its 29th year of quality lectures, historic venues and social events this Friday, October 20, and Saturday, October 21 in St. Francisville. This year will feature workshops and speakers from some of the most interesting and knowledgable gardening experts such as Monticello's Peggy Cornett, authors Margaret Gratz and Jenny Wegley, as well as the Director of Horticulture for The Dallas Arboretum. For information regarding tickets and schedule, visit Southern Garden Symposium.
---
Beginning this Saturday, October 21, the LSU School of Art's Glassell Gallery will display Periphery, an exhibition by Bob Snead. While the exhibition will be on display until December 15, Snead will speak on his work at a special reception on October 25 at 5:30 p.m.
---
Baton Rouge's Remember Me Quilt Guild will host its annual Fall Arts Jubilee this Saturday from 9 a.m. to 3 p.m. at St. Paul's Lutheran Church. The market will include locally made crafts including pottery, woodwork, jewelry, embroidery and more. All proceeds will go to Remember Me Quilt Guild.
---