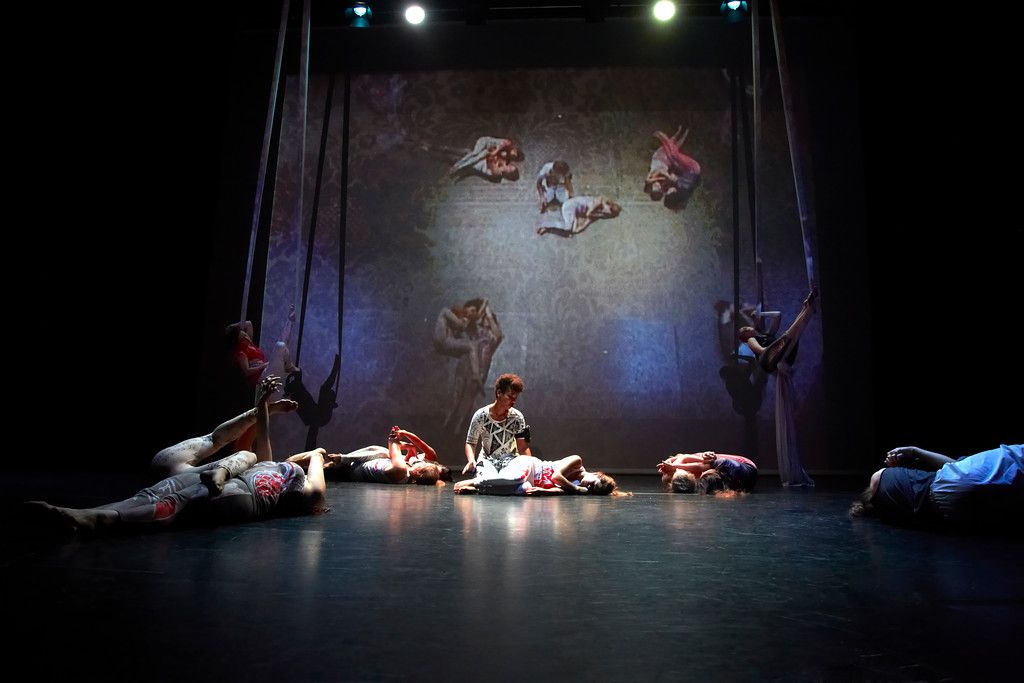 Arts around town: LSU Theatre's Dance and Physical Theatre Showcase, 'You Can Touch' at Firehouse Gallery, and more
LSU Theatre's talented performers are set to take the Claude L. Shaver Theatre stage tonight, April 26, and tomorrow, April 27, at 7:30 p.m. for the annual Dance and Physical Theatre Showcase. Featuring stories told through both dance and silk work, the performance aims to amuse, educate and exhilarate. The dance portion of the show will follow the poetry of Paul Fleischman, set to a score by composer Bill Montgomery, for a show filled with fireflies, bees and more. The physical theatre portion is titled Dream Logos and features a collaboration between students and faculty to create a collection of dream-like demonstrations. For more information, as well as tickets, visit the event page here.
---
The Firehouse Gallery will present the work of four LSU post-baccalaureate students and ceramic artists–Osa Atoe, Christina Kieffer, Katie Smith and Taylor Myers–in an exhibition titled You Can Touch, which will open this Sunday, April 29, and run through Friday, May 4. A special reception will be held for the exhibition on its opening day with a brunch from 10 a.m. to 1 p.m.
---
Artists Leslie Friedman, Kelli Scott Kelley, David Scott Smith and Michaelene Walsh are unveiling their latest work next Wednesday, May 2, at the Baton Rouge Gallery with a special First Wednesday Opening Reception from 7 to 9 p.m. This free event will not only feature the artists and their work, but also live music and refreshments.
---
This Sunday, April 29, the Arts Council of Greater Baton Rouge will present Ty Taylor and Kinfolk at the Shaw Center for the Arts Plaza from 2 to 5 p.m. as part of the free concert series Sunday in the Park, which will run through May 13. For a complete lineup and more information, visit artsbr.org.
---
The LSU School of Theatre, Delta Rouge and LSU Student Government are showcasing the films of students and alumni from LSU, Southern University and Baton Rouge Community College with this year's Take 4 Film Festival this Saturday, April 28. The annual festival will take place at LSU's Claude L. Shaver Theatre at 7:30 p.m., with films ranging in length from 3o seconds to 15 minutes. To learn more about the festival, visit the event page here.
---
With the goal of raising awareness for the importance of school music programs, the East Baton Rouge Public School System is showcasing a variety of music talent from both students and faculty tomorrow, April 27, in a Music in Our Schools Benefit Concert at Manship Theatre starting at 7 p.m. Tickets for the event are available here.
---
Forward Arts' 12th annual All City Teen Poetry Slam Festival wraps up this Saturday, April 28, at Manship Theatre with the Grand Slam Finals starting at 6 p.m. The event showcases young poets and brings their literary talent to life in front of the community. Tickets the show are available here.
---
Tomorrow, April 27, Live After Five continues in downtown's City Hall Plaza with Curley Taylor & Zydeco Trouble, who seamlessly blend blues and zydeco music with contemporary style to create a sound that appeals to all audiences. The free event will kick off at 5 p.m.
---
Tonight, April 26, is the closing reception for painter Anne Jarrett's exhibition Perceptions & Perspectives, on display at the Firehouse Gallery. The reception, which will take place from 6 to 8 p.m., will feature Jarrett discussing her work. For more information, visit the event page here.
---
The Market at Circa 1857 is celebrating University High School art students with a Makers Fair and Art Show this Saturday, April 28, from 11 a.m. to 3 p.m. In addition to selling and promoting their work on Saturday, the show will also be on display through May 5.
---
Bringing covers of all your favorite songs past and present to the stage, After 8 will be at Rock N Rowe tonight, April 26, from 6 to 8 p.m. The free concert event will take place in the center of Perkins Rowe in the Great Hall in front of Cinemark.
---
Student artists from Parkview Elementary and McKinley Middle Academic Magnet are showcasing their work at the Firehouse Gallery for a one-night-only STEAM in Talented Art exhibition tomorrow, April 27, from 5 to 7 p.m.
---
This Saturday, April 28, Denham Springs' annual Antique Village Spring Festival will take place from 9 a.m. to 5 p.m. on North Range Avenue, as art and antique vendors line up down the street amidst live music, food booths and more. For more information on the festival, visit the event page here.