This tailgate treat is a fan favorite
Get ready for your tent to attract a crowd with this quick-and-easy gameday recipe from inRegister food columnist Aimee Broussard. With lump crab meat and Tabasco sauce, this dip is perfect for celebrating Louisiana cuisine and our Fighting Tigers at your next tailgate. Geaux Tigers!
---
Hot crab and artichoke dip
Ingredients:
1 (12-oz.) can artichoke hearts, drained and chopped
8 oz. cream cheese, softened
½ cup mayonnaise
1 cup fresh lump crabmeat
2 garlic cloves, minced
1 tsp. Tabasco sauce
1 tsp. black pepper
¾ cup grated Parmesan cheese
Paprika and chopped parsley for garnish (optional)
Chips or crostini
Instructions:
Preheat oven to 350 degrees.
Mix artichokes, cream cheese, mayonnaise, crabmeat, garlic, Tabasco and pepper. Pour into oven-proof casserole dish. Sprinkle Parmesan cheese over the top. Cover with aluminum foil and bake for 20 minutes. Remove foil and bake for an additional 10 minutes. Turn oven to broil, on the lowest setting, and allow the top to lightly brown. Keep your eye on it—it only takes a few minutes. Sprinkle with paprika and top with chopped parsley, if desired. Serve hot with chips or crostini.
Makes 8-10 servings.
---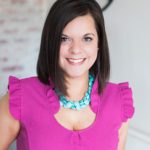 Aimee Broussard is a Southern food blogger and award-winning cookbook author. Seen on QVC, Rachael Ray and more, she is a self-proclaimed accidental entrepreneur with a penchant for porches and sweet hospitality. Find her online at aimeebroussard.com.
---