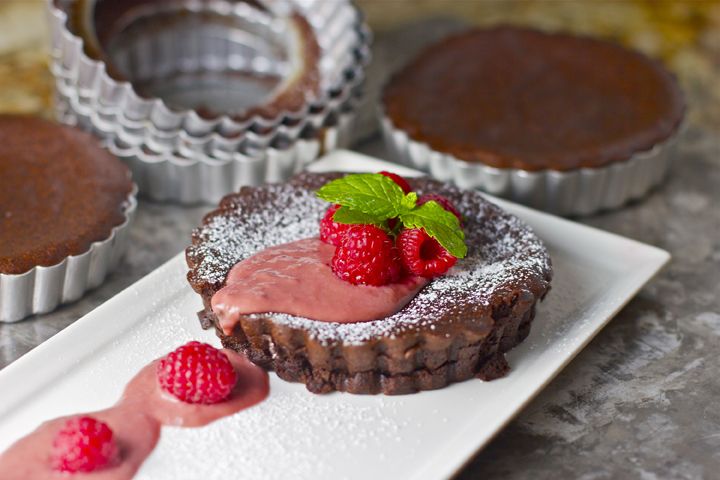 Story and photos by George Graham
If you're like me, you have filed away memories of food and dishes that represent certain joyous times in your life. As I recall those tastes and smells, I am transported back to experience the moment once again. Chocolate and raspberries do that for me every time.
Some many years ago during our travels across France, my wife Roxanne and I stayed in a picturesque chateau, Domaine de la Tortinière, in the heart of the Loire Valley. It was a castle-like structure, and our bedroom was in the upstairs turret overlooking a spectacular forested landscape. While there, we learned of some of the famous guests of the chateau and discovered that Audrey Hepburn had spent several weeks there in the 1950s while filming a movie. My wife was most impressed.
During our stay, we dined in the downstairs restaurant and were served an extraordinary chocolate dessert that was unforgettable. It was an individual chocolate cake baked in a small tartlet tin, served warm with raspberries and drizzled with an aged local liqueur made from red and black raspberries. That liqueur was much like the commercially marketed Chambord, but it was more intense with a syrupy sweetness.
As I've often written on my blog Acadiana Table, the precision that goes into the pastry arts does not come naturally to me. That is precisely why I love this simple, no-flour recipe. As I attempted to recreate this dish from memory and the still-lingering taste of that remarkable dessert, I added a few south Louisiana accents. This flourless version of that warm chocolate cake resonates on all levels with its dense texture and pungent chocolaty moistness. And when paired with the robust flavors of Louisiana coffee and dark sugarcane molasses and the counterpunch of raspberry, it is what memories are made of.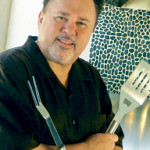 George Graham is a writer and photographer who tells stories of Louisiana cooking and Cajun Creole culture on his blog, AcadianaTable.com.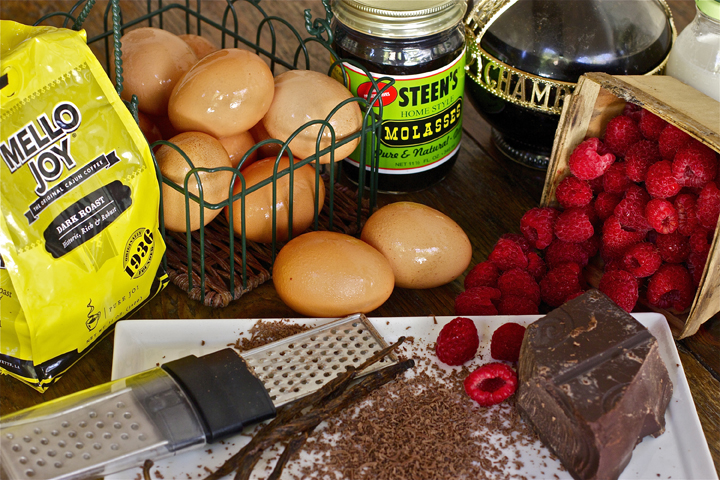 Chocolate Tart with Chambord Cream
12 oz. grated dark chocolate, such as Callebaut
1 vanilla bean (or 1 Tbsp. vanilla extract)
1 tsp. fresh ground nutmeg
2 Tbsp. ground cinnamon
1⁄2 cup dark cocoa powder
1 tsp. salt
1⁄2 cup sugarcane molasses, such as Steen's
1⁄2 lb. (2 sticks) unsalted butter, softened
6 large eggs
1 cup dark-roast coffee
1⁄2 cup heavy cream
1⁄4 cup Chambord liqueur
3 cups fresh raspberries, divided
1⁄2 cup powdered sugar, for garnish
Fresh mint leaves, for garnish
Directions:
• Heat oven to 400 degrees. Spray 6 individual tart pans with non-stick spray.
• In a large stainless-steel bowl, add grated chocolate. Scrape vanilla bean and add to bowl. Add nutmeg, cinnamon, cocoa powder, salt and molasses. Stir to combine. Add butter and eggs. Using a hand-held mixer, beat until smooth. Add coffee, and mix until combined and thick with no lumps. Pour mixture into pans and place on center rack of oven. Bake until done, about 30 minutes. Use a toothpick to test centers for doneness. Remove from oven and keep warm.
• Meanwhile, in a small pot over medium heat, stir cream until it begins to simmer. Reduce heat and add liqueur and 2 cups raspberries. Whisk while sauce simmers and begins to thicken, about 5 minutes. Turn off heat and puree sauce with an immersion blender until fruit breaks down and sauce becomes smooth. Return pot to heat and return to a simmer. Turn off heat and keep sauce warm for serving.
• To serve, remove tarts from pans and plate them individually. Drizzle a small portion of sauce over top, and garnish with a sprinkling of powdered sugar, remaining fresh raspberries and a sprig of mint. Serve remaining sauce on the side. Pair with hot coffee or your best French champagne with a raspberry garnish. Makes 6 servings.
Notes: Use a dark Louisiana coffee like Mello Joy; day-old coffee is actually better in this recipe as it becomes even stronger. You may substitute a French Framboise or a good dark rum for the Chambord. If you do not have individual tart tins, feel free to use a standard cake pan; the cooking time may be a tad longer.