Aimee's Pretty Palate: S'mores Galore
---
'S'more" is a contracted version of the words "some more." You likely already knew that. And I'm willing to bet that you do not need me to tell you that a s'more consists of toasted marshmallow and chocolate sandwiched between two pieces of graham cracker either.
S'mores are just one of those things we subconsciously know how to concoct, whether we were introduced to them at someone's summer bonfire, an actual camping adventure—or we were a member of the Girl or Boy Scouts to which they've been credited.
Because I often like to go on research tangents, filling my brain with often useless information to anyone other than myself, I did some digging into who was responsible for creating this beloved treat.
Published in the 1920s as a "Campfire Graham Cracker Sandwich" and cited as already being popular with Girl and Boy Scout troops, the instructions first appeared in the Campfire Marshmallows Cookbook. Though, some fans solely credit Loretta Scott Crew (and for whom I'm placing my bets) for first introducing them to her Girl Scout troop while on a camping excursion. Later, they appeared in the 1927 debut of the camping guidebook Tramping and Trailing With the Girl Scouts. The recipe was affectionately called "Some More" because "though it tastes like some more, one is really enough." The term "s'more" would appear in the 1938 guide Recreational Program for Summer Camps by William Henry Gibson.
I've taken some liberty with these recipes by elevating the well-known confectionary treat just a bit.
An oversized skillet cookie? You betcha. You'll find all the basic s'more components in my S'mores Skillet Cookie pan of deliciousness, with graham crackers loaded inside and on top, toasted marshmallows and loads of chocolate. I've also added some mini Oreo cookies to keep things interesting and drive home the crunch.
Second is my S'mores Bars recipe that isn't mine at all, actually. Submitted way back in 2014 as part of the very first Traveling Apron Recipe Swap, this deliciously gooey recipe comes from Nicole White in Atlanta, Georgia. She declared it the best ever, and I agree.
And while I often try to convince myself that I'm the type to go camping (RV-ing counts, right?), the truth  is that I'm more likely to indulge in a campfire-inspired cocktail from my home instead. With only four ingredients, a S'mores Cocktail washes down just as quickly and easily as it comes together.
---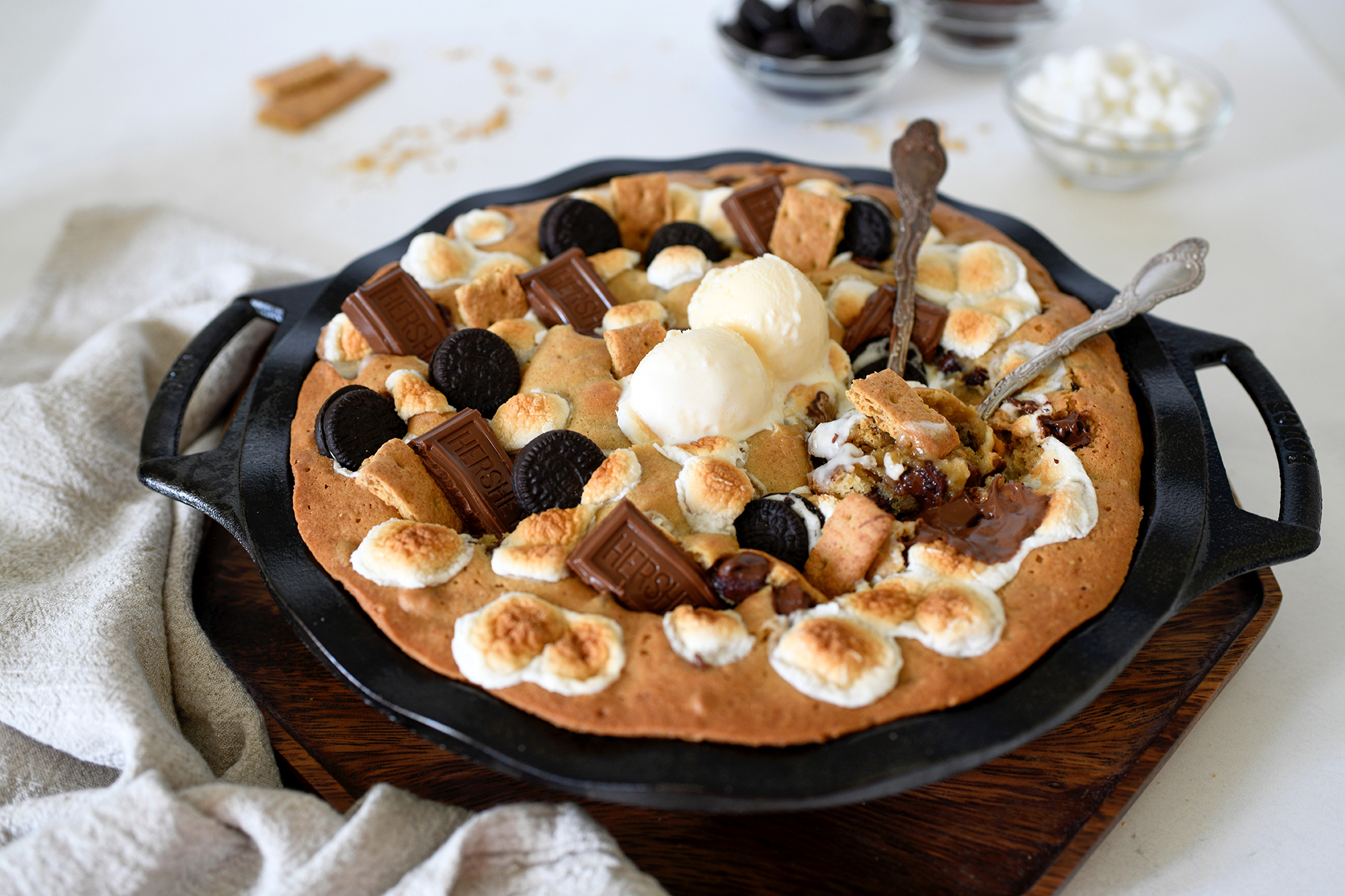 S'mores Skillet Cookie
Ingredients for cookie:
1 cup unsalted butter, softened
1 cup light brown sugar
½ cup granulated sugar
2 large eggs
2 tsp. vanilla extract
2 cups all-purpose flour
¾ cup graham cracker crumbs
1 tsp. baking soda
1 tsp. salt
1 cup chocolate chips
Ingredients for topping:
1 cup mini marshmallows
2 graham crackers, broken into pieces
1 Hershey bar, broken into pieces
1 cup mini Oreos
Instructions:
Preheat oven to 350 degrees. Grease a 9-inch cast iron skillet; set aside.
In a large bowl, combine butter and sugar and mix until light and fluffy. Add eggs and vanilla and mix until well combined.
Add flour, graham cracker crumbs, baking soda and salt, mixing until the flour disappears. Fold in chocolate chips.
Spread batter into prepared cast iron skillet. Bake for 25-30 minutes or until golden brown and center is no longer giggly. Remove from oven and top with mini marshmallows. Return to oven and bake for 4-5
more

minutes, until marshmallows are puffy. Turn broiler on the lowest heat and broil just until marshmallows are toasted, watching closely so that they brown but do not burn.
Remove from the oven and gently place graham crackers, chocolate pieces and Oreos on top of cookie. Let cool for 10-15 minutes on a cooling rack. Cut into pie slices and top with ice cream, if desired.
Makes 8-10 servings.
---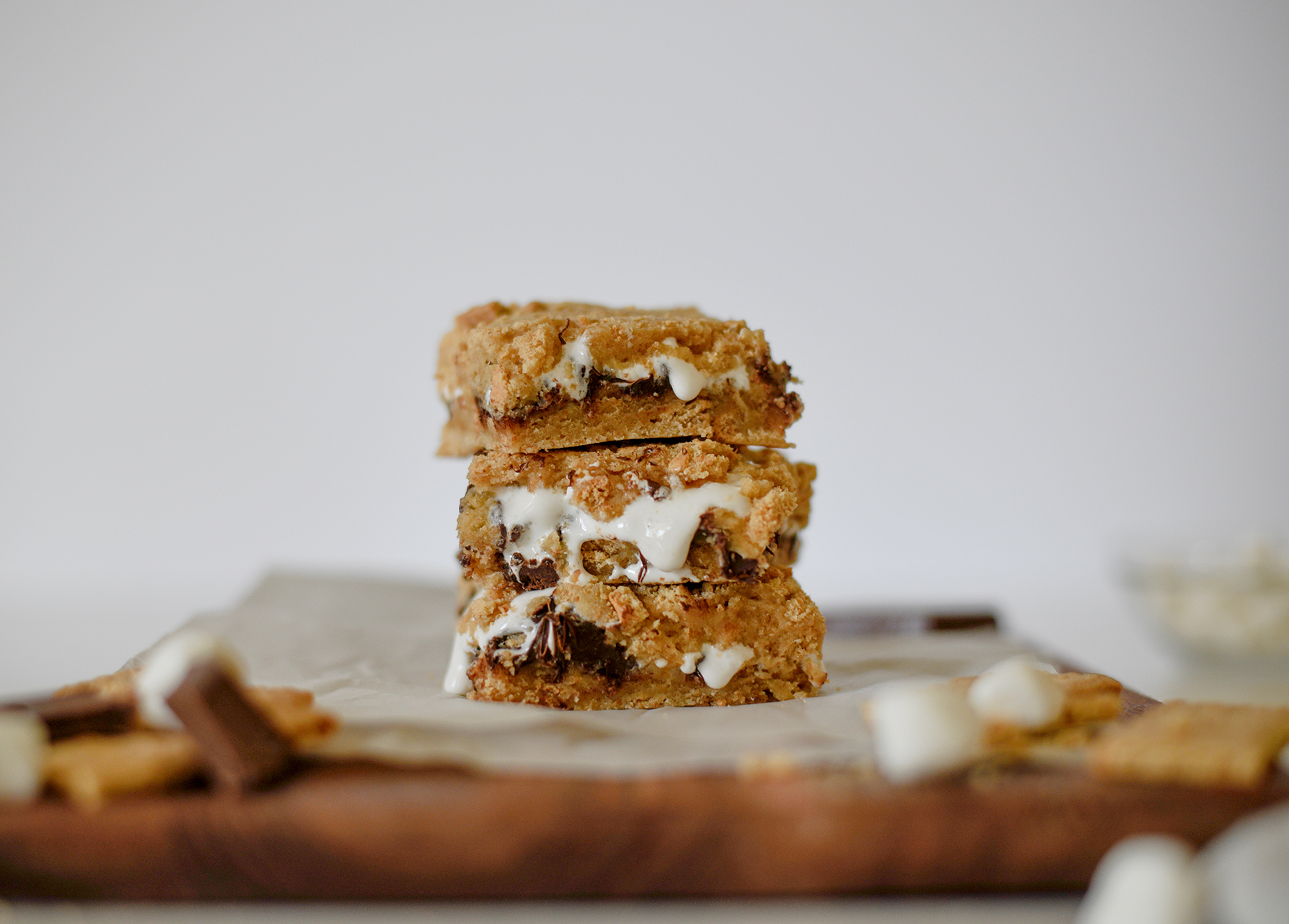 Nicole's Best S'mores Bars
Ingredients:
1
1

⁄

3

cups flour
2 pouches, crumbled (from a 14.4-oz. box of graham crackers)
1 tsp. baking powder
1 tsp.salt
½ cup unsalted butter
½ cup light brown sugar
½ cup granulated sugar
1 egg
1 tsp. vanilla extract
2 king-size Hershey bars
1 container (7 oz.) marshmallow fluff
Instructions:
Preheat the oven to 350 degrees. Grease an 8-inch-pan; set aside.
Whisk flour, 1 pouch graham crackers broken into crumbs (approximately 1½ cups), baking powder and salt. In another bowl, cream butter, both sugars and egg then add vanilla. Combine wet and dry mixtures.
Press half of dough mix in bottom of prepared pan. Add chocolate bars, cover with marshmallow fluff, and top with remaining dough, followed by remaining pouch of graham cracker crumbs.
Bake for 15-20 minutes, or until chocolate is melted and the dough is set. Allow to cool then cut into squares to serve.
TIP: For cleaner cuts, pop the bars into the freezer for 10 minutes just before cutting to keep marshmallow from oozing out.
Makes 6-8 servings.
---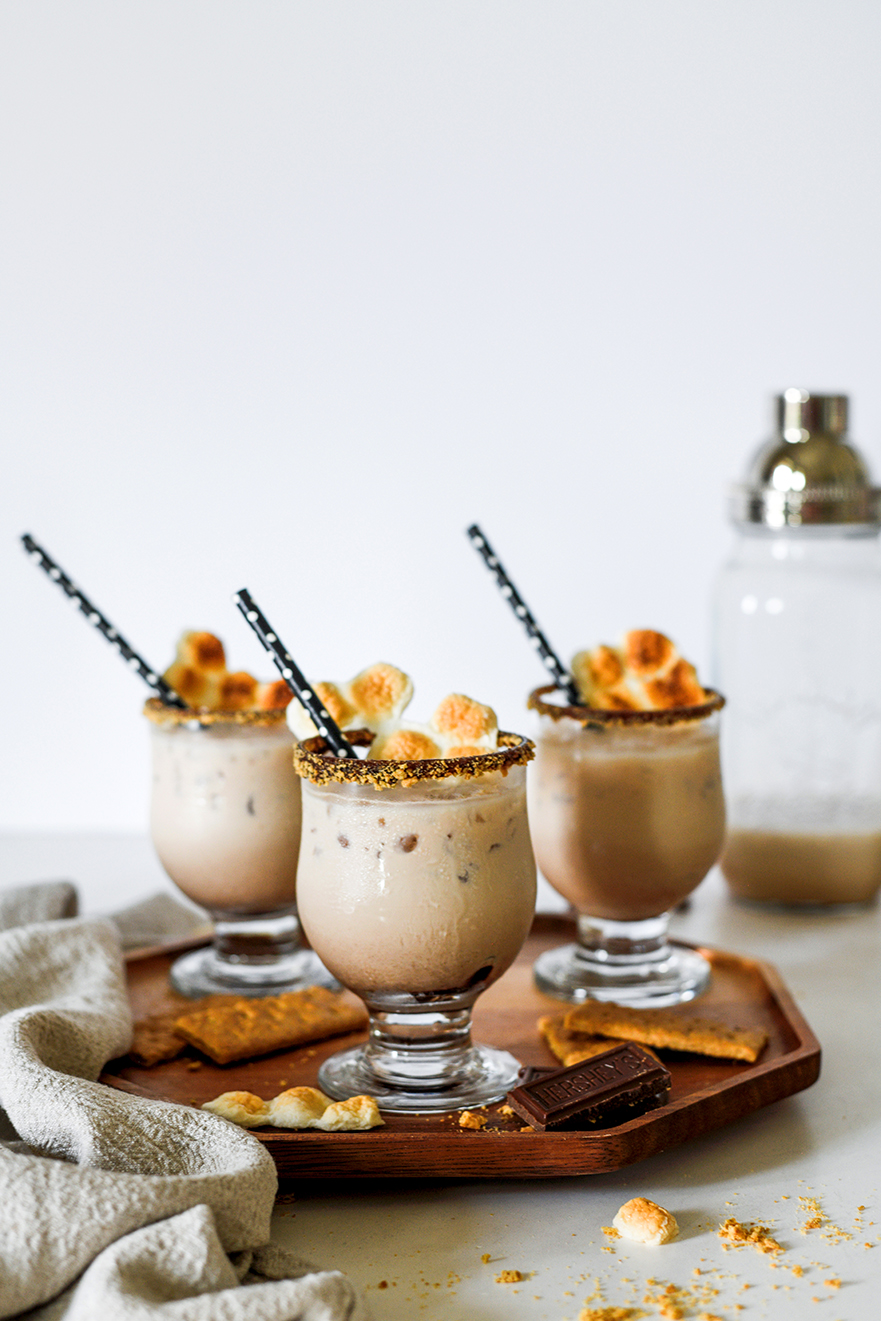 S'mores Cocktails
Ingredients:
¼ cup chocolate syrup, divided
¼ cup graham cracker crumbs
2 oz. chocolate brownie liqueur (or other chocolate liqueur)
1 oz. whipped cream vodka
4 oz. half and half
½ cup mini marshmallows
Instructions:
Prepare two shallow plates, one with chocolate syrup and one with graham cracker crumbs. Dip rim of a glass into melted chocolate, then into graham cracker crumbs to coat. Repeat with a second glass.
Drizzle a bit of reserved chocolate syrup into bottom of each glass.
Add chocolate liqueur, vodka, half and half and ice to a cocktail shaker. Shake until well combined.
Add ice to the prepared glasses, then strain cocktail mixture into each glass.
Place mini marshmallows on a baking sheet, close together but not touching, and broil until golden brown. Watch closely so that they do not burn. The marshmallows will puff up and merge together. Place on drink as a garnish.
Makes 2 servings.
---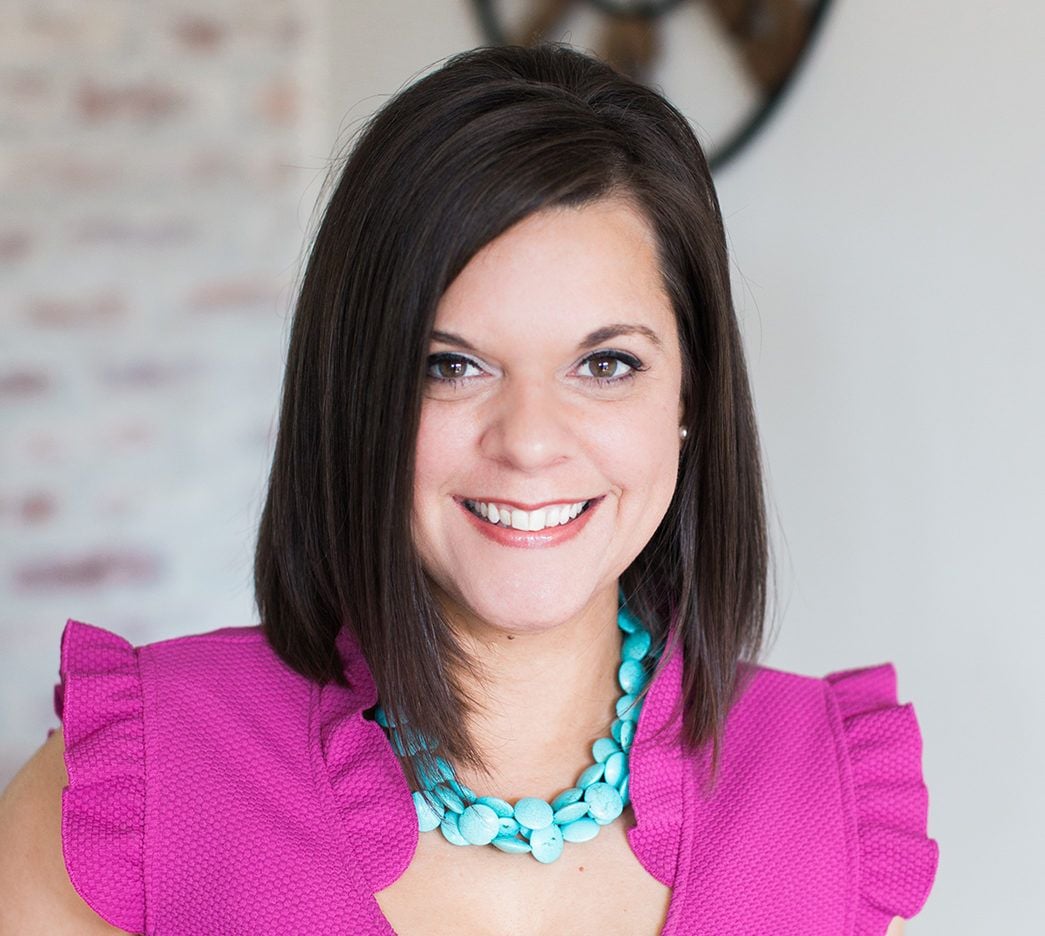 Aimee Broussard is a Southern food blogger and award-winning cookbook author. Seen on QVC, Rachael Ray and more, she is a self-proclaimed accidental entrepreneur with a penchant for porches and sweet hospitality. Find her online at aimeebroussard.com.